I was fortunate enough to be able to spend the holiday period in Colombia. I had been told previously that Colombia was a great place to be during christmas. As soon as halloween was over, the decorations for christmas were put up. I was surprised to see that even the huge apartment building had been decorated too. I was able to visit many areas during christmas as i had a lot of plans with my friend. There are many christmas markets that are free to enter and have live music and great food! My friends were making me try all of the traditional Colombian christmas snacks.
It was a busy month at the office as it was due to close over christmas so we had lots to prepare for. My boss was going home to Australia for two weeks so we were making sure we were finishing up on all of the prosthetic arms so that we could deliver them in time for christmas. It was a pleasure to see so many people receive their new prosthetic arms and reconfirmed that what i had been doing since September was definitely a good cause and worthwhile. Before everyone left for christmas we had a staff party on the roof of one of engineers. He has a heated pool and a great view of the city. My boss bought lots of pizza and an entire shopping cart of beer and also 3 litres of Colombian rum. We had such a great evening and it was a perfect way to finish the year and the first half of my placement.
This year i am looking forward to continuing to make more friends and visiting more of south America so that i can learn all about the different accents and all the different slang that is used. I find slang very interesting and i think the slang in Colombia is one of the best. Que chimba! 
Tuve la suerte de poder pasar el Navidad en Colombia. Me habían dicho anteriormente que Colombia era un gran lugar para estar durante la Navidad. Tan pronto como terminó Halloween, se colocaron las decoraciones para Navidad. Me sorprendió ver que incluso el enorme edificio de apartamentos también había sido decorado. Pude visitar muchas áreas durante la Navidad ya que tenía muchos planes conmi amigos. ¡Hay muchos mercados navideños que son gratuitos y tienen música en vivo y excelente comida! Mis amigos me hacían probar todos las comidas tradicionales de Navidad.
Fue un mes muy ocupado en la oficina ya que debía cerrar en Navidad, así que teníamos mucho para prepararnos. Mi jefe se iba a su casa en Australia durante dos semanas, así que nos aseguramos de terminar con todos los brazos protésicos para poder entregarlos a tiempo para Navidad. Fue un placer ver a tanta gente recibir sus nuevos brazos protésicos y reconfirmar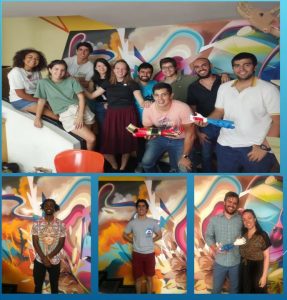 que lo que había estado haciendo desde septiembre definitivamente era una buena causa y valió la pena. Antes de que todos se fueran para Navidad, tuvimos una fiesta para el personal en el techo de uno de los ingenieros. Tiene una piscina climatizada y una gran vista de la ciudad. Mi jefe compró muchas pizzas y un carrito de compras de cerveza y también 3 litros de ron colombiano. Tuvimos una gran noche y fue una manera perfecta de terminar el año y la primera mitad de mi colocación.
Este año espero seguir haciendo más amigos y visitar más Sudamérica para poder aprender todo sobre los diferentes acentos y todas las diferentes jergas que se usan. La jerga me parece muy interesante y creo que la jerga en Colombia es una de las mejores. Que chimba!