John Speak Trust Report – 2017
Its been an incredible last 18 months, my experience in Spain has surpassed all my expectations and is something which I will never forget. I've spent six months studying in Córdoba and one year working in the Corporate Procurement Department of NH Hotel Group in Madrid. Both experiences have been very different but equally as rewarding on both a personal and professional level.
When I heard about the opportunity of the John Speak Language Trust Scholarship, I jumped at the chance to participate. The scholarship has given me the financial ability to fully embrace the Spanish culture, something which can't be replicated in a classroom. From big, well-known cities to villages in the middle of nowhere, I've discovered many amazing places that Spain has to offer. When I started my time abroad 18 months ago my objective was to improve my Spanish, I never expected to make so many memories, visit so many places, meet so many people and learn so much about myself. My experiences have made me fall in love with the country and when I finish university next year, I'll have no hesitation in returning to start the next stage of my life.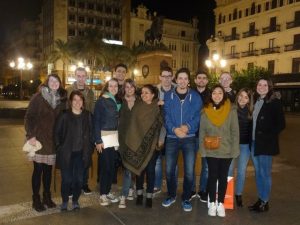 One phrase which I will take from my time abroad is 'No viajamos para escapar de la vida, viajamos para que la vida no nos escape.' This translates to, 'We don't travel to escape life, we travel so that life doesn't escape us.' I've been really lucky to visit so many places in Spain and with thanks to some friends I met there, I've been able to visit other countries too. 18 months ago I never imagined that I'd have a trip planned to visit some friends who live on the other side of the world, in fact, I'd never even heard of the place where they live, Reunion Island!
My advice to anyone who is thinking about a study period or work placement abroad is to go out there and throw yourself in at the deep end.
It is difficult at first, when I arrived in Córdoba, I was without a flat, living in a city I didn't know and left to fend for myself for the first time. It wasn't nice at all. However, you start to meet people, places become familiar and in a matter of weeks, this new place you didn't know anything about feels like home. I'm really glad I took the opportunity of going abroad, and with the help of the John Speak Trust, I have been able to embrace the experience even more.
Nathan Randerson