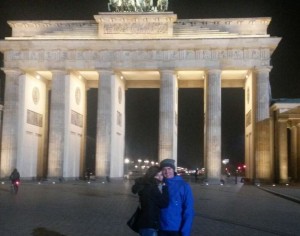 During my studies at Sheffield Hallam University I undertook a year abroad in Germany from June 2014 to March 2015.
I began my year abroad in Munich, Bavaria working for Robert Bosch GmbH then for the second half I moved to Berlin to work at Siemens AG. The scholarship from the John Speak Trust afforded more freedom during my time abroad and assisted towards my day to day living and travel expenses.
The opportunity to work abroad in a different environment was full of advantages both personally and professionally. There was so much to organize like accommodation, bank accounts, registrations and paperwork and all this in two of the three largest cities in Germany.  It was a lot to deal with, I was on my own, but I managed to sort everything out single handed!
Not knowing anyone in a city when you first arrive can be difficult and daunting, and ironically I personally found it more difficult meeting people in larger cities!  But it's very rewarding when you finally make new friends and more importantly some good friends. Persevering with the language can also be difficult, especially if one is living in a city where many speak English and always try to use it when they find out you are a native speaker.
Being in Germany didn't only help me immerse in the German culture but also the cultures of other countries and the people, which I found extremely interesting, a positive side effect of trying to improve my German language skills.
I'm pretty sure that anyone who spends some time studying abroad would recommend the experience to others, I certainly would!  If you were offered such an opportunity I would definitely recommend you take it; I cannot think of any reasons not to.  Many of my friends in England think it's unbelievable that I have lived and studied another language abroad.
I would certainly encourage others to apply for a John Speak Trust scholarship and take advantage of such a wonderful opportunity.
Oliver de Planta