I can´t quite believe that my 18 months abroad are coming to an end, it only seems like 2 minutes since I was boarding the plane to Alicante in January 2014 to begin my Erasmus study period! I feel that my time abroad, in France and Spain has been the most beneficial part of my university course so far; not only has it allowed me to greatly improve my French and Spanish but I´ve also developed a variety of skills that are going to help me throughout the rest of my life! As a student from Sheffield Hallam University, now in my 3rd year, I jumped at this opportunity of being awarded a scholarship, as I knew it would be a big help towards various costs that travelling and working abroad would endeavor.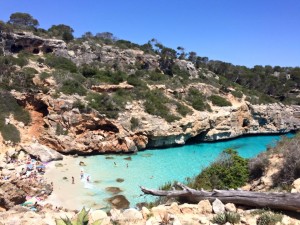 My scholarship was split between my time in Montpellier, France and Palma De Mallorca, Spain, however during this time I was also able to travel to other places in Europe, making the most of the opportunities that I had. I managed to visit Bordeaux, Paris, Toulouse, Nimes and  Geneva whilst living in France, it´s been amazing to be able to travel and see so much in such a short time! As for my time here in Palma de Mallorca, I've spent my weekends exploring the beautiful island, hiring cars with new friends from all different backgrounds, visiting remote non-touristic places and generally experiencing the true Spanish culture. I´ve got to say that life on a Spanish island is definitely something I'd think about later on in life and Mallorca in particular is amazingly beautiful!
Aside from all the exciting travelling, meeting new people and learning new things, there has of course been times when I've missed home, my friends and family and even once or twice when I have wished I could be back, but I know that this experience has had a huge impact on my life and on me as a person and I'm so grateful for the opportunity; I have no regrets about moving abroad and leaving my life in England behind as I know the positives have far outweighed the negatives! I'm looking forward to finishing my degree in Sheffield and moving on to bigger and better things!
Finally, I would like to say a big thank you to the John Speak Scholarship Trust for giving me the great pleasure of being a part of their organisation for the last 10 months and would without a doubt, recommend it to anyone who is eligible to apply!