Case Study:  Grace Partington, Portugal (2016)
Receiving a John Speak Trust Scholarship was extremely helpful in easing financial pressure whilst abroad (including cost of travel, accommodation and social activities) which aided me in improving my Portuguese.
In January I arrived in Portugal (in Lisbon airport to be exact) to fantastic weather. The sun was shining and my snapchat app informed that it was 18 degrees C. However, the smug attitude disappeared when I realised that my Portuguese was not what it had been nine months previously in Manchester, and that speaking to someone (to enquire about a ticket for the train to Coimbra) was going to be difficult.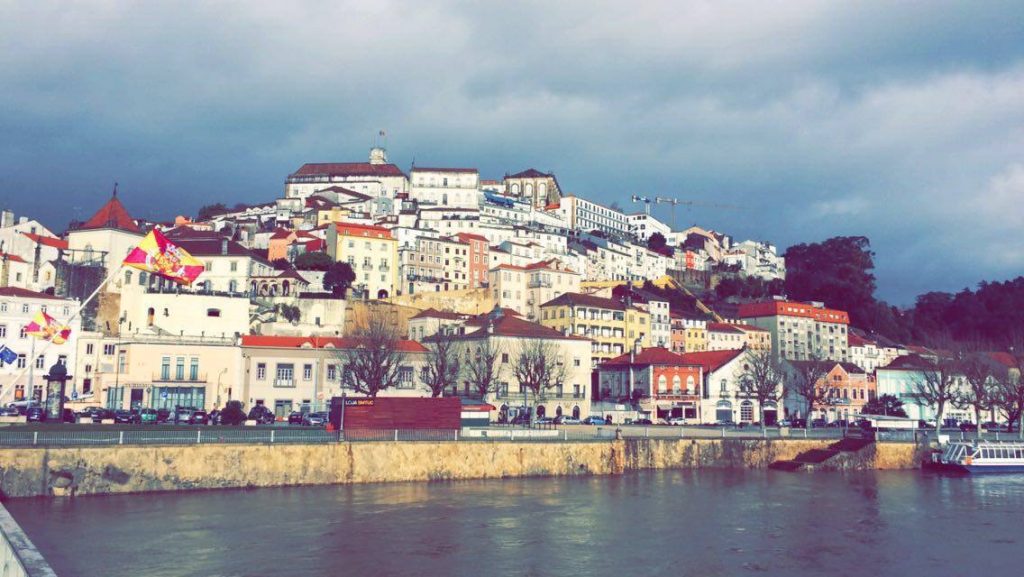 I spent my semester studying in Portugal's third city, Coimbra, which is about midway up Portugal, between Porto and Lisbon. It is, as students of Coimbra argue, the place that J.K. Rowling got her inspiration for Hogwarts from and it is easy to see why. The easiest comparison to an English university would be to Durham due to the small size of the city and the existence of various churches. However it is much more; students habitually walk around in long black capes and uniforms of sorts and there is a strong tradition of choirs, 'tunas' and music of all kinds. As time passed, I realised that Coimbra is a city rich in history and interesting stories. Unfortunately, many people have not heard of Coimbra and although nowadays it can seem like it is simply a relatively small university city, in the past Coimbra was central for Portugal's power and, in fact, was the capital of Portugal for a century from the year 1145.
The University of Coimbra is one of the oldest in the world; it officially opened and was confirmed by the Pope in 1290. Originally, the University started in Lisbon but was transferred between there and Coimbra various times until it ended up in Coimbra in 1537.
Additionally, living with people that only spoke Portuguese was very helpful in forming a strong basis of knowledge of the language and using it every day at home, at university and in all types of environments developed my confidence and vocabulary.
Being a native English speaker, it would have been very easy to just speak English (and fall into the so-called "Erasmus trap") as lots of Erasmus students were eager to practice and it was the common language of a lot of students, however forcing myself into situations where I often felt uncomfortable (due to not being confident with the language) and avoiding all-English situations really helped.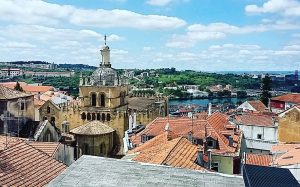 Initially, it was nice to converse with people who were not Portuguese and who were also learning Portuguese; situations in which Portuguese was our only common language.  This eased the pressure and mistakes from both parties which were not so obvious so there was less embarrassment. This allowed me to build my confidence until I felt good enough to properly engage with native speakers which happened surprisingly quickly due to constant exposure.
My favourite ways of passing the time in Coimbra were:
Have a coffee – something the Portuguese do every day and that is a style of life here in Portugal. If I want to feel part of the student community I used to go to Praça da República, on my route to the university, and watch all the students taking a break in the big square between classes. Another option was 'Mil Doce', an attractive café close to my house; it has a beautiful terrace with a great view of the river and the city and it is an ideal spot to sunbathe. Pastel de Nata optional.
Go for a run – Although Coimbra is not ideal for a gentle run (due to the immense hills) there is a great flat path next to the river with great views of the river and the bridges. A great way to relax.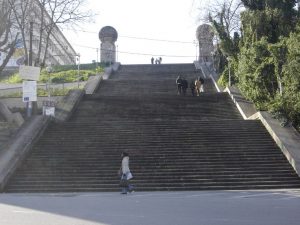 The "Escadas Monumentais" – installed by Salazar during his dictatorship who believed that students should be physically as well as mentally fit. There are 150 steps and I had to climb them at least once every day on my way to the university….
Play an instrument – The 'tunas' are very popular here and it's normal to see groups of students, clad in the traditional capes of Coimbra, walking through the streets singing and playing their guitars so I bought myself a ukulele and started practising some songs in my free time.
Sunbathe – The weather was very mixed but on sunny days I liked to find a sunny spot to sunbathe. My flat had a lovely balcony on which I can relax but also Coimbra has a great park next to the river
Football – One of my favourite experiences (an unexpected one) in Portugal; Portugal's victory in the Eurocup. On the 10th of July Portugal won against France and achieved its first big international title and I was lucky enough to be there to see it.
Like all the matches, I watched in Praça da República and the atmosphere was phenomenal; there were more people than I had ever seen before (from time to time this made it difficult to watch the match) and everyone with the green and red hats and scarves of Portugal. The square was truly a sea of green and red and noise. The country's obsession with Ronaldo fascinated me and when he was injured by a tackle by Payet and he couldn't play, the emotion and disappointment of the crowd was incredible; I have never seen dedication to a player like it.
Despite the efforts of the two teams, at the end of the match the score was 0-0 and extra time started. However it seemed like luck was with Portugal because Raphael Guerreiro scored in the 108th minute and the whole place exploded. There followed a crazy night that is impossible to describe. People were throwing fireworks in the square and there were people jumping on top of cars and beeping their horns; it was a madness that I will never forget. I am very grateful for my experience in Portugal but this night was something I will carry with me my whole life and one of the greatest experiences of my year.
I also had the opportunity to travel throughout Portugal. One of the most fun trips that I made was to Lagos, on the south coast of Portugal. I have always been a little sceptical with respect to the Algarve and the Costa de Sol. Both places have a bad reputation; of being full of British tourists, and the type of tourist that drinks to excess and gives a bad name to the rest of us.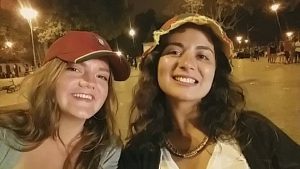 However, there were a lot of things that were not expected. For example, probably because of the low season, there were hardly any British tourists. Surprisingly, the hotel was full of old, calm couples of a mixture of different nationalities.
I think it was because of the low season and the relative peace that I was able to appreciate the charm of Lagos. The main town was full of narrow, cobbled streets with varied restaurants and picturesque squares. Although there was an abundance of cheap bars, in my opinion they did not detract from the obvious charm of the old town.
I was also able to appreciate the main street next to the lovely canals. The canals were lined by palm trees and full of sailing boats which made for a pleasant walk to the beach.
Overall, I think that I had a different experience of the Algarve than the majority of tourists who visit there. In fact my stay was relatively relaxed and I am happy to have been able to experience a different side of the popular tourist spots.
During my time in Coimbra I have enjoyed many great experiences and met some lovely people.   I am truly grateful to the John Speak Trust Scholarship for providing some financial support to make my experience in Portugal all the more enjoyable and allowing me the freedom to immerse myself in the Portuguese culture.
Regards,
Grace Partington