لبناني نبيذ الروماني ثم اليوناني الحكم تحت لبنان كانت حيث .التاريخ عرفها التي و البلدان اقدم من لبنان تعد  في ارثا تركت الحضارات تلك من كل انه حيث.اخرى قديمة حضارات و الفرنسيين و العثمانيين ثم و .لبنان في النبيذ لانتاج حقلا خمسين من اكثر هناك اليوم.التاريخ في النبيذ مع اول كانوا الرومان .لبنانفخورة لبنان .الخارج الى النبيذ تصدير عن لبنان تتوقف لم الاهلية الحرب خلال حتى و جيد مناخ هناك.النبيذ صناعة في عريق تاريخ من أسمها لبنانية خيرية لجمعيات تبرعات جمع و بالنبيذ الاحتفال اردت و النبيذ بشرب دائما استمتع أنا.سوري و فلسطيني و لبناني بالشباب تساعد أنها نوايا .نوايا
تأسست شبكة نوايا عام ٢٠١٢ و هي تهدف لتطوير مهارات و مواهب الشباب ذوي الدخل الدخل و ذلك عبر ثلاثة برامج ناشطة : برنامج تنمية المواهب و البرمجة المعلوماتية و برنامج ريادة الأعمال
.القادم الجيل انهم .الاوسط الشرق في الشباب مساعدة المهم من انه اعتقد  هذه قابلتهم اصدقائي بدعوة قمت .لبنان في مختلف مناطق من اللبناني النبيذ من انواع باعداد قمتالسفارة و المتحدة الامم و البريطانية السفارة من اناس بينهم بالمجيئ قاموا شخصا خمسون .السنةقمنا .المختلف النبيذ شربنا و اللبناني النبيذ تاريخ  عن تحدثنا .الصحفيين من العديد و الامريكية
الحفل
مقالة كتبت اليومية النجمة جريدة اللبناني الاعلام على الحفل كان و الخيرية للجمعية دولار الف بجمعالجمعيات مساعدة في المساهمة و اللبناني النبيذ حب بجمع جدا سعيدة كنت .الحفل عن رائعة
الخيرية .الخيرية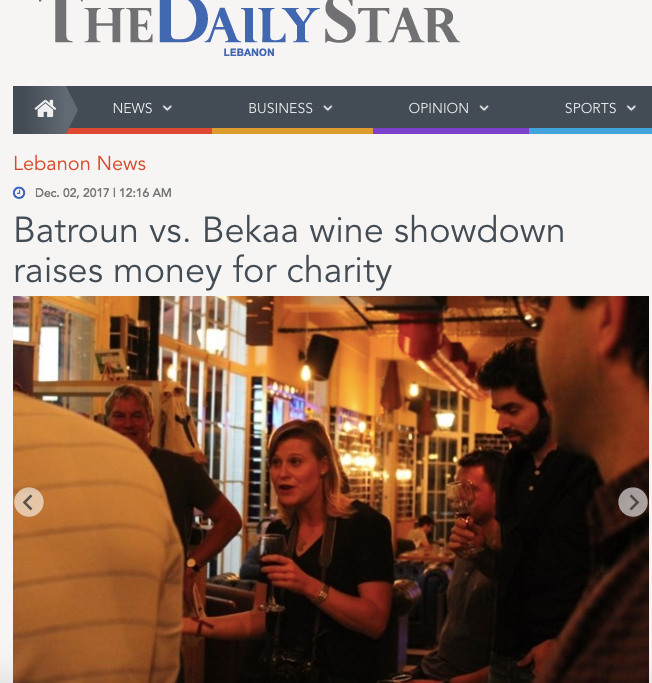 ENGLISH:
Lebanon is a very old country; a very old civilization. Conquered by the Greeks, the Romans, the Ottomans, the French and others these civilisations left their mark. Thanks to the Romans Lebanon is one of the oldest wine producers in the world. Today there are over 50 vineyards producing wine from a wide range of grape varieties. Lebanon's climate is excellent for wine production. Even during the civil war wine was produced and exported abroad. Lebanon is very proud of its rich history in wine making.
I have always enjoyed wine and wanted to celebrate Lebanon's wine while raising money for a Lebanese charity. I chose the charity "Nawaya Network" who support Lebanese, Syrian and Palestinian young people.
The charity was established in 2012 with a goal to develop the skills of young people that come from marginalised backgrounds. The charity has three active programmes including a "Talent Development Programme", a "Technology Programme" and an "Entrepreneurship and Innovation Programme" (in partnership with UNICEF). Nawaya's vision is to create an interconnected global community committed to developing and empowering marginalized youth around the world. The Talent Programme provides a link between vulnerable young people and different resources to help develop their skills. These include consultants, mentors, internships and employment. They also provide an intensive three months "full stack coding programme" for university graduates who have difficulty finding jobs in the Lebanese employment market. I believe it is important to help young people in the Middle East. They are the next generation.
I organised a wine tasting between two different wine regions of Lebanon. I invited my friends and my contacts that I have made this year. 50 people attended my party including members of the British Embassy, the UN, the American Embassy and journalists. We learnt about the Lebanese wine history and tried red, white and rose wine. We raised over $1,000 for the charity. The event was also in the Lebanese media. The newspaper "The Daily Star" wrote a lovely article on the event! I was happy to combine Lebanese wine and a good charity!