Feliz Año!
Pues, todas las fiestas ya han pasado y estoy contento en mi horario otra vez! Aunque tengo que decir, navidad y el año nuevo en Cádiz era algo completamente diferente. Por tener amigos locales aquí no tenía que pasar navidad sólo y podía disfrutar una cena de navidad muy diferente, no hubo ningún pavo! Cómo es un país católico, hemos celebrado para los doce días de navidad; hemos comido nuestras doce uvas a medio noche del año nuevo y terminamos con un rincón de los reyes al 6 de enero (el día de los reyes)
No todo estaba tan tranquilo, un poco antes de navidad estuve la elección española y el ambiente en la calle estaba eléctrico. Con todo el mundo tenía su propia opinión sobre algo, entre: corrupción política, la tase de desempleo, es estado de la economía. A mi me parecía cómo cada persona estuviera muy informada sobre los temas de actualidad y tengo que confesarme que a menudo me parecía muy difícil seguir la conversación. Lo que entiendo después de unas conversaciones con mi compañero, es que hay una división entre el norte y el sur en España; hay más conservadores en el norte así votan al Partido Popular y Mariano Rajoy, mientras en el sur hay más de la izquierda y por eso votan al Partido Socialista Obrero Español. Lo que sorpresó a mi compañero fue el éxito de Pablo Iglesias y su partido nuevo "Podemos", fundada en 2014 ya ha ganado el tercero lugar después de Mariano Rajoy (1st) y Pedro Sánchez (2nd).
Hasta ahora, Cádiz está más tranquilo, algunos dirían que es la calma precede a la tormenta porque la ciudad en entera y muchas otras personas alrededor de España van a celebrar Carnaval el mes que viene. Lo que entiendo después de conversaciones con mis amigos y mi jefa, es que eso es una de las fiestas más grandes en España y sera imposible trasladarse por las calles durante la semana. Estoy muy emocionante a estar un parte de Carnaval y espero a compartir mi historia con vosotros en mi próxima actualización!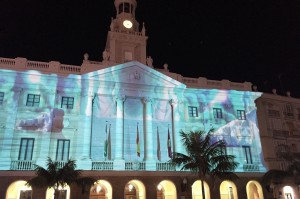 ENGLISH TRANSLATION:
Happy New Year!
Well, all the festivities have passed now and I am settling back into my routine again! Though I must say, Christmas and New Year in Cadiz was something completely different. Having local friends here meant that I didn't have to spend Christmas alone and I was able to enjoy a very different Christmas dinner to the one I am used to, no turkey in sight! With it being a predominantly Catholic country as well, we celebrated right through the twelve days of Christmas; taking our 12 grapes at midnight on New Year's Eve and finishing of with a traditional cake on the 6th January (or the day of the Kings).
It wasn't all relaxing and eating though, just before Christmas was the Spanish general election and the atmosphere in the streets was electric. Everyone I spoke to had their own opinion about something whether it be: political corruption, the rate of unemployment, the state of the economy. To me it seemed as though everyone was fully informed with the current issues and I must admit that I often found it difficult to follow all the points they were raising. From what I understand after talking with one of my flat mates, there is very much a North-South divide in Spain, the north of Spain tend to be very conservative and so lean towards Mariano Rajoy's Partido Popular (PP), whereas the south tend to be a lot more left wing and vote for Pedro Sánchez's Partido Socialista Obrero Español (PSOE). What surprised my flat mate the most was the success of Pablo Iglesias and the new party Podemos, it was only founded in 2014 but managed to come in third place just behind Mariano Rajoy (1st) and Pedro Sánchez (2nd).
For now, Cadiz has calmed down a lot, some would say we are in the calm before the storm as the whole city and many from around Spain get ready to celebrate Carnaval next month. From what my friends and boss has been telling me this is one of Spain's largest celebrations and the streets are completely packed for the whole week. I am very excited to be a part of Carnaval and I look forward to telling you all about it in my next post.