明けましておめでとうございます!今年もよろしくお願いいたします。
私は初めてクリスマスと年末年始をずっと日本で過ごした。両方ともイギリスと全く違った。
日本のクリスマスはもう一つのバレンタインデーみたいに、カップルの日だ。家族と過ごすよりも、恋人とデートに行く(特にイルミネーションを見に行くのは人気がある)のは普通とされている。
イギリスではクリスマスといえば、プレゼントや食べ物だろう。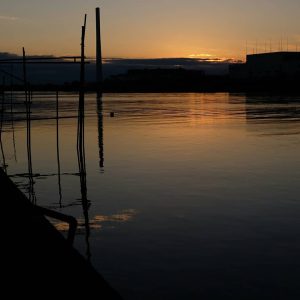 日本にもすこしプレゼントを交換する文化はある。ホストファミリーの子供たちは2つ・3つぐらいもらった。恋人もプレゼントを交換するみたい。でも、イギリスのように大人に一番お金かかる時ではない。
食べ物も似ているがなんか違う。例えば、重くて、アルコールが入っているフルーツケーキじゃなくて、日本のクリスマスケーキは、軽くて、ホイップクリームをかけたイチゴスポンジケーキ。または、ロースト七面鳥じゃなくて、KFC (ケンタッキー・フライド・チキン)を食べる。特別クリスマスバレルなどを出す、予約もできる、買うために並ばないとダメな場合もあるらしい。これは、70年代のCMの大成功で、日本ではクリスマスといえばKFCのフライドチキンになった。
12月31日に新年を迎えるため、夜中まで寝ないで待つのはどこでも同じはずだ。確かに日本も、イギリスもそう。
その待っている時間に、日本人はよく紅白歌合戦やダウンタウンのガキの使いやあらへんで!を見るらしい。私たちはダウンタウンのガキの使いやあらへんで!という笑ってはいけないスタイル番組を中心にして、CMの時に紅白歌合戦という音楽番組やSASUKE(忍者Warrior)という番組を見ていた。
笑ってはいけないは面白かったが、信じられないぐらい変だった。5人のお笑い芸人が主人公で、笑ったら忍者が走ってきて、笑った人のおしりを00と殴る。その芸人たちを笑わせるために、いろな有名人がいらっしゃったり、変なことが起こったりされた。例えば、電撃綱引きとか、スキット、コスプレ、水に浸っているうちに生卵を食べるなどなど。
零時になったら、みんなに「明けましておめでとうございます」と「今年もよろしくお願いします」を言って、初詣をするために神社に行った。
初詣というのは年のはじめて神社やお寺に行って祈ることだ。私たちは、家の近く結構小さい神社に行った。それでも、人は並んでいて、待つしかなかった。祈ったら、小さいベルがついている「初詣やった」という意味のお守りみたいなものをもらって、飲み物とみかん2個と、お酒ももらった。
1月1日から3日ぐらいまで日本では福袋が売られている。服の福袋は普通に8000円からするが、入っているものは3万円(以上)ぐらい。だから、入っているものが好きだったら、すっごく安くていい。でも、買う時に何が入っているかどうかは知らない。私はWEGOというブランドの福袋を買ってみた。結構ラッキーなことで、入っていたものはほぼ全部好きだった。気に入らなかった2つ小さいかばんをホストファミリーの子供に上げた。4歳の子がすごっく気に入ったから。ものすごく可愛くて、お正月のときにどこに行っても必ずそのかばんを持っていた。
日本にはクリスマスよりお正月に大人が子供にお金を使う。それはお年玉という子供にお金のプレゼントを上げる文化はあるから。お正月に子供と会うなら、家族や両親の友達など大人は必ず封筒に入っているお年玉を子供に上げる。一つ封筒に千円以上入っているので、家族や両親の知り合いが広ければ(や優しければ)、子供はたくさんもらえるから、毎年楽しみにしているらしい。
お正月ならではの食べ物もある。お節料理。日本人の友達と話してて、食べたことがない、あんまり食べない、友達もいた。でも、1月1日にお節料理を食べるのは伝統的だ。お節料理で、色なものがあるで、全部が意味を持つ。詳しくないが、聞いたのはほぼ全部『長く生きられるように」みたいな意味だった。それで、ヘルシーなものが多い。たことか、たまごとか、黒豆とか、えびとか。そして、もちが入っているスープも食べた。全部美味しかった!意味があることも面白くて、もうちょっと調べてみたい。
Happy New Year!
I spent Christmas and new years in Japan for the first time this year. Both were celebrated completely differently from back home.
Christmas in Japan is, similar to another valentine's day, a day for couples. And it is normal to go on a date with your partner, often to see the illuminations (fantastic displays made of lights).
In the U.K. the first thing to come to mind about Christmas is usually the food or the presents.
There is a slight trend of exchanging gifts in Japan too. My host family's kids both got 2 or 3. And it seems like couples also exchange gifts. But, unlike the U.K. it is not the most expensive time for adults.
The food is also similar but slightly different. For example, rather than the heavy, alcohol soaked fruit cake we have, the Japanese Christmas cake is a light, cream smothered strawberry sponge cake. Or instead of roast turkey, it is common to eat KFC (Kentucky Fried Chicken).There are special Christmas barrels, an online pre-order system, and even queues to buy it. This is due to the astounding success of a KFC advert that ran in the 70's, so that now in Japan Christmas equals KFC.
It is likely that staying up till midnight on 31st December to welcome the New Year is something that can be found anywhere. Certainly it is so in Japan and the U.K.
While waiting for the new year, it seems that watching Kōhaku Uta Gassen or Downtown no Gaki no Tsukai ya Arahende! is common. We mainly watched Downtown no Gaki no Tsukai ya Arahende!, which is a try not to laugh (lit. it's forbidden to laugh) style program, and in the advert breaks we saw bits of Kōhaku Uta Gassen, a music show, and Sasuke (ninja warrior).
The "it's forbidden to laugh" program was really funny, but it was also unbelievably weird. There were 5 comedians as the main characters, and if one of them laughed then a ninja would come running and whack them.  In order to make them laugh, various famous people came, and lots of strange things happened. For example, electric shock tug of war, skits, cosplay, a guy eating eggs while submerged in water, etc. etc.
When it struck midnight, we all wished each other "Happy new year" and a rather untranslatable Japanese term (yoroshiku) meaning something similar to a wish for continuing our relationships. Then went to a shrine to do Hatsumōde.
Hatsumōde is the Japanese term for the first visit to a shrine or temple of the year. We went to a small shrine near the house, but even so there was people lining up outside, so we had to wait. After praying we received a small token as a memorial of having done it, slightly resembling a good luck charm, with a small bell attached. As well as a drink, 2 oranges and some sake.
From the 1st of January till around the 3rd Fukubukuro (or lucky bags) are sold in Japan. A fukubukuro from a clothes shop will usually go for upwards of 8000 yen, but will have 30000 yen (or more) worth of stuff inside. So, if you like the stuff inside, it is a really good deal. However, until you buy the bag you have no idea what is inside. I bought a fukubukuro from a clothes brand called WEGO. I was pretty lucky and mostly got stuff I liked. And the two small bags that didn't really work for me I gave to my host family's kids. Because one of them caught the eye of the 4-year-old. Which he then, super cutely, took with him everywhere over new years.
In Japan adults spend more money at new years than at Christmas. This is due to the custom of giving Otoshidama (New Year money) to children. When meeting kids around new years, family or friends of the parents will give money in a special envelope to them. It seems like it is normal to put 1000 yen (or more) in one envelope, so if your family (or parents friends network) is large (or generous), a child will received a considerable sum, so it is looked forward to every year.
There is also special food for new years in Japan. Osechi. I asked around my friends and there were some that had never eaten osechi, or only had a little of it. But it is traditional to eat it on the first of January. Osechi is comprised of lots of different foods, which all have meanings. I don't know very much about it but, the ones I've heard were all to do with long life. And there are many healthy foods. Including octopus, eggs, black beans, prawns. We also had a kind of soup with mochi in it. All of it was delicious! And the fact that they have meanings interests me, I would like to find out more about it.