Hallo mal wieder liebe Leser,
Diese Woche habe ich Potsdam und Schloss Sanssouci besucht. Das Schloss war die Sommerresidenz von Friederich dem Großen, ehemaliger König von Preußen. Da ich auf Geschichte und Natur stehe war der Besuch eines derart großartigen Park für mich ein wunderbares Ereignis. Da das Wetter Anfang Mai so großartig war, war es wunderschön so viele Blumen blühen zu sehen und auch die Bäume fingen an zu blühen und die Landschaft war einfach herrlich. Der Park ist sehr groß und man könnte leicht einen ganzen Tag da spazieren gehen, ohne alles gesehen zu haben. Am Eingang zum Park sind einige imposante Gebäude, die ich fotografiert habe und auch der hübsche Wasserfontäne mitten im Park, neben der es sehr entspannend war in der Sonne zu sitzen.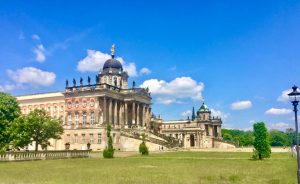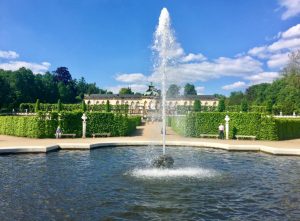 Spazieren gehen in Potsdam selbst ist auch ein Ereignis. Die kleine Stadt ist sehr alt, schöne und malerisch. Potsdam war früher eine Militär und Verwaltungsstadt und Urlaubsrückzug der Preußen Könige.
Potsdam hat ein altes Holländisches Viertel mit vielen Marktbuden und eine Wasserfontäne inmitten mehrerer Restaurants wo mein Freund und ich ein (mehrere? 🙂 ) Glass Wein zu uns nahmen, begleitet von einer traditionellen Deutschen Mahlzeit – Schnitzel mit Pommes, rote Beete und Pilze… Da deutsche Küche mein Lieblingsessen ist, ist es nicht verwunderlich dass ich glücklich war! Im Hintergrund meines Fotos ist das Brandenburger Tor – nicht das Weltbekannte aus Berlin, sondern das Tor zum Louisenplatz in Potsdam.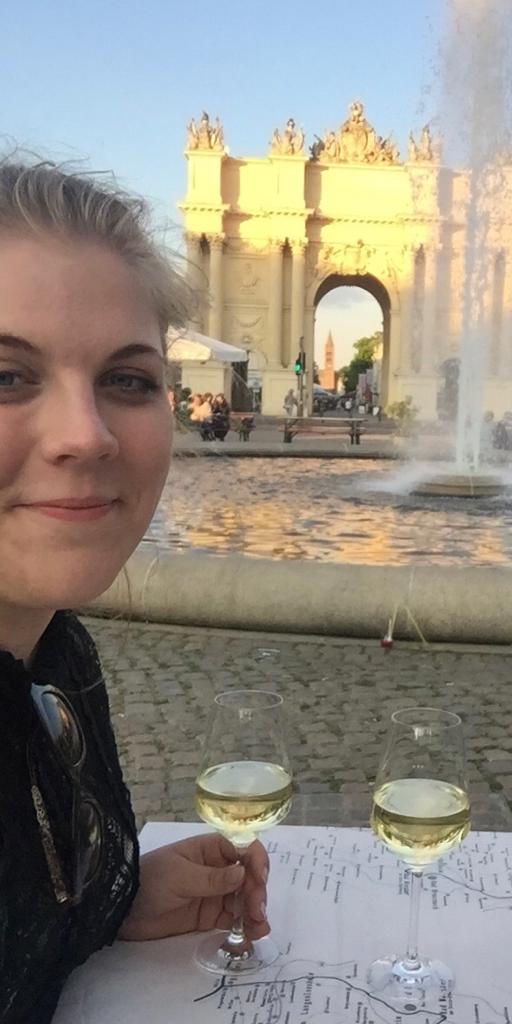 Bei Sonnenuntergang bewunderten wir die Wasserfontäne und Lichtshau im warmen, milden Wetter, wie so viele Leute beim Spaziergang durch das Tor und über den Stadtplatz.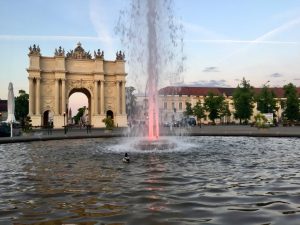 ---
Hello again dear reader,
This week I visited Potsdam and the Sanssouci Palace. The palace was the summer home of Frederick the Great, former King of Prussia. I really enjoy history and nature so visiting this magnificent park was really such an enjoyable experience. Given we had some lovely weather in early May, it was nice to see so many plants blooming and the trees starting to brighten the landscape. The park is big, and you could easily spend an entire day walking around and still not have seen everything there is to see! There are some stunning buildings which sit at the entrance to the park as I have photographed here along with the beautiful water fountain in the middle of the park. This was very relaxing to sit next to in the sun.
If you walk around Potsdam itself, it is a very old but beautiful and picturesque little town. Potsdam was previously a very important military and administrative city and served as the holiday retreat for many Prussian kings. There is an old Dutch quarter, lots of market stalls and a very pretty water fountain surrounded by restaurants where my friend and I had a glass (or two!) of wine. We also ate traditional German food – I had Schnitzel and fried potatoes with beetroot and mushrooms. German food is my favourite so it's no surprise that I liked this so much…
The gate in the background of my photo (above) is the Brandenburg Gate. However, this is not the famous Brandenburg Gate that is in Berlin, but its own city gate in the Luisenplatz in Potsdam. As the sun set, we watched the water fountain light up. This was really nice as the weather was warm and there were lots of people just wandering for an evening stroll through the main square and through the gate.