Hallo aus Berlin!
Ich heiße Julia und ich bin für eine Weile nach Deutschland umgezogen um meine Deutschen Sprachkenntnisse zu erweitern und mich eingehend mit Deutscher Kultur zu befassen. Mit verbesserten Deutschen Sprachkenntnissen erwarte ich dass mein Arbeitgeber mehr Deutschsprachige Studenten erhält. Ich habe zwar Deutsch in der Schule gelernt, aber das sind jetzt fast zehn Jahre her seit ich förmlich Deutsch gelernt habe und so ist es positiv und hilfreich eine Sprache wieder strukturiert zu erleben. Ich liebe es Sprachen zu lernen und so hat diese Reise meine Leidenschaft wieder erweckt.
Ich wohne bei einer Deutschen Familie die nur Deutsch spricht, so dass es für mich eine Herausforderung ist. Ich höre viel Nachrichten im Radio und Fernsehen um meinen Wortschatz zu erweitern und lese auch Zeitschriften wie Spiegel und Stern. Es ist sehr interessant die Welt von Deutscher Perspektive anzusehen. Ich bin sehr an Politik interessiert und habe so einen Rundgang im Parlament gebucht (Foto unten) wo ich viel über Deutsche Geschichte und Politik lernte. Ich habe auch viele Museen in Berlin besucht – die Geschichte der DDR und der Mauer waren besonders interessant, wenn auch oftmals sehr traurig und deprimierend.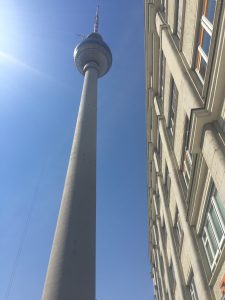 Der Fernsehturm , ikonisches Symbol der DDR , hat 200 Millionen Mark zu errichten gekostet und hat eine sehr interessante Geschichte  – es ist immer noch das höchste Gebäude in Deutschland. Ich hoffe irgendwann im kommenden Monat das Restaurant dort zu besuchen, wenn das Wetter noch besser wird. Die Fotos werde ich natürlich auch hier vorzeigen. Gleichzeitig werde ich auch Potsdam besuchen – eine historische Stadt mit viel Kultur, ausgezeichneter Gastronomie und wundervollen Gärten. Ich bin so dankbar die Möglichkeit zu haben all diese Orte in Deutschland zu genießen.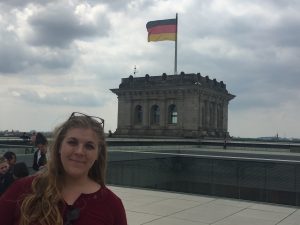 English version:
Hello from Berlin! My name is Julia and I have moved to Germany for a while to improve my German and to fully immerse myself in German culture. With a better command of the German language, this will help the business I work for attract German speaking students. I learned German at school but it has been almost ten years since I formally learned German and so it's been a really positive and helpful experience studying the language in a structured way again. I love learning languages so this trip has really reignited my passion!
I am living with a German family and speaking only German which has been quite an exciting challenge. I listen to a lot of news on the radio and TV to try and improve my vocabulary. I also like reading news sites like the Spiegel and DW news which have really helped my language too – it is interesting to see the German perspective on current affairs. I am very interested in politics, so I booked a tour of the German parliament building (photo below) and learned a lot about the history of German politics. I have also visited some of the many museums in Berlin – learning about the GDR and Berlin wall has been fascinating, although at times very sad and depressing. The TV tower, an iconic symbol of the GDR, cost 200 million marks to build and has a fascinating history. It is still the tallest structure in Germany. I hope to go to the restaurant inside the tower at some point next month when the weather gets even better. Of course, I shall take pictures when I go and share them here! I also look forward to visiting Potsdam next month. It is beautiful and filled with history, culture, good food and beautiful gardens to see! I'm so grateful I have the chance to visit places in Germany as it is such a beautiful country.