Moin an alle Leser,
langsam kommen die Semesterferen nach ein paar erholsamen Monaten zu einem Ende. Das heißt, dass mein Unikurs jetzt wieder anfängt und die freie Zeit wird sich in Lernzeit umwandelt. Obwohl das neue Semester schon an die Tür klopfte, hatte ich es mir vorgenommen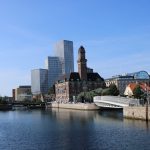 meine letzten paar Wochen Semesterferien zu genießen und gut auszunutzen. Deswegen bin ich mit meiner Freundin und unseren Fahrrädern mit einer Fähre von Rostock nach Schweden gefahren!  Schweden war wunderschön und obwohl wir nur sechs Tage da waren, haben wir überraschend viel erkundet. Wir haben  Tagesausflüge in Städte wie Malmö und Trelleborg unternommen und haben es auch sogar geschafft einen Tag in Koppenhagen (Dänemark) zu verbringen. Natürlich haben wir es nicht geschafft alles in nur einem Tag anzuschauen aber ich würde sagen, dass ich nun auf jeden Fall ein besseres Gefühl und Verständnis von dem Leben in Skandinavien habe. Wir haben uns aber auch die Zeit genommen um uns die Natur Schwedens anzuschauen und sind mehrmals die schöne schwedische Südküste mit unseren Fahrrädern langgefahren.
Die Sprache dort finde ich vor allem sehr interessant. Man hat sofort gemerkt, dass es definitiv manche Ähnlichkeiten gibt zwischen Deutsch und Schwedisch (zum Beispiel das Wort "du"). Nach ein bisschen Recherche habe ich herausgefunden, dass die Ähnlichkeit von Deutsch und Schwedisch vor allem in der historischen Verwandtschaft beider Sprachen begründet ist. Außerdem beeinflussten die zahlreichen deutschen Kaufleute und Handwerker, die im Mittelalter nach Schweden kame, den schwedischen Wortschatz.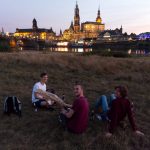 An dem Tag nach unserer Rückkehr nach Deutschland ging meine Abenteuer sofort weiter nach Dresden. Diesmal bin ich mit einer kleinen Freundesgruppe mit einem Auto dorthin gefahren. Dresden ist eine schöne Stadt mit einer traurigen Geschichte. Gegen Ende des Zweiten Weltkriegs beschlossen die Alliierten, dass Dresden das Ziel
eines der größten Bombenangriffe in der Geschichte der Menschheit sein sollte. Im Februar 1945 warfen 800 britische Bomber Spreng- und Brandbomben auf die Stadt Dresden ab. Die Folge war ein Feuersturm, welchem bis zu 25.000 Menschen zum Opfer fielen. Die Notwendigkeit dieser Bombardierungen ist bis heute umstritten und einige halten die Bombardierungen für völlig unberechtigt. Seitdem wurde Dresden wiederaufgebaut und hat seinen Charakter bewahrt, beispielsweise durch den Wiederaufbau der Frauenkirche, die durch die Bombenangriffe teilweise zerstört worden war.
Die letzten Wochen waren sehr spannend und erholsam und ich habe viel über die schwedische und deutsche Kultur gelernt. Das ist leider mein letzter monatlicher Bericht gewesen und ich danke euch dafür, dass ihr euch die Zeit genommen habt meine Berichte zu lesen.
Jed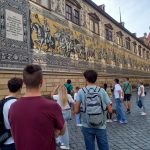 ---
Hello to all readers,
The semester holidays are slowly coming to an end after a few relaxing months. This means that my university course is about to start again and the free time will turn into study time. Although the new semester was already knocking on the door, I had decided to enjoy and make good use of my last few weeks of semester break. That's why I took a ferry from Rostock to Sweden with my girlfriend and our bikes!  Sweden was beautiful and although we were only there for six days, we managed to explore a surprising amount. We took day trips to cities like Malmö and Trelleborg and even managed to spend a day in Koppenhagen (Denmark). Of course, we didn't manage to see everything in just one day, but I would say that I definitely have a better feeling and understanding of life in Scandinavia now. We also took the time to see the nature of Sweden and rode our bikes several times along the beautiful Swedish south coast.
I find the language there very interesting. You immediately could notice that there are definitely some similarities between German and Swedish (for example, the word "du"="you"). After a bit of research, I found out that the similarity between German and Swedish is mainly due to the historical relationship between the two languages. Furthermore, the numerous German merchants and craftsmen who came to Sweden in the Middle Ages influenced the Swedish vocabulary.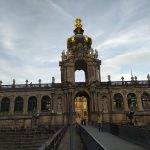 On the day after we returned to Germany, my adventures immediately continued to Dresden. This time I went there by car with a small group of friends. Dresden is a beautiful city with a sad history. Towards the end of the Second World War, the Allied forces decided that Dresden should be the target of one of the biggest bombing raids in human history. In February 1945, 800 British bombers dropped explosive and incendiary bombs on the city of Dresden. The result was a firestorm in which up to 25,000 people fell victim. The necessity of these bombings is still disputed today and some consider the bombings to be completely unjustified. Since then, Dresden has been rebuilt and has retained its character, for example by rebuilding the Frauenkirche, which had been partially destroyed by the bombing.
The last few weeks have been very exciting and relaxing and I have learned a lot about Swedish and German culture. This is unfortunately my last monthly report and I thank you for taking the time to read my reports.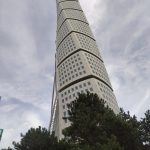 Jed