Semana Santa es una de las semanas más importantes de España. Andalucía es bien conocida por las procesiones elaboradas que ocurren durante toda la semana, donde las esculturas de madera, 'pasos', se llevan por las ciudades. En un año normal, las calles de Granada se llenarían de gente observando y participando en la procesión. En cambio, la semana se celebró reuniéndose en pequeños grupos, comiendo y relajándose. A diferencia del Reino Unido, recibir huevos de chocolate no es común en España. En vez de eso, se come pan frito o masa cubierta de azúcar.
Mis amigos y yo aprovechamos al máximo un descanso de las clases universitarias pasando unas noches en la playa. Originalmente, habíamos planeado visitar Cádiz pero con la restricción contra viaje fuera de la provincia de Granada, en su lugar exploramos la Costa Tropical. Alquilamos un piso en Almuñécar, un pueblo de playa a poco más de una hora de Granada. A pesar de las nubes y la brisa suave en nuestro primer día, obstinadamente nos tendimos en la playa convenciéndonos de que *era* cálido (no lo era). Fuimos recompensados al día siguiente con hermosos cielos soleados. Algunos de mis amigos corrieron al mar pero para mí, era demasiado frío. Esa noche visitamos una gran cruz que daba al mar, y comimos comida rica.
En nuestro último día completo, fuimos al cercano pueblo de Salobreña. Alquilamos kayaks, y a pesar de que algunas personas se atascaron brevemente en una cala, ¡nos lo pasamos de maravilla! Después, comimos una deliciosa paella de mariscos. Los restaurantes estaban un poco concurridos – era evidente que mucha gente estaba aprovechando al máximo las vacaciones y viajando fuera de la ciudad. Mi momento favorito del viaje fue cuando regresamos a Almuñécar y descubrimos a la banda del pueblo tocando música en la plaza. Bandas como esta solían participar en las procesiones de Semana Santa, así que fue increíble verlas tocar música.
¡Era una forma encantadora, aunque diferente, de celebrar la Pascua!
~~~~~~~~~~~~~~~~~~~~~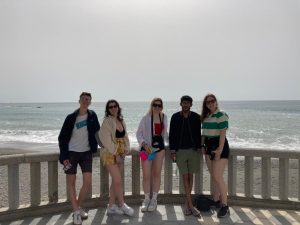 Semana Santa/Holy Week is one of the most important weeks in Spain. Andalucia is known for the elaborate processions that take place throughout the week, where wooden sculptures, 'pasos', are carried around the cities. In a normal year the streets of Granada would be filled with people observing and participating in the procession. Instead, Semana Santa was celebrated by meeting in small groups, eating good food, and relaxing. Unlike back home, chocolate eggs are not common here at all! Instead, people eat fried bread or dough covered in sugar.
My friends and I made the most of a break from university classes by spending a few nights at the beach. We had originally planned to visit Cadiz but with travel outside of the province of Granada still prohibited, we instead explored the Costa Tropical. We rented an apartment in Almuñécar, a beach town just over an hour away from Granada. Despite the clouds and mild breeze on our first day, we stubbornly lay on the beach convincing ourselves that it *was* warm (it was not). We were rewarded the next day with beautiful sunny skies. Some of my friends braved the sea but it was definitely too freezing for me to go in! That evening we visited a large cross that overlooked the sea and had some lovely food!
For our last full day we visited the nearby town of Salobreña. We hired kayaks, and despite a few people briefly getting stuck in a cove, we had a great time! This was followed by a delicious seafood paella. The restaurants were quite busy – clearly lots of people were making the most of the holiday and travelling out of the city. My favourite moment of the trip was when we returned to Almuñécar and discovered the town band playing music in the square. Bands like this would usually take part in the Semana Santa processions, so it was incredible getting to see them play music.
It was a lovely, albeit different, way to celebrate Easter!