Viver no Rio durante uma epidemia
O Brasil como país é um dos lugares menos afetados pelo coronavírus, no entanto, o número de casos e a morte são mais altos aqui no Rio de Janeiro e em São Paulo. Estou morando em Copacabana, que tem a maior taxa de mortalidade devido ao vírus em todo o Rio. No entanto, fiquei impressionado como as comunidades estão lidando com isso, como eu esperava o pior. Especialmente vivendo tão perto de uma favela, espero que muitas outras pessoas quebrem as regras de isolamento que foram estabelecidas. Na primeira semana do governo sugeriu isolamento, o movimento nas ruas de Copacabana caiu 85%! Todas as lojas essenciais não fecharam na segunda semana, deixando apenas supermercados, farmácias e hospitais abertos. Os restaurantes de fast food entregam em endereços residenciais, o que significa que aqueles que trabalham podem manter seus empregos e empresas como a uber eat, iFood e Rapi, podem continuar pagando seus funcionários. Os que ficam presos em casa e não conseguem trabalhar podem receber doações de todos os supermercados locais. Sugere-se que você compre um saco de arroz, feijão, farinha, etc., além de comprar suas próprias compras e existem carrinhos de coleta colocados do lado de fora para você deixar a comida e aqueles que estão lutando podem ficar à vontade para ir buscá-la a qualquer momento . Eu acho incrível como todos nós podemos trabalhar juntos neste momento difícil para garantir que as pessoas não passem fome e acho que é um ótimo exemplo para o resto do mundo e especialmente para a Inglaterra, onde menos pessoas estão sofrendo de pobreza do que aqui. . Além disso, houve uma escassez de máscaras, então um grupo de pessoas começou a colocá-las em suas máquinas de costura e a doá-las em troca de chocolate. O chocolate que eles recebem é doado para as famílias mais pobres, para que possam dar aos seus filhos nesta Páscoa. Outra ideia brilhante.
Percebi que a disseminação de notícias falsas sobre o coronavírus causou pânico aqui no Rio. Eu estava interessado em saber como certas empresas de notícias decidiram divulgar o que são notícias falsas e algumas empresas de notícias como a Globo – extra criaram uma hashtag #fakenews para combater a disseminação e informar o público com fatos e números precisos. Isso é importante, pois reduzirá as pessoas do pânico comprando comida nos supermercados e deixando as pessoas vulneráveis sem comida para comer. Também informará às pessoas o que elas devem estar fazendo e como elas devem estar se comportando. Eu acho que a disseminação de rumores e notícias falsas tem um efeito prejudicial na reação do público. As notícias falsas sempre causam problemas, mas agora é ainda mais importante, porque todo o planeta tenta combater o vírus. As notícias falsas causam apenas confusão e estresse entre a sociedade e combater esse problema permitirá que todos permaneçam bem informados, para que individualmente, eles podem seguir as orientações do governo e reduzir o risco de disseminação adicional do vírus.
Eu só consegui completar minha primeira semana de estágio na escola de idiomas antes que, infelizmente, tivesse que fechar. Eu estava ensinando inglês a crianças de 11 a 15 anos que vieram das duas favelas da região. Essas aulas são totalmente gratuitas e pedimos apenas comprometimento e dedicação. As crianças ficaram muito chateadas ao saber que muitos de seus professores estavam voltando para casa e também que não poderiam assistir às duas aulas por semana. Para dar a eles algo para trabalhar, criamos um livreto de tarefas e os entregamos algumas semanas atrás. Ainda estamos em contato com eles para definir as tarefas de casa e a maioria das crianças está enviando seu trabalho de volta a cada semana. Espero que o Virus termine dentro de alguns meses e poderei continuar minha colocação até setembro, quando terei que voltar para completar meu último ano na universidade. Minha universidade tem sido extremamente compreensiva e nos disse que não é mais necessário concluir nossas colocações, entregar tarefas ou fazer exames este ano, mas ainda estou ansioso para ficar aqui e concluir minha colocação para meu próprio desenvolvimento profissional e também para me concentrar em aprender português depois de passar meu primeiro semestre na Colômbia.
Sinto que meu português melhorou bastante no mês passado, pois passo todo o meu tempo com meus companheiros de apartamento que falam português. Anteriormente, eu passava mais tempo com estrangeiros e falando inglês, mas agora 100% da minha comunicação é em português e a única vez em que falo inglês é quando ligo para pessoas de inglaterra. Isso é realmente benéfico para mim e é o que eu queria mesmo assim. Eu moro com duas pessoas do Peru que falam português o tempo todo, mas é ótimo que eu também possa continuar praticando espanhol com eles sempre que eu quiser. À noite, costumamos jogar cartas e assistir a um filme ou série de televisão com algumas cervejas. Eu fiz meu próprio jogo de tabuleiro usando papel e lápis de cor e todo mundo parece adorar. Três dos caras são chefs que não estão mais trabalhando, o que é ótimo para mim, porque eu sou inútil na cozinha e eles cozinham para a nossa família aleatória todas as noites. Ter tantas pessoas no apartamento durante o isolamento tem suas vantagens, porque nunca há um momento de tédio e sempre há alguém com quem conversar.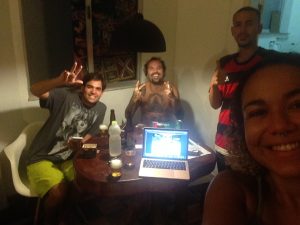 Living in Rio during an epidemic
Brazil as a country is one of the places least affected by Coronavirus however the numbers of cases and death are highest here in Rio de Janeiro and in Sao Paulo. I'm living in Copacabana which has the highest mortality rate due to the virus in the whole of Rio. However, I was impressed how the communities are dealing with it as I had expected the worst. Especially living so close to a favela I expect ted many more people to break the isolation rules that have been set in place. In the first week of the government suggested isolation, movement on the streets in Copacabana was down by 85%! All none essential stores closed in the second week leaving only supermarkets, pharmacies and hospitals open. Fast food restaurants will deliver to home addresses which means those who work their can keep their jobs and businesses such as uber eats, iFood and Rapi, can keep paying their employees. Those stuck at home who cannot work can receive donations from all local supermarkets. It is suggested to buy a bag of rice, beans, flour etc extra whilst buying ones own shopping and there are collection trolleys placed outside for you to drop off the food and those who are struggling can feel free to go and collect it at any time. I think it's amazing how we can all work together at this hard time to make sure that people aren't going hungry and I think its a great example for the rest of the world and especially England where less people are suffering from poverty than are here. Also, there has been a shortage of masks, so a group of people have started making them on their sewing machines and donating them in exchange for chocolate. The chocolate they receive is then donated to poorer families so that they can give it to their children this easter. Another brilliant idea.
I have noticed that the spread of fake news regarding coronavirus has caused panic here in Rio. I was interested in how certain news companies have decided to publicise what is fake news and some news companies such as Globo – extra have created a hashtag #fakenews to combat the spread and inform the public with facts and figures that are accurate. This is important as it will reduce people from panic buying food in the supermarkets and leaving vulnerable people without food to eat. It will also inform people what they should be doing and how they should be behaving. I think the spread of rumours and false news has a detrimental effect on the public's reaction. Fake news has always caused problems, but now it is even more important, because the whole planet tries to fight the virus covid 19. Fake news only causes confusion and stress between society and combating this problem will allow everyone to remain well informed, so that individually they can follow government advice and reduce the risk of further spreading the virus.
I was only able to complete my first week on my placement at the language school before it unfortunately had to close. I was teaching English to children aged 11-15 who come from the two favelas in the area. These classes are completely free and we only ask for commitment and dedication. The children were very upset to hear that many of their teachers were returning home and also that they wouldn't be able to attend their two classes a week. To give them something to work on we created a homework booklet and handed them out a few weeks ago. We are still in contact with them to set homework tasks and most of the children are sending their work back each week. I have hope that there will be an end to this Vitus in a few months and I will be able to continue my placement until September when I will have to return to complete my final year at university. My university have been extremely understanding and have told us it is no longer necessary to complete our placements, hand in assignments or sit any exams this year but I am still eager to stay here and complete my placement for my own professional development and also to focus on learning Portuguese after spending my first semester in Colombia.
I feel as though my Portuguese has improved greatly in the last month as I have been spending all of my time with my Portuguese speaking flat mates. Previously I was spending more time with foreigners and speaking English but now 100% of my communication is in Portuguese and the only time I do get to speak English is when I call people from home. This is really beneficial for me and is what I wanted anyway. I am living with two people from Peru who speak Portuguese all of the time but it is great that I can also continue practicing Spanish with them too, whenever I want. At nights we usually play cards and watch a film or tv series with a few beers. I made my own board game using paper and crayons and everyone seems to love it. Three of the guys are chefs who are no longer working which is great for me as I am useless in the kitchen and they cook for our random family every evening. Having so many people in the apartment during isolation has its advantages because there is never a dull moment and there is always someone to talk to.