***虎跳峡***
云南的虎跳峡是世界上最深的峡谷之一,再说可能是中国的最有名的峡谷。虎跳峡在丽江和香格里拉的中间,离昆明六七小时。不久前,我在云南旅行的时候,我和一个朋友一起去虎跳峡参观。
晚上七点左右我们到了虎跳峡附近的农村。我们找了一家酒店,然后立刻吃晚饭。因为我们要早起床,所以吃饭以后我们去睡觉了。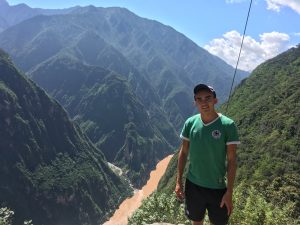 Tiger Leaping Gorge
第二天,我们六点起床,然后开始在虎跳峡徒步。天气很好,阳光灿烂,就是有点儿冷。我们在河流边徒步,在左边有玉龙雪山,个子是五千六百米左右,在右边有哈巴雪山,个子是五千四百米左右,还有河流在两座山的中间。在峡谷里风景很精彩;蓝蓝的天,白白的云,绿绿的草,黄黄的树叶!两座山很雄伟,在山峰上有雪,非常漂亮。我们照了那么多相片!峡谷里有一些农村和很多的小旅社。在一家小饭馆我们吃午饭,一边吃饭一边跟老板聊天儿。我们品尝地方风味比如说牦牛肉和西藏的饺子,都好吃极了,然后我们继续徒步。
到了最后的旅社以后,我们特别累。我们走了一共三十一公里,但是真是一天精彩!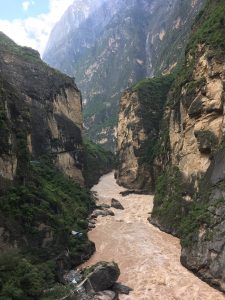 The view from Tiger Leaping Stone
***Tiger Leaping Gorge***
The Tiger Leaping Gorge in Yunnan is one of the deepest gorges in the world, and perhaps the most famous in China. It is situated between the towns of Lijiang and Shangri-La, about six or seven hours from Kunming. Not long ago, when I was travelling in Yunnan, a friend and I went to see it.
At about 7 o'clock in the evening, we arrived at the village near the gorge. We found a hotel then ate straight away. After dinner we went to sleep as we had to get up early.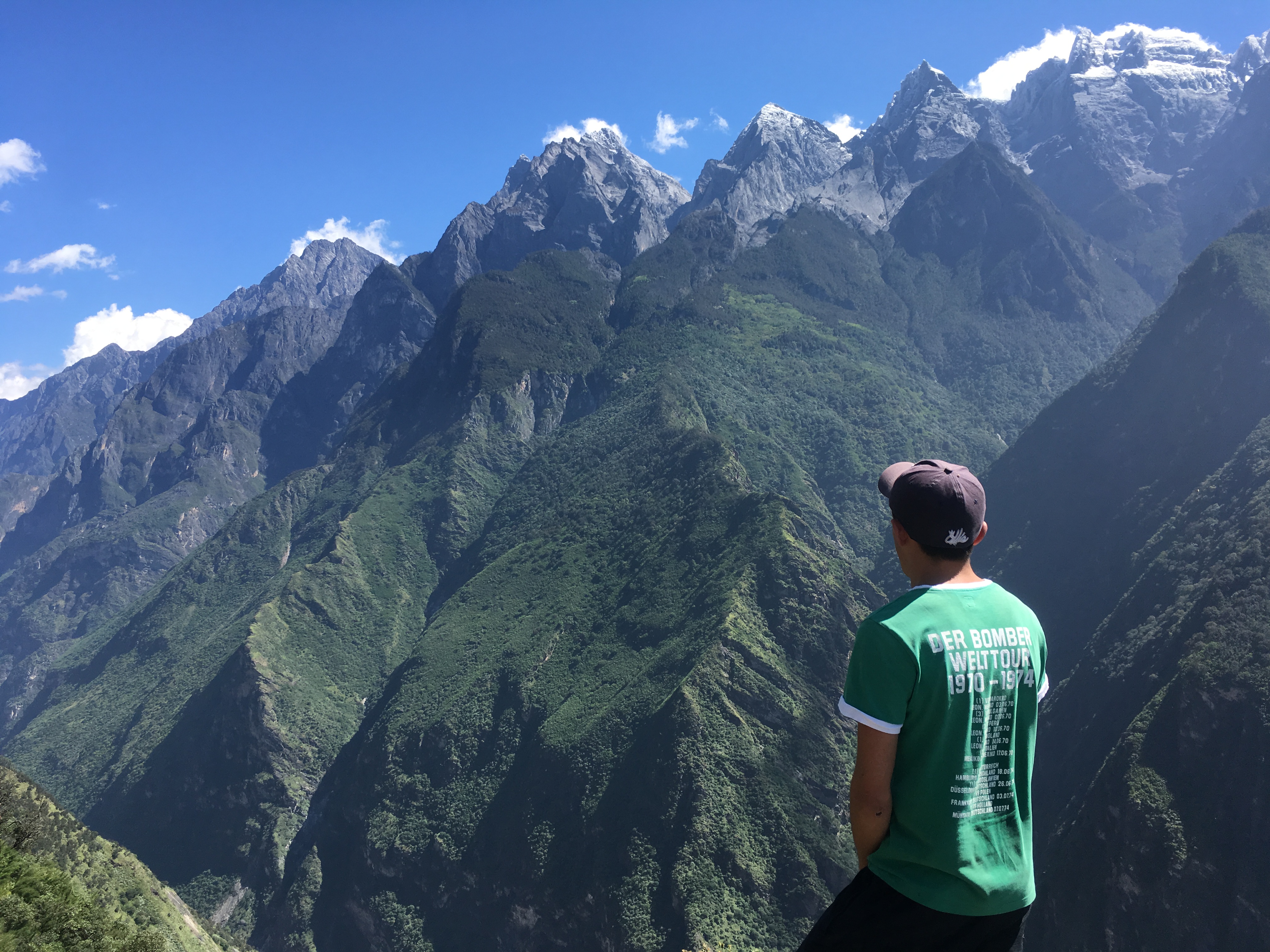 The next day, we got up at 6 o'clock in the morning and started the hike along the gorge. The weather was good and the sun was bright, although it was a little cold. We walked alongside the river, with the Jade Dragon Snow Mountain on the right hand side, at 5600 metres tall, and the Haba Snow Mountain on the left hand side, at 5400 metres tall, with the river in between. The scenery in the gorge was splendid; the sky was blue, the clouds were white, the grass was green and the leaves were yellow! The two mountains were huge, their peaks covered in snow which was very pretty. We took so many photos! Inside the gorge there were a few villages and lots of small guesthouses. We had lunch in a small restaurant, and chatted to the boss as we ate. We tried local delicacies such as Yak meat and Tibetan dumplings, both of which were extremely delicious, before we continued walking.
When we arrived at the final guesthouse, we were very tired. We had walked 31 kilometres in total, but it had been a splendid day!