Last month I decided that I would start being more productive with my time and make more efforts to spend time doing the things I love. I have been contacting my friends and family in England more frequently. I made a calling schedule so that I speak to at least two people every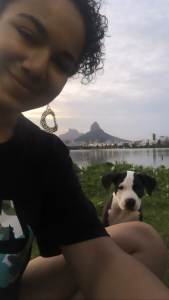 day. So far it's been difficult to keep to my schedule as often it's difficult to reach people but I have definitely been making more efforts. I finally made a start on my travel journal. I'm currently talking about carnival at the end of February so I clearly have a lot of catching up to do. I find taking a look back through my photos helps me to not miss out on certain details. I always keep business cards, bus tickets and any little thing I'll later be able to glue in my journal so it's nice to see it coming together after a couple of months neglecting to write. Another thing I wanted to do was spend more time at the beach. I've managed to go to the beach most days and pretty much the only thing that keeps me from going are the occasional rainy days we have here in Rio. I have a 4 month old puppy now who is finally big enough to go outside so it's great taking him to the beach with his parasol and water bottle we can stay for a couple of hours. He's scared of the water but soon he'll be big enough to watch my bags whilst I go for a swim. Having a puppy during quarentine has been great as I've been able to train him solidly for two months. The downside is that he really doesn't like to be left alone so I've been trying to combat this by locking him in my room on his own when everyone in the apartment is eating.
He needs to learn how to be by himself ready for when I start going out more. This could be happening soon as Rio is beginning phase two and more places will be opening soon.
I had a job interview today for a language school. It went well and I am preparing to start in the next week. I am so excited about this as I was sad to be missing out on volunteering at Mais Caminhos who give free English lessons to poor kids from the favelas. I am still working closely with Mais Caminhos and look forward to the school re-opening. I now have a paid job with USA Rio English which is currently doing 100% of its classes online. This job works perfectly for me as I can decide my hours so I'll be able to make sure I can fit in everything I want to do. I'm really excited that I'll be able to start doing one of the many things I came to Rio to do.
I'm happy with the progress that I made this month in my Portuguese and I want to continue improving this by studying more at home so that I do not fall behind on things such as grammar or writing when I return to classes in september. I plan to continue making efforts to call friends and family at home and writing in my journal and ofcourse spend some time at the beach.
No mês passado, decidi que começaria a ser mais produtivo com o meu tempo e faria mais esforços para passar o tempo fazendo as coisas que amo. Tenho entrado em contato com meus amigos e familiares na Inglaterra com mais frequência. Fiz uma programação de ligações para falar com pelo menos duas pessoas todos os dias. Até agora, tem sido difícil manter minha agenda, pois é difícil alcançar as pessoas, mas definitivamente tenho feito mais esforços. Finalmente comecei meu diário de viagem. Atualmente, estou falando de carnaval no final de fevereiro, então claramente tenho muito o que fazer. A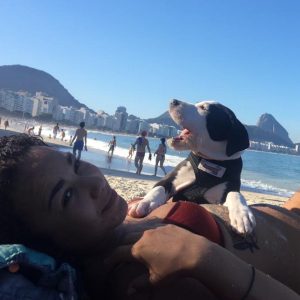 cho que olhar para trás nas minhas fotos me ajuda a não perder certos detalhes. Eu sempre mantenho cartões de visita, passagens de ônibus e qualquer coisa que mais tarde eu possa colar no meu diário, então é bom vê-lo se unindo depois de alguns meses, deixando de escrever. Outra coisa que eu queria fazer era passar mais tempo na praia. Consegui ir à praia quase todos os dias e praticamente a única coisa que me impede de ir são os ocasionais dias chuvosos que temos aqui no Rio. Agora, tenho u
m filhote de 4 meses que finalmente é grande o suficiente para sair, então é ótimo levá-lo à praia, e com seu guarda-sol e garrafa de água podemos ficar por algumas horas. Ele está com medo da água, mas logo será grande o suficiente para assistir minhas malas enquanto eu nado. Ter um filhote de cachorro durante a quarentena tem sido ótimo, pois tenho sido capaz de treiná-lo solidamente por dois meses. A desvantagem é que ele realmente não gosta de ser deixa
do sozinho então eu tenho tentado combater isso, trancando-o no meu quarto sozinho quando todos no apartamento estã
o comendo. Ele precisa aprender a estar sozinho, pronto para quando eu começar a sair mais. Isso pode estar acontecendo logo que o Rio iniciar a fase dois e mais lugares serão abertos em breve. Hoje tive uma entrevista de emprego para uma escola de idiomas. Tudo correu bem e estou me preparando para começar na próxima semana. Estou tão empolgada com isso, pois fiquei triste por perder o voluntariado no Mais Caminhos, que dá aulas de inglês gratuitas para crianças pobres das favelas. Ainda estou trabalhando em estreita colaboração com o Mais Caminhos e aguardo com expectativa a reabertura da escola. Agora tenho um emprego remunerado no USA Rio English, que atualmente está fazendo 100% de suas aulas online. Esse trabalho funciona perfeitamente para mim, pois eu posso decidir meu horário, para que eu possa me encaixar em tudo o que quero fazer. Estou realmente empolgado por poder começar a fazer uma das muitas coisas que vim ao Rio.
Estou feliz com o progresso que fiz este mês no meu português e quero continuar melhorando isso estudando mais em casa, para não ficar para trás em coisas como gramática ou escrita quando voltar às aulas em setembro. Pretendo continuar fazendo esforços para ligar para amigos e familiares em casa e escrever no meu diário e, é claro, passar algum tempo na praia.