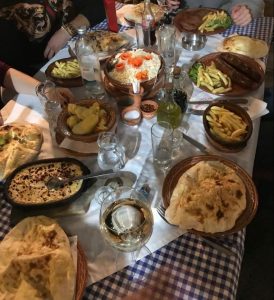 Javën e kaluar më në fund shkova në "Pyllin e Arinjve Prishtina". Vendi i shenjtë ndodhet afër liqenit të Badovcit dhe është themeluar në vitin 2013 për të rehabilituar arinjtë që ishin mbajtur në robëri. Ka pasur një traditë të "arinjve të restorantit" në të gjithë rajonin, të mbajtur në kafaze të vogla për të argëtuar klientët. Në vitin 2010 u miratua një ligj për ta bërë të paligjshëm mbajtjen e arinjve privatisht, gjë që nënkuptonte se krijimi i shenjtërores ishte i nevojshëm. Vendi i shenjtë strehon 20 arinj të shpëtuar në një sipërfaqe prej 16 hektarësh, edhe pse ne arritëm të shohim vetëm disa pasi ata së fundmi kanë dalë nga gjumi letargji. Këta arinj të robëruar shpesh quhen "arinj vallëzues", të cilët ishin të zakonshëm në të gjithë Evropën në mesjetë. Ai u bë i paligjshëm në Angli në vitin 1911. Ishte e mrekullueshme të shihje punën që po bën "Prishtina Bear Sanctuary" dhe se si ata i kanë shpëtuar të gjithë arinjtë e robëruar të Kosovës.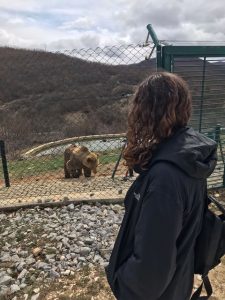 Më pas shkuam për një vakt tradicional në restorantin "Etno Shtëpia" (Etno Kuca – nga serbishtja). Ne hëngrëm disa ushqime të mahnitshme tradicionale si: pasul- një zierje e fasules e servuar ndonjëherë me sallam; Sallatë Shope – një sallatë fillimisht bullgare e përbërë nga tranguj, domate, qepë, speca dhe djathë të bardhë, e cila është e njohur në të gjithë Ballkanin. Gjithashtu, "speca në kajmak" që është speca me kajmak të gatuara në tavë. Meqë koha sime në Kosovë po vjen fundi, ishte e mrekullueshme që më në fund pashë shenjtëroren e ariut dhe të haja një vakt kaq të mrekullueshëm. Ndihem shumë më e sigurt duke folur shqip dhe shumë mirënjohëse për gjithçka që më ka mundësuar bursa nga John Speak!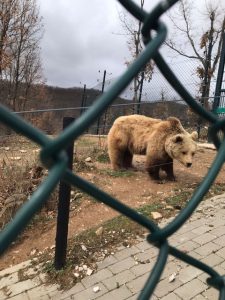 Last week I finally went to Prishtina Bear Sanctuary. The sanctuary is located near Badovc lake and was established in 2013 to rehabilitate bears that had been kept in captivity. There has been a tradition of "restaurant bears" throughout the region, kept in tiny cages to entertain customers. In 2010 a law was passed to make keeping bears privately illegal which meant the creation of the sanctuary was necessary. The sanctuary houses 20 rescued bears throughout 16 hectares, although we only managed to see a few as they have recently come out of hibernation. These captive bears are often called "dancing bears" , which used to be common all throughout Europe in the middle ages. It was made illegal in Britain in 1911. It was great to see the work that Prishtina Bear Sanctuary is doing and how they have rescued all of Kosovo's captive bears. 
Afterwards we went for a traditional meal in the nearby restaurant Ethno House, "Etno Kuca" in Serbian. We ate some amazing traditional food such as pasul; a bean stew sometimes served with sausage. Shopska salad; an originally Bulgarian salad consisting of cucumbers, tomatoes, onions, peppers and white cheese that is popular all over the Balkans. Also, "speca me kajmak" which is peppers baked in cream. As my time in Kosovo is coming to an end it was great to finally see the bear sanctuary and to have such a great meal. I am feeling much more confident speaking Albanian and very grateful for everything the John Speak Scholarship has enabled me to do!