Paris – La Sorbonne – Novembre 2018 – Molly Jeffs
Comme toujours, les deux derniers mois ont filé à toute vitesse. La vie parisienne a devenu normale et c'est même difficile d'imaginer les cours en anglais. Maintenant qu'on est tout à l'aise dans le nouveau rythme de vie je le trouve intéressant de se souvenir à quel point on a amélioré et mûri dans quelques mois.  L'apprentissage d'une langue est un processus continuel, mais sans doute ma compétence à l'écoute est mieux que jamais ; et lorsque j'oublie les mots simples en permanence, c'est incroyable de voir le vocabulaire s'élargir chaque jour. La connaissance d'une langue étrangère aide la compréhension de la langue maternelle, et je crois de plus en plus qu'on devrait encourager et soutenir les cours de langues à l'école. Sans mes premiers petits cours de français à maternelle c'est possible que je ne serais pas ici aujourd'hui !
Mais cette année n'est pas seulement la chance d'améliorer une langue, c'est une expérience toute nouvelle d'habiter dans un autre pays et de se préparer pour les choix qui m'attend après université. Sans doute l'expérience la plus difficile, personnellement, est de ne vivre pas avec des amis et famille. Mais toutes les difficultés de cette année sont formatrice et m'aideront dans l'avenir.
Dans tous les moments difficiles et stressants, c'est impossible de rester mécontent pour longtemps quand on est entouré par la beauté de Paris. La façade belle adoré par les touristes n'est qu'une partie de la ville. Paris est une ville composée de communautés vivantes et variés – en marchant on découvre partout les évènements, la musique et l'art. Paris est une ville pleine de culture, et encore mieux, cette culture est apporté à l'espace public.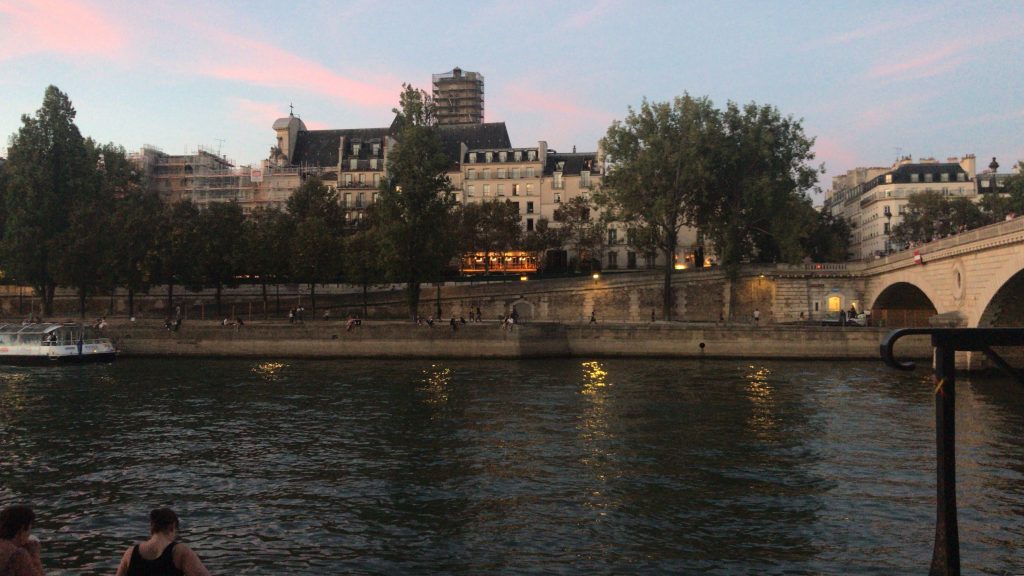 ENGLISH:
As always, these last two months have flown by. The Parisian life has become normal and its even difficult to imagine classes in English! Now that we have all settled in to the new rhythm of life, I find it interesting to remember just how much we have improved and grown in a few months. Learning a language is a constant process, and without a doubt my listening skills are better than ever, and whilst I constantly forget simple words, it's incredible to see my vocabulary increase every day. Knowing a foreign language helps us understand our mother tongue, and I believe more and more that we must encourage and support language classes at school. Without my first little French classes in primary school, it's possible that I would not be here today.
But this year is not just the chance to improve a language, it's a completely new experience to live in another country, preparing for the choices to come after university. Without a doubt the most difficult experience for myself is to not live with family or friends. But all the difficulties of this year are formative and will help me in the future.
In all the difficult and stressful moments, it's impossible to stay unhappy for too long, when you are surrounded by the beauty of Paris. The beautiful appearance loved by tourists is only one part of the city. Paris is a city composed of vibrant and varied communities – just by walking you discover events, music and art everywhere. Paris is a city full of culture, and even better, this culture is brought into the public spaces.