¡Hola!
El tiempo está pasando muy rápido durante mi tiempo en España y casi está terminado. Este mes ha sido otro mes divertido y emocionado mientras que he viajado a otras partes de España y también, he hablado con muchas personas españoles. No solo he conocido a algunas personas de España y Sudamérica, sino también, he conocido a otras personas que están estudiando español aquí como personas de Alemania, Taiwán, Italia y muchos países más.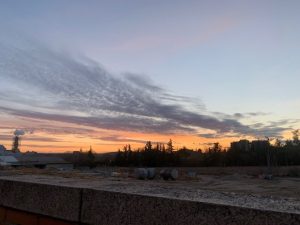 Fui a las montañas cerca de salamanca y la vista era increíble. Se llama La Peña de Francia y me gusté mucho este viaje por las vistas panorámicas y también, fuimos a unas ciudades cerca a Salamanca como Mogorraz y La Albera y eran muy interesantes.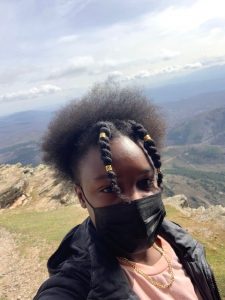 Ahora es semana santa, una vacación religiosa y eso es un tema grande para Salamanca. Salamanca es una ciudad muy religiosa y también, tiene muchos aspectos patrimonios. En el año 1988, fue nombrado patrimonio de la humanidad y en 2002, fue nombrado Capital Europea de la Cultura. Su patrimonio histórico incluye sus catedrales, las escuelas y más. El festival internacional de las artes de castilla y león también se celebra aquí en Salamanca. La semana santa en particular esta destacada aquí porque es de interés turístico internacional. Hay procesiones en las calles y también, hay cosas para ver en la plaza mayor.
Me gusta mucho el patrimonio de los países en general, y por eso, el patrimonio de esta ciudad me ha interesado. He encontrado algunos sitios de la ciudad que quiero ver antes de salir cuando encuentre el tiempo como las catedrales, las que he escuchado que tienen vistas panorámicas maravillosas de la ciudad y también, hay mucho que aprender en estas catedrales también. La ciudad tiene mucha historia y la universidad es un aspecto muy importante de la ciudad, pues, por eso se llama una ciudad universitaria. La universidad es la más antigua de España y una de las más antiguas de Europa y era considerada la más prestigiosa en el pasado.
Otro aspecto importante de la ciudad es la plaza mayor, la que ahora se convierte en el centro de la socializad. Recientemente, han terminado con las renovaciones, reemplazando las luces en la plaza y la arquitectura de la plaza sigue con importancia para la ciudad.
Hi!
Time is passing very quickly while I have been in Spain and my time here is almost finished. This month has been another exciting month while I have spent time at my internship as well as travelling to other parts of Spain and speaking with a lot of Spanish people. Not only have I met people from Spain and South America, but also other people here learning Spanish such as from Taiwan, Germany, Italy and many other places.
I went on a trip to the mountains near Salamanca and the view was incredible. It is called La Peña de Francia and I liked this trip for the panoramic view from such a high point and we also went to a few cities nearby such as Mogarraz and La Alberca.
Currently, it is Holy Week, a religious vacation that is a big deal for Salamanca. Salamanca is a very religious city and also, it has a lot of cultural aspects. In the year 1988, it was named the World Heritage Site and in 2002, it was named European Capital of Culture. Its historical heritage includes its cathedrals, the schools and more. The international festival of the arts of Castille and Leon is also celebrated here in Salamanca. Holy Week in particular is highlighted here because it is of international tourist interest. There are processions in the street and also, there are things to see in the main plaza.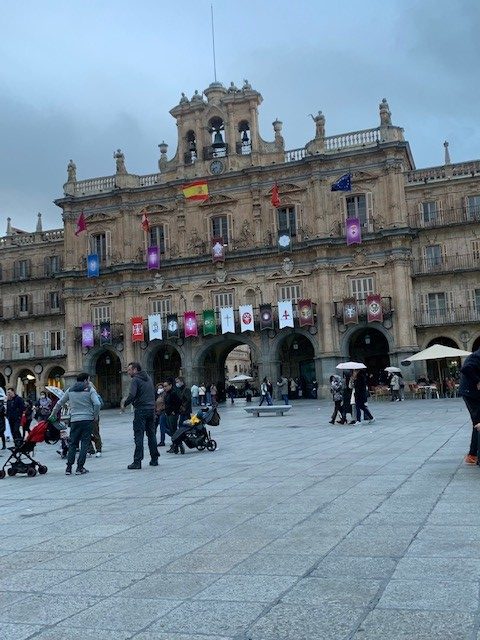 In general, I like experiencing the different cultures in different countries and because of this, the cultural heritage of this city has interested me a lot. I have researched some places within the city that I want to visit before I leave when I find the time, such as the towers in the cathedrals, which I have heard have incredible views of the city and also, there is a lot to learn in these cathedrals. The city has a lot of history, and the university is a very important aspect of the city, which is why it is referred to as a university city. The university is the oldest in Spain and one of the oldest in Europe and it was considered the most prestigious in the past.
Another important aspect of the city is the main plaza, which now has become the centre of socialisation. Recently, they have also finished with renovations, replacing the lights in the plaza and the architecture of the plaza still has importance in the city.