I was very anxious before I arrived here in Medellin. The reason was that I have never been or read much about Colombia. I arrived on Thursday and stayed with a friend from university who is living in Bogotá until Christmas. She made me feel calmer. On Sunday I flew to Medellin. I was happy to get along with my Colombian flatmate in my apartment. He introduced me to his friends and also a bit of the city. He taught me how to order a taxi, order food, where I could find a language school and how to find a local football team. The day before I started working with e-Nable, I went to the beauty salon to paint my nails to feel more relaxed. I am happy that I am in Medellin because the weather is much better than in Bogota. My apartment is much better than I thought too. We have a pool, gym, security, and places for sports. It is in a very safe place and I feel comfortable and safe.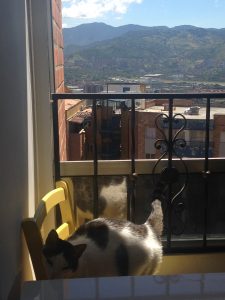 The office is also in a safe place. It is in a neighbourhood full of tourism. On my first day, we discussed the goals of the next few months with everyone. This NGO has two people with full time jobs and the others are volunteers. More or less we always speak in Spanish and all communications are in Spanish. I have my own project in which I am organising an event to fund the NGO. I am excited to start the plans for this.
Estaba muy ansiosa antes de que llegar aquí en Medellin. El razón fue que esto es un lugar que nunca he estado o leer mucho sobre. Llegué el jueves y me quedé con un amiga de la universidad que vive en Bogotá hasta navidad. Ella me hizo sentir mas tranquila. El domingo volé a Medellin. Estaba feliz de que me llevara bien con el colombiano en mi apartamento. El me presento a tus amigos y también un poco de la ciudad. Me enseñó cómo pedir un taxi, pedir comida, dónde podría encontrar una escuela de idiomas y cómo encontrar un equipo de fútbol local. La día antes que comenzar a trabajar con e-Nable, yo fui al salón de belleza para pintar mis uñas para sentirse más relajado. Estoy feliz que estoy en Medellin por que la clima esta mucho más mejor de Bogota. Mi apartamento esta mucho mas mejor que pensaba también. Tenemos una piscina, un gimnasio, seguridad, y lugares para los deportes. Esta en un lugar muy seguro y yo puedo sentir cómodo y seguro.
El oficina también esta en un lugar seguro. Esta en el poblado cuál es un barrio lleno de turismo. En mi primero día, discutimos los metas de los próximos mesas en grupo con todos. Esta NGO tienen dos empleos y las otras son voluntarias. Más o menos siempre hablamos en español y todas las comunicaciones son en español. Yo tengo mi propio projeto en que necesito organizar un evento para hacer fundos por el NGO. Yo estoy emocionada a empezar las planes por esto.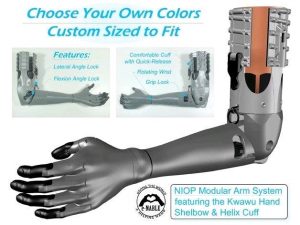 A model that the engineers have been working on for people with short stumps.