En los últimos meses no podía salir o viajar tanto como quería por mis tareas para la universidad. Empezaba a recibir un montón de deberes cada semana y por eso cuando podía salir o viajar dentro de valencia aproveché. 
Soy un aficionado de Chelsea desde hace muchos años y sabía que un amigo mío iba a ir al partido de Chelsea contra valencia que tendría lugar aquí en valencia. En ese momento no quedaban muchas entradas pero,  por suerte alguien me ofreció una, para un precio muy barato. Enseguida terminé mis tareas de la universidad y sin pensar me la compré.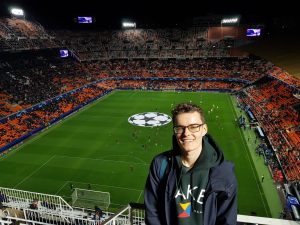 En el día del partido, en el camino al estadio, el atmósfera ya era tan buena, las calles inundaban con la afición de Chelsea y valencia. Cuando llegamos al estadio tomás y yo ya estábamos tan emocionados. Podíamos oír la porra de la afición dentro del estadio y cuando entramos la atmósfera y tamaño del estadio nos asombró.Sacamos unas fotos y nos sentamos. La vista del campo que tenía era fenomenal, no me lo podía creer! Antes de que lo supiera, se ponía la canción de la liga de campeones y salían los jugadores. ¡Enseguida me puso la piel de la gallina porque tras de tantos años de oír la canción de los campeones nunca la había oído en directo! El partido arrancó y ! qué partido era! 
Era tan reñido, había tantos remates contra la puerta de ambos equipos. La tensión estaba tan alta y me encantó la pasión y orgullo de la afición de valencia cuando cantaba los cantos valencianos. Era clarísimo de ver cuánto a ella su equipo le importó. Cuando valencia marcó goles me sentía llamadas a levantarme y vitorear y igualmente cuando Chelsea los marcó. El partido se acabó un empate 2-2 y no podría haber esperado uno más emocionante. Fue lo mejor partido que vi en toda mi vida. ¡Una experiencia inolvidable!
In the last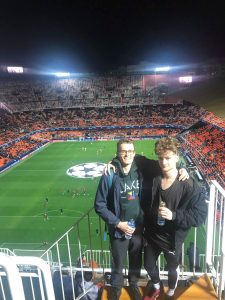 few months I wasn't able to go out or travel as much as I wanted to due to the uni work I had to do. I was receiving  a mountain of work every week and so, when I did get a chance to go out or travel within Valencia I made the most of it. I have a been a Chelsea fan for many years now and I knew that  a friend of mine was going to go to the football match Chelsea vs Valencia, which was going to take place here in Valencia. At that point there weren't many tickets left but luckily somebody offered me one for a very cheap price. Immediately I finished doing my tasks for uni and  bought myself it without a second thought. On the day of the match, on the way to the stadium the atmosphere was already great, the streets were flooded with the fans of Chelsea and Valencia.when Thomas and I arrived at the stadium we were already very excited. We could hear the noise of the fans inside the stadium and when we entered we were amazed by the size of it and by the atmosphere. We took a few photos and then we sat down. my view of the pitch was so good I couldn't believe it. Before I knew it they played the Champions League song and out came the players. Immediately I got goosebumps because after so many years I have never heard it in real life.  The match started, and what a match it was! It was so close and both teams had so many attempts on goal. The tension was high and I loved hearing the passion and pride of the Valencian fans when they sang their Valencian football chants. It was obvious how much their team meant to them. When Valencia scored goals I felt compelled to stand up and cheer for them and the same for when Chelsea scored too.
The match finished a draw 2-2, and I couldn't have asked for more!
It was the best match that I have ever seen.  It was an unforgettable experience!