Hola a todos!
Me llamo Mazin, y esto es mi primera entrega en este sitio web. Como es mi primer blog, me gustaría presentarme: yo soy de Londres estudiando sobre la Historia, Económica, Política y Relaciones Internacionales de Europa en King's College London. Estoy en mi tercer año ahora mismo, por lo tanto he elegido a hacer Erasmus, donde estoy matriculado en la Complutense Universidad de Madrid, estudiando Ciencias Políticas y Sociología.
La Complutense es una universidad con mucha historia. Fue fundado en 1499 y ha sido el hogar de las figuras más prolíficas de España como Concepción Arenal Ponte que fundó el movimiento feminista de España en el Siglo XIX. Aquí he conocido muchos estudiantes de todos los partes del mundo, y lo que más me gusta es que aquí todos los estudiantes tienen muchas oportunidades para expresar su voz en temas políticos, sociales o cualquier tema que les interesen.
Ahora mismo todos mis clases están en español, que ha sido un cambio poquito difícil al principio. Particularmente con la mascarilla, a veces puede ser difícil a oír lo que los profesores dicen. Sin embargo, me he involucrado mucho en los clases, particularmente porque me gusta los temas que estudio sobre Relaciones Internacionales y ahora estoy entiendo mucho más que el principio.
Estoy viviendo en una residencia de estudiantes donde la gran mayoría viene de países hispanohablantes, y esto ha mejorado mi nivel de hablar muchísimo. Tengo un grupo de amigos allí con quienes paso mi tiempo cuando vuelvo de clases. Además cuando tenemos tiempo libre, vamos a diferentes lugares para visitar y disfrutarnos.
Por ejemplo, la semana pasada fui con algunos amigos al Palacio Escorial en las afueras de Madrid. Fue construido por Rey Felipe II para servir como un retiro monástico. Me fascinaba que es el edifico más grande del Renacimiento en el mundo. El camino hasta el palacio es hermoso, estaba rodeado de arboles muy altos y idénticos. La belleza de la naturaleza persigue al palacio también: cuando llegas a la encima de la colina donde está el palacio, puedes ver todo del valle mientras el jardín del palacio te espera detrás de tí.
Estoy enamorado con Madrid y tengo muchas ganas de explorar más de la ciudad y país en general muy pronto.
Hasta la próxima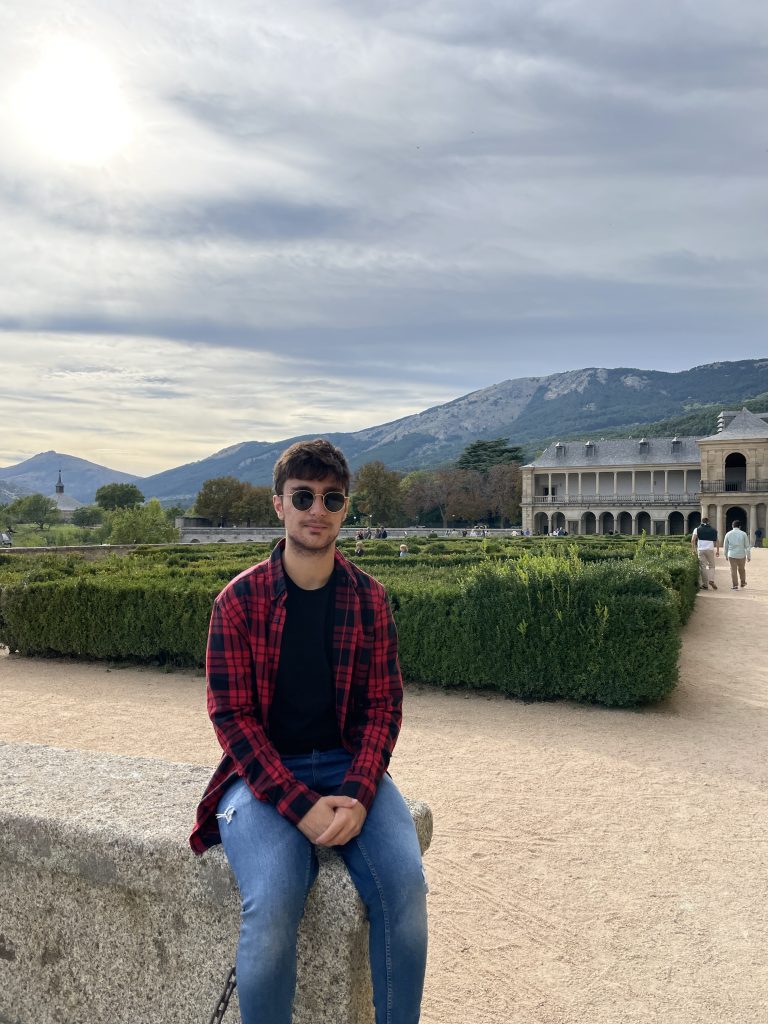 Me sitting in the gardens of the palace, overlooking a beautiful Spanish countryside.
Hello everyone!
My name is Mazin, and this is my first post on this website. As this is my first blog, I'd like to introduce myself: I'm from London studying European History, Economics, Politics and International Relations at King's College London. I am in my third year right now, so I have chosen to do Erasmus, where I am enrolled at the Complutense University of Madrid, studying Political Science and Sociology.
The Complutense is a university with a lot of history. It was founded in 1499 and has been home to Spain's most prolific figures such as Concepción Arenal Ponte who founded Spain's feminist movement in the 19th century. Here I have met many students from all over the world, and what I like the most is that students have many opportunities to express their voice on political, social or any topic that interests them.
Right now all my classes are in Spanish, which has been a bit of a difficult change at first. Particularly with the mask, it can sometimes be difficult to hear what the teachers are saying. However, I have become very involved in the classes, particularly because I like the subjects I am studying in International Relations and I am now understanding a lot more than I did at the beginning.
I am living in a student residence where the vast majority come from Spanish-speaking countries, and this has improved my level of speaking a lot. I have a group of friends there with whom I spend my time when I come back from classes. Also when we have free time, we go to different places to visit and enjoy ourselves.
For example, last week I went with some friends to the Escorial Palace in the outskirts of Madrid. It was built by King Philip II to serve as a monastic retreat. I was fascinated that it is the largest Renaissance building in the world. The path up to the palace is beautiful, it was surrounded by very tall and identical trees. The beauty of nature haunts the palace as well: when you reach the top of the hill where the palace is located, you can see the whole valley while the palace garden is waiting behind you.
I am in love with Madrid and I am looking forward to exploring more of the city and the country in general very soon.
Until next time
Mazin