Hi everyone,
For this month, I decided to extend my travels around Madrid to another town called Aranjuez. This town provoked my attention because it was one that was not much spoken about by tour guides or Erasmus groups such as Toledo, Salamanca or Segovia.
Moreover, as someone who is very much interested by nature and has spent a lot of time dedicated to environmental causes, attending protests in Westminster regarding climate change in 2019 and taking a lot of pride with my mother in growing flowers and plants in our garden, I was particularly intrigued to see how palaces in Spain maintain their royal gardens, which I did not see as much of in Toledo and Segovia. Therefore, the return to a medieval setting combined with beautiful aspects of nature was very enticing to me.
My journey to the palace was extremely interesting, as having been to the Royal Palace of Madrid and the Alcazár of Segovia, Spanish Renaissance designs became of great interest to me, providing a huge change in the artwork offered in England. I enjoyed the grandeur of the palace, and the colour changes of each room, how certain rooms would be decorated in gold whilst others in jade designs, reflecting the Oriental Far East.
It is as old as the 16th century, possibly one of the oldest palaces in Spain, during the reign of King Philip II and became one of the seasonal seats of government, used during the Spring. What interested me is how the Spanish government once operated like this, rotating their assembly point between different palaces according to the season. Moreover, the exceptional designs of various rooms astonished me. The Salón Arabe was particularly exceptional, attempting to reflect a Moorish or Moroccan styled salon, with the Alhambra-esque designs and patterns decorating the ceiling and the walls.
The gardens too provided an escape into nature once again. The fluorescent flowers were beginning to return due to the arrival of Spring, whilst peacocks decorated the labyrinth-like gardens with their beautiful feathers. It felt majestic to be there, surrounded by all types of wildlife, budding plants and animals with multiple statues dotted around in order to provide a Renaissance feeling to the palace. I thoroughly recommend this palace to all who visit Madrid, as it is extremely close and free to access.
However, next time I will take my trips to more adventurous locations within Madrid itself again!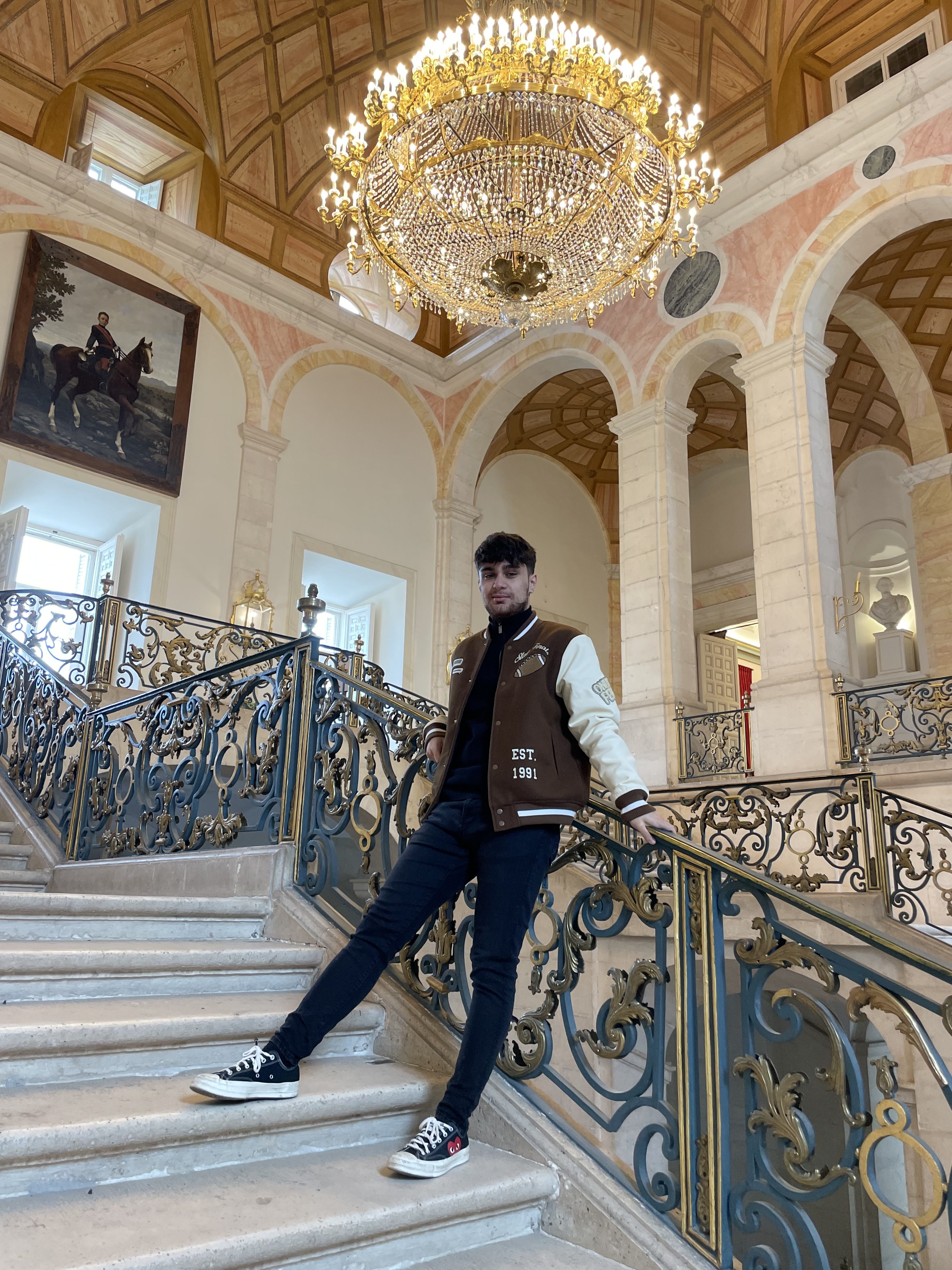 Palacio Real de Aranjuez
Yo dentro del palacio
Hola!
Para este mes, he decidido continuar mis viajes por Madrid a otro pueblo llamado Aranjuez. Esta ciudad me llamó la atención porque era una de las que no se hablaba mucho en las guías turísticas o en los grupos Erasmus como Toledo, Salamanca o Segovia.
Además, como alguien muy interesado por la naturaleza y que ha pasado mucho tiempo dedicado a causas medioambientales, asistiendo a protestas en Westminster por el cambio climático en 2019 y enorgulleciéndose con mi madre de cultivar flores y plantas en nuestro jardín, me intrigaba especialmente ver cómo los palacios de España mantienen sus jardines reales, algo que no vi tanto en Toledo y Segovia. Por lo tanto, la vuelta a un entorno medieval combinada con bellos aspectos de la naturaleza me parecía muy atractiva.
Mi viaje al palacio fue bastante interesante, ya que al haber estado en el Palacio Real de Madrid y en el Alcazár de Segovia, los diseños renacentistas españoles se convirtieron en algo de gran interés para mí, un gran cambio en las obras de arte que se ofrecen en Inglaterra. Disfruté de la grandeza del palacio, y de los cambios de color de cada habitación, porque algunas salas estaban decoradas con oro mientras que otras con diseños de jade, reflejando el lejano Oriente.
Es tan antiguo como el siglo XVI, posiblemente uno de los palacios más antiguos de España, durante el reinado de Felipe II y se convirtió en una de las sedes estacionales del gobierno, utilizada durante la primavera. Lo que me
interesó es cómo el gobierno español funcionaba así, rotando su punto de reunión entre diferentes palacios según la temporada. Además, los excepcionales diseños de las distintas estancias me asombraron. El Salón Árabe era especialmente excepcional, ya que intentaba reflejar un salón de estilo morisco o marroquí, con diseños y dibujos al estilo de la Alhambra que decoraban el techo y las paredes.
También los jardines nos permitieron evadirnos una vez más en la naturaleza. Las flores fluorescentes comenzaban a regresar debido a la llegada de la primavera, mientras que los pavos reales decoraban los jardines en forma de laberinto con sus hermosas plumas. Se sentía majestuoso estar allí, rodeado de todo tipo de fauna, plantas y animales en ciernes con múltiples estatuas salpicadas para dar una sensación renacentista al palacio. Recomiendo encarecidamente este palacio a todos los que visiten Madrid, ya que está muy cerca y es de acceso gratuito.
Sin embargo, la próxima vez volveré a viajar a lugares más aventureros dentro del propio Madrid.