Après avoir pris le temps de m'habituer à l'école pendant le mois de septembre, ce mois-ci j'ai trouvé le temps d' explorer une des meilleures choses à Paris : la cuisine !  Mon amie et moi (voir l'image ci-jointe) avons fait la queue durant une heure, pour l'expérience d'un célèbre restaurant qui s'appelle 'Le Relais d'Entrecôte'. La particularité de ce restaurant est qu'il y a seulement deux options sur le menu: la salade verte et les steak frites ! C'est peut-être un cliché français, mais c'était tellement délicieux.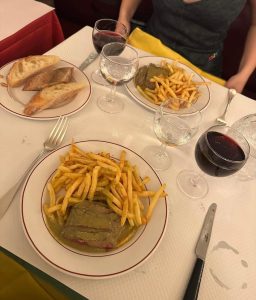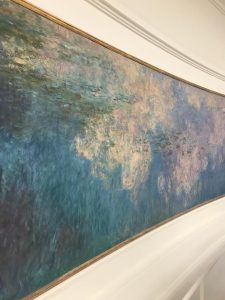 Le jour suivant, nous avons visité l'une de mes galeries d'arts préférées dans le monde. Le musée de l'Orangerie est un très petit, mais magnifique bâtiment qui abrite certains tableaux les plus célèbres de Monet, notamment, Les Nymphéas. Les tableaux sont tout autour de vous parce que Monet les a créés avec la pièce en tête. Il y a une règle qui dit 'il faut être silencieux pendant votre visite dans la galerie' parce que Monet voulait que ce soit un espace pour réfléchir et méditer. Cet espace apporte un sens de tranquillité complet. Monet savait certainement ce qu'il faisait parce que nous sommes reparties très détendues.
Plus tard dans la soirée du même jour, nous sommes allées à la tour Eiffel. Chaque heure après les couchers de soleil, la tour Eiffel scintille pendant seulement 10 minutes. C'est vrai que de plus en plus de gens arrivent comme l'heure de l'illumination approche! Ce week-end m'a fait apprécier la chance que j'ai d'habiter ici, à Paris. J'espère que je pourrai trouver le temps pour la découverte chaque semaine, même si la saison des examens approche !
---
After having taken the time to get used to school during the month of September, this month I found myself exploring one of the best things in Paris. The cuisine! Me and my friend (see image attached) stayed in line for an hour for the experience of a famous restaurant called 'Le Relais d'Entrecôte'. The most special thing about this restaurant is that there are only two options on the menu: a green salad and steak and chips! Maybe it's a french cliché but it was really delicious! 
The next day, we visited one of my favourite art galleries in the world. 'Le musée de l'orangerie' is a really small but magnificent building that holds some of the most famous paintings by Monet, notably, Water Lilies. The paintings are all around you because Monet created them with the room in mind. There is a rule that says 'you must be silent during your visit in the gallery' because Monet wanted it to be a space for reflecting and mediation. This brings a complete sense of calm. Monet certainly knew what he was doing because we left feeling very relaxed.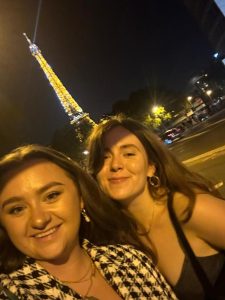 Later in the evening of the same day, we went to the Eiffel tower. Each hour after the sun sets, the Eiffel tower sparkles for only 10 minutes. It's true that more and more people arrive as the hour approaches! This weekend made me appreciate how lucky I am to live here in Paris. I hope that I can find the time for exploration each week even as exam season approaches!