Bonjour !
Au début de mon année à Paris, j'ai acheté mon Pass' Jeunes Opéra / Comédie-Française qui me permet de réserver des places à tarif préférentiel sur une sélection de spectacles pour toute la saison 2019 – 2020. J'adore le théâtre et l'opéra, et en plus, pendant les opéras, le sous-titrage est toujours en français donc je pratique mon français tout en apprécier un spectacle merveilleux. De plus, il me semble que c'est la mode de vie parmi les jeunes français à Bastille de s'amuser aux spectacles, grâce aux avant-premières réservés pour les moins vingt-huit ans.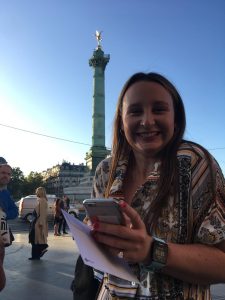 J'avais vu trois spectacles formidables à l'Opéra Bastille : I Puritani, Les Indes Galantes et Prince Igor. I Puritani raconte l'histoire d'amour contrarié entre un royaliste et la fille d'un républicain qui devient folle. La scène minimaliste et moderne, avec l'utilisation intelligente de lumière et d'obscurité, ont créé une atmosphère parfaite pour le romantisme noir. Le chanteur d'opéra Javier Camarena était incroyable comme d'habitude, mais particulièrement avec sa capacité d'utiliser une énergie contenue mais puissante pour créer une telle fragilité pendant sa performance. Les Indes Galantes étaient un spectacle éblouissant ; il s'agit de domination ambiguë que l'Europe pose sur les Autres, tels que la Turquie, le Pérou et la Perse, en mélangeant ensemble l'opéra, le ballet et le krump – un vrai chef d'œuvre. L'extravagance du spectacle a visé de faire tomber les barrières entre un espace urbain, la politique et l'opéra traditionnel et classique. Mais, mon spectacle préféré a été Prince Igor, parce qu'il nous a fait repenser les responsabilités de nos dirigeants et nos propres valeurs morales. C'est l'histoire du prisonnier de guerre, Igor, qui est parti au combat en laissant le pouvoir au despotisme de son beau-frère. Les représentations très choquantes et scandaleuses m'ont choqué, mais également ont créé une performance intense.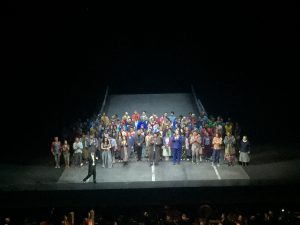 Le Pass' Jeunes Opéra / Comédie-Française a beaucoup d'avantages. Bien sûr, on peut réserver des places à tarif préférentiel sur certaines spectacles et dates, mais également, on peut couper la file d'attente pour les places au tarif de dernière minute. Jusqu'à présent, tous les spectacles m'ont bouleversé, même s'ils m'ont fait pleurer, trembler ou sourire, alors il faut que je profite des opéras et des ballets de prochaine saison. De plus, le Pass permet une visite gratuite du Palais Garnier, l'un des meilleurs bâtiments à Paris, absolument avec la décoration la plus magnifique ; de voir un ballet au Palais Garnier est la prochaine chose sur la liste que j'ai à faire à Paris !
Hello !
At the beginning of my year in Paris, I bought my Youth Opera / Comédie-Française Pass, which allows me to reserve reduced priced tickets for a selection of shows during the 2019 – 2020 season. I love theatre and opera, but during the operas, the subtitles are always in French, so I feel like I'm practising my French whilst enjoying a wonderful show. Moreover, it seems to be the way of life for the young people of Bastille to go watch the shows, since the avant-premières are served for those under twenty-eight years old.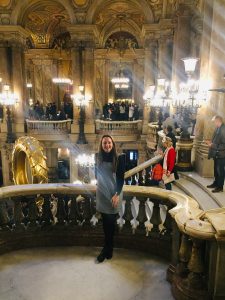 I have seen three incredible performances at the Opéra Bastille: I Puritani, Les Indes Galantes and Prince Igor. I Puritani tells the star-crossed love story between a royalist and the daughter of a republican, who eventually goes mad. The minimalist and modern scenery, with the intelligent use of light and shade, created a perfect atmosphere for the dark romanticism. The opera singer Javier Camarena was incredible as per usual, but particularly with his ability to use a contained but powerful energy to create such fragility in his performance. Les Indes Galantes was a brilliant show; it's about the ambiguous domination of Europe on other entities such as Turkey, Peru and Persia, by mixing opera, ballet and krump- a real masterpiece. The extravagance of the spectacle aimed to break down the barriers between urban space, politics and traditional, classical opera. But my favourite show was Prince Igor, because it made us rethink the responsibilities of our leaders and our own moral values. It tells the story of the prisoner of war, Igor, who left for war by leaving all the power to the despotism of his brother in law. The outrageous and scandalous representations shocked me, but equally, they created a powerful performance.
The Youth Opera / Comédie-Française Pass has lots of advantages. Of course, we can reserve tickets at a reduced tariff for certain shows and dates, but additionally, we can cut the queue for last minute tickets. So far, all the performances have been overwhelming, even if they have made me cry, shiver or smile, so I must make the most of next season's operas and ballets. Furthermore, the Pass permits me to visit the Palais Garnier for free, one of the best buildings in Paris, definitely with the most magnificent interior decoration; to see a ballet at the Palais Garnier is the next thing on my to-do list in Paris!