Willkommen zu meinem Dezember Bericht aus Darmstadt. Da die Tage kälter und kürzer werden, und alle sich auf die Ferien freuen, war dieser Monat etwas ruhiger als die bisherigen.
Wie es jedes Jahr in vielen Deutschen Städten üblich ist, hat sich die Darmstädter Stadtmitte völlig für Weihnachten umgewandelt. Der Darmstädter Weihnachtsmarkt ist vielleicht nicht so groß wie zum Beispiel der in Frankfurt, hat aber alle wichtigen Geschäfte. Bevor ich den Weihnachtsmarkt in Darmstadt erlebt habe, hatte ich keine Ahnung wie viele verschiedene Weihnachtsgetränke es gibt. Bisher, hatte ich nur den Weihnachtsmarkt in Birmingham, in Großbritannien, erlebt, da dies meine Heimatstadt ist. Natürlich kannte ich Glühwein, jetzt habe ich aber auch Weißen Glühwein, Feuerzangenbowle und auch Zimtzauber kennengelernt. Leider gibt es aber noch so viele andere Getränke und nur noch wenige Tage alle zu Probieren!
Etwas das ich beim Studium ganz wichtig finde, ist immer davon bewusst zu bleiben, dass man nach der Uni eine Karriere haben wird. Damit man dabei die richtigen Entscheidungen trifft, muss man immer Erlebnisse suchen, die einem informieren, und bei der Entscheidung helfen können. Deshalb, habe ich mich im Oktober für einen Hackathon in Mainz eingeschrieben, der von Continental geleitet worden ist. Erster Sicht, war dieses Erlebnis ein guter Weg meine Kodierfähigkeit zu werter. Zweitens gab es mir die Gelegenheit, mehr über die Entwicklung die Continental, im Gebiet vom Autonomes fahren, unternimmt zu lernen, und mit vielen interessanten Leuten zu sprächen.
Unsere Challenge die wir im Hackathon unternommen haben, war die echt zeitige Dateien von einem Auto irgendwie zu benutzen. Meine Manschaft hat sich entschieden die Daten zu bearbeiten, so dass wir dem Fahrer eine Risikobewertung ermitteln konnten. Dies würde zum Beispiel bei erhöhte Geschwindigkeit oder bei hohe Konzentration von Fußgängern steigen. Die drei Tagen des Wettbewerbs waren aber nicht nur Kodieren, es hab natürlich auch Zeit neue interessante Leute kennenzulernen, und um sich zu entspannen. Es gab sogar auch eine Lichtshow, die in den Bildern zu sehen ist. Die Veranstaltung hat viel Spaß gemacht – hoffentlich habe ich die Gelegenheit sowas nochmal zu machen.
Bis zum nächsten Bericht! Ich wünsche allen schöne Feiertage, und einen guten Rutsch ins neue Jahr!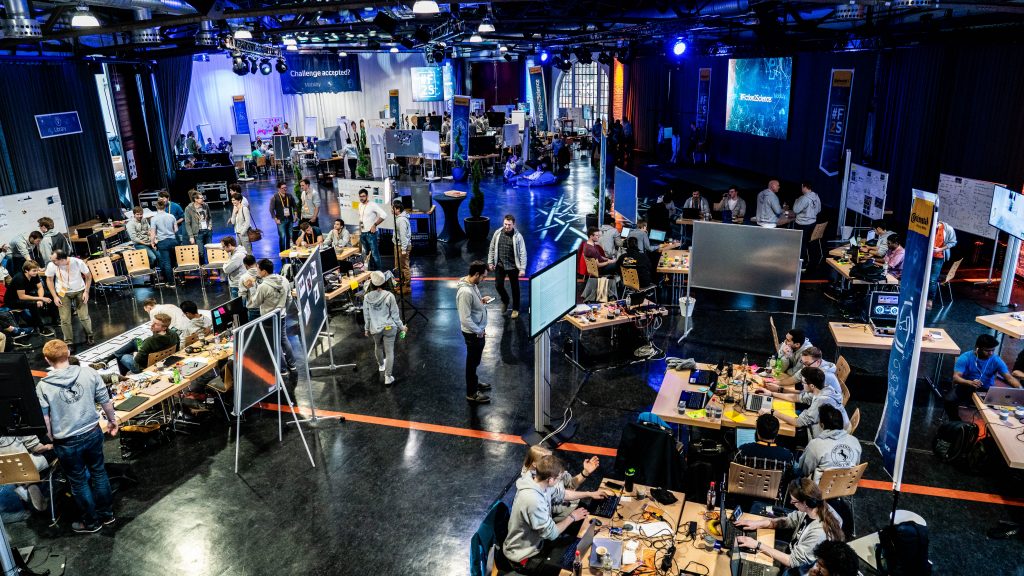 ENGLISH
Welcome to my December report from Darmstadt. As the days are getting shorter and colder, and everyone is looking forward to the holidays, this month has been somewhat quieter than normal.
As is common every year in many Germany cities, the centre of Darmstadt has completely transformed for Christmas. The Darmstadt Christmas Markets may not be as big as the one in Frankfurt, but it does have all the important stands. Until now, I have only ever experienced the Christmas Market in Birmingham (UK), as this is my home city. Of course, I already knew about Glühwein from home, but I have now also tried White Glühwein, Feuerzangenbowle and Zimtzauber. There are so many other drinks to try, and only so few days left!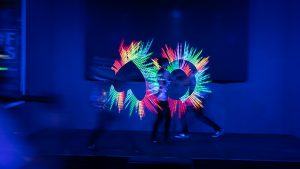 Something I think is very important to do while studying, is to always be aware that after university you will have a career. So that you make the right decisions for yourself, it is always important to be looking for opportunities to learn and help with the decision. That is why in October I signed up for a Hackathon in Mainz, run by Continental. This experience was a great way to evaluate my coding ability, but was also a great opportunity to find out more about the research Continental is doing in the field of autonomous driving, as well as speak to plenty of interesting people.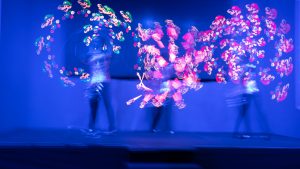 Our challenge at the Hackathon was to somehow use real-time data from a car and make something interesting. My team decided to process the data to give the driving a risk-rating, which would increase at high speeds, or when there were many pedestrians nearby. The three days of the competition where not just coding, there was of course time to meet new people, and relax. There was even a light show, which you can see in the photos below! The event was great fun, and I hope to have the chance to do something like this again.
See you in the next report! Happy holidays and have a great new year!