¡He llegado en Cádiz!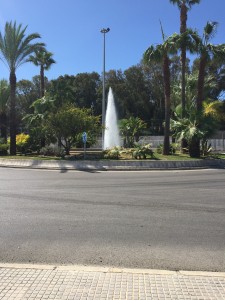 Después de unos problemas en el aeropuerto (me perdí uno de los pocos trenes ese día) eventualmente llegué en la ciudad más antigua de Europa. Calles pequeños y viejos con edificios antiguos y grandes en cada dirección me confirmó que he decidido vivir en un laberinto, con la posibilidad que me perdía totalmente en la hora. Podía viajar entre las varias plazas a Bar Samir en lo que encontré a mi dueño nuevo, fue muy difícil porque el hombre alto tiene un acento fuerzo y gaditano. Después de un tour de la ciudad llegué a mi acomodación nueva, es un piso pequeño y pintoresco con un suelo de mármol y postigos de maderos muy grande, inmediatamente se recibí por dos chicas españolas que son estudiantes en la universidad de Cádiz. Después de Antonio (el dueño) salió, nos introducíamos and todos teníamos un montón de preguntas antes de que podía descargar mi equipaje y disfrutar mi piso nuevo. Más tarde en esa noche las chicas me decían que salían a una fiesta y me pedían que yo vaya con ellas pero, desafortunadamente me había levantado a las 3:00 y por eso tuvo que dormir. Sin embargo me decían que tenga que salir con ellas la próxima vez para conocer a más gente española. El día próxima me levantaba y había decidido a explorar la ciudad que parece exactamente el mismo cómo un laberinto. Estoy viviendo en el parte de la ciudad más vieja, en el centro del metrópolis del medioevo, y cada calle dirige a una plaza o otra. Eventualmente, encontraba el mercado, la corazón de la ciudad, y yo no pienso que mucho ha cambiado aquí desde los siglos de los moros o los romanos. La comida parecía tan buena y mis despensas estaban tan vacías, que tuvo que comprar mucha comida fresca y local para el piso. La gente del mercado gritaba muchas palabras que a mí me parecía que aun los gaditanos no comprendían, pero estaba tan feliz que había probado a hablar en el español que no me molestaba mucho. Empiezo a trabajar a lunes cómo práctica de Marketing y estoy no sólo emocionado sino también nervioso a utilizar mis habilidades de español profesionalmente. Publicaré otra vez después de que he pasado más tiempo aquí en Cádiz pero al momento estoy muy emocionado a explorar y disfrutar mi hogar nuevo.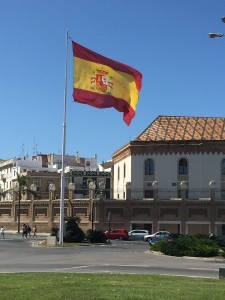 I've arrived in Cádiz!
After a few mishaps at the airport (missing one of the few trains that run each day) I eventually found myself in Europe's oldest city. Narrow, cobbled streets and old, tall buildings in every direction confirmed that I had come to live in a labyrinth, with every chance I would be completely lost within the hour. I managed to find my way through the numerous "plazas" to "Bar Samir" where I met my new landlord, sure enough I was in at the deep end as a thick Cadiz accent bellowed from the bearded man. After a whistle-stop tour of the city we arrived at my new accommodation, a cosy and quaint flat with marble floors and big wooden shutters, immediately I was greeted by two Spanish girls, both students at the University of Cádiz. After Antonio (the landlord) had left we made our introductions and we all had a mountain of questions for each other before I was able to unpack my suitcases and settle into my new home. Later that evening the girls told me that they would be going to a party and asked if i would join them, unfortunately the 3:00 AM wake up was too much for me and I had to insist that I go to sleep; however, they demanded that next time I join them in order to meet more Spanish people. The next day I woke up and decided to explore the wonderful maze that is Cádiz city. I am living in the old part of the town, in the centre of the medieval metropolis, and every corner I turned seemed to take me to one square or another. Eventually, I stumbled across the market place, the heart of the city, and I don't imagine much has changed since the romans and the moors occupied the town many centuries ago. The food looked so good and my cupboards at home were so empty that I couldn't resist picking up bags and bags of fresh, local produce to take back to my flat. The people working the market stalls all threw words at me that I think even the locals would struggle to understand but I was very happy with myself for trying to communicate with the locals that I didn't mind too much.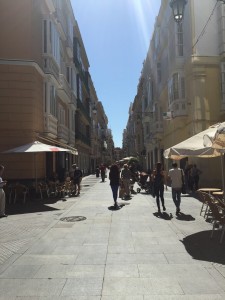 I start work as a marketing intern on Monday and I am both excited and nervous to be using my language skills professionally. I will post again after I have spent some more time here in Cádiz but for now I am excited to explore and settle into my new home.