由于我在大学只要上早上的课,因此我来北京以后决定我要利用我的空闲时间来增长我对在中国公司经营方式的知识,而且发展未来的事业机会。因此,我上个月开始在一个跨国公关公司工作。我们组的客户是一个庞大的中国科技公司,这家公司希望在国外做更多生意,所以他们要提高他们的公共名声。我现在的责任包括做关于科技领域的研究,翻译和编辑任务。在办公室,百分之九十的员工是中国人,我是唯一的外国实习生!于是,每天很多人拜托我改善他们用英文写的文件,这样让我更好了解英语和汉语有什么区别。这份实习也给我难得机会学到我在大学一定不会学到的事。比方说,我开始做实习以后才发现中国企业的科技这么发达,他们的人工智能和无人驾驶的技术是世界上最厉害之一。这份实习给我许多机会练习我的中文。我做研究的时候需要看有些中文材料,比如报纸文章和报告,以便补充英文材料,这样就能完全理解我研究的题目。并且,虽然我在一个跨国公司做实习,但是一般来说我会用中文跟我的同事沟通。我们其他的实习生吃午餐的时候会讨论各种各样的话题,让更好了解到中国学生的生活是怎么样。
上个星期是我参加了我们公司的圣诞晚会。我们吃了一顿美味的晚餐之后,每个组要给大家表演不同的节目。我参与了两个表演,第一个是我跟我的同事唱圣诞歌,第二个是一个喜剧,我的人物是三国演义的关羽。他是一个非常威猛的人物,不太适合我的个性!
总而言之,做这份实习是一个很好的机会体验中国上班族的生活,并且帮我考虑我毕业以后要做什么工作,怎么找一个与中国有关系的工作。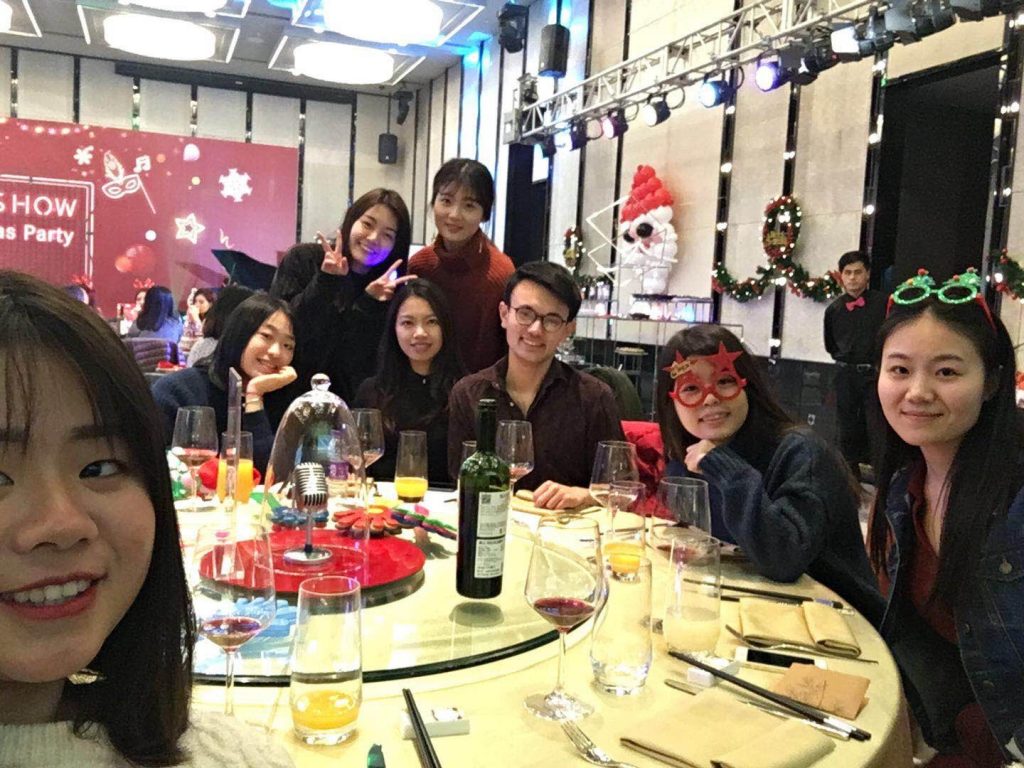 Work Christmas Party with my fellow interns
ENGLISH:
As I only have morning classes at university, after arriving in Beijing I decided I wanted to make the most of my free time to improve my knowledge of companies operating in China, as well to advance my future job opportunities. Therefore, last month I started to work at an international PR company. My team's client is a very big Chinese technology company. As this company wants to do more business abroad, they also want to improve their public reputation. My current responsibilities include doing research into the field of technology, translation and editing tasks. In the office, 90% of the staff are Chinese and I am the only foreign intern! Consequently, everyday lots of people ask for my help to improve the language of their English documents. This has helped me to better understand the differences between Chinese and English. This internship has also been me a valuable opportunity to learn things I would never learn at university. For example, it was only after starting my internship that I realised how advanced the technology of Chinese companies has become. These companies are some of the world leading companies in the fields of artificial intelligence and autonomous vehicles. This internship has also given me lots of opportunities to practise my Chinese. When I am doing research, I need to use Chinese language materials, such as newspaper articles and reports, to supplement English language materials and allow me to fully understand the topic that I am researching. Furthermore, although I am interning at an international company, I usually use Chinese to communicate with my colleagues. When I go to eat lunch with my fellow interns, we will talk about a wide variety of topics, which helps me to better understand the lives of Chinese students.
Last week, I attended my work's Christmas party. After eating a delicious dinner, each team had to put on a different performance for everyone. I participated in two different performances: in the first I sang a Christmas song with one of my colleagues and the second was a play. My character was Guan Yu, from the Chinese classic novel 'Romance of the Three Kingdoms'. He is a very ferocious character, which didn't really suit my personality!
Overall, this internship is a great opportunity to experience the life of an office worker in China, and help me to consider what I want to do after I graduate, in particular how I can find a job related to China.