Cette semaine, j'ai déménagé à Montpellier a étudier le français dans un nouveau milieu. En arrivant, la différence entre Montpellier et les parties de la France le plus nord que j'ai visites avant était clair. Peut-être c'était le climat, ou l'architecture, ou même l'accent. En général, il y a nombreuses raisons pour quoi la ville se démarque.
D'abord, Montpellier a une histoire longue et intéressant. En le 10eme siècle, la ville était un centre important d'affaire pour les importations des épices. C'est aussi la maison d'une université très vielle, l'Université de Montpellier, qui a fondé en 1220. L'histoire riche de la ville est reflété sur l'architecture ancienne dans son vieux ville, et les nombreuses rues sinueuses et paves qui restent en place dans le centre-ville. Discutablement, c'est aussi reflété sur les personnalités de ses citoyens, qui sont connus pour être plus relaxes et amicaux.
Par ailleurs, les différences climatiques entre le nord et le sud sont aussi évidents dans la cuisine de Montpellier et la région environnante. La nourriture mangé dans les maisons et servi dans les restaurants est plus légère que dans l'autre parties de la pay.
Il y a beaucoup d'autre subtilités à Montpellier que je n'ai pas encore découverts. Mais, avec espoir, au cours des prochaines semaines, je pourrai les découvrir tout en pratiquant davantage mon français !
This week, I moved to Montpellier to study French in a new environment. Upon arrival, the difference between Montpellier and more northerly parts of France which I had visited previously was clear. Perhaps it was the climate, or maybe the architecture, or even the accent. Overall, there are many reasons why the city stands out.
Firstly, Montpellier has a long and interesting history. In the 10th century, the city was an important trading station for spice imports. It is also home to an extremely old university, the University of Montpellier, which was founded in 1220. The rich history of the city is reflected in the ancient architecture present in its Old Town, and the many winding cobbled streets that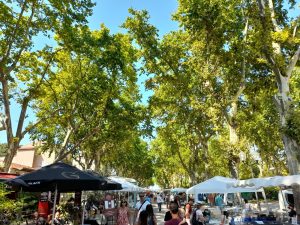 still remain in the city centre.
Secondly, the Mediterranean climate and atmosphere in the city is undeniable. Bordering the Mediterranean Sea and close to Spain, Montpellier profits from very many sunny days every year. This inevitably encourages a more laid back way of life, reflected in the more relaxed approach to work and schedules in the South relative to the North of France. This is arguably also reflected in the character of its citizens, who are known to be more relaxed and friendly.Market in the city
Furthermore, the climatic differences between the North and South are also evident in the cuisine of Montpellier and the surrounding region. The food eaten in homes and served at restaurants is much lighter and more Mediterranean than in other parts of the country.
There are many more subtleties to Montpellier life that I am yet to discover. But hopefully, over the coming weeks, I'll be able to uncover these, all while practicing my French further!