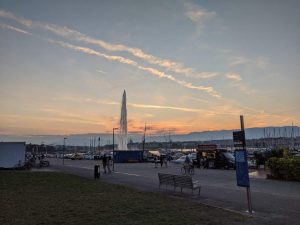 Il y a une semaine je suis arrivée à Genève, signifiant le début de mes études à l' Institut de Hautes Études Internationales et du Développement, où je suis une maîtrise. Presque immédiatement, c'était le début du semestre, et j'ai du m'inquiéter du choix de mes cours et m'adapter à mes nouveaux horaires chargés. Les étudiants dans mon université viennent de plus de soixante pays, ainsi la communauté ici est vraiment internationale. J'ai déjà eu la chance me faire des amis du Sri Lanka, Palestine, Monaco, Brésil, et d'Afrique de Sud.
Malgré n'être arrivée à Genève que très récemment, je suis étonnée de voir à quel point la qualité de ma vie s'est déjà améliorée. Quand je me leve le matin, je respire de l'air fraiche, je vois les montagnes enneigées et le célèbre 'Jet d'Eau' de mon balcon. Ma première semaine à Genève était bénie par le beau temps, j'ai donc passé beaucoup d'après-midi à nager dans le Lac Leman et me relaxer dans des parcs avec mes nouveaux amis.
Genève est une ville assez petite, mais c'est quand même la maison d'un [nombre incroyable d'organisations internationales. Beaucoup de ces institutions sont basées très près d'à la fois ma maison et mon université. L'iconique siège des Nations Unies est 5 minutes à pied de ma maison qui est aussi devant le lac, et entourée de beaucoup des beaux parcs, et du siège de l'Organisation Mondiale du Commerce. C'est surréaliste d'être dans une ville entourée de tant d' institutions vitales et à l'origine de politiques ayant un effet considerable sur la politique mondiale.
Bien sûr, comme toute le monde, mes expériences récente ont été affectées par la pandémie du COVID-19. Je suis très chanceuse de pouvoir déménager avec succès dans un nouveau pays pendant la pandémie – beaucoup de mes collègues à l'université ne sont pas aussi chanceux, et malheureusement notre communauté est plus petite en raison des dizaines d'étudiants qui ne pouvaient pas venir physiquement à Genève ce semestre. La plupart de mes cours fonctionnent à la fois en ligne et hors ligne, donnant aux étudiants qui ne pouvent pas venir physiquement l'opportunité de participer aux discussions avec la classe et le professeur.
Dans le contexte de la situation mondiale actuelle, il est impossible de prédire le futur proche. Toutefois mon temps à Genève jusque-là a été très agréable, et je suis impatiente de vivre encore beaucoup d'autres semaines et de mois ici !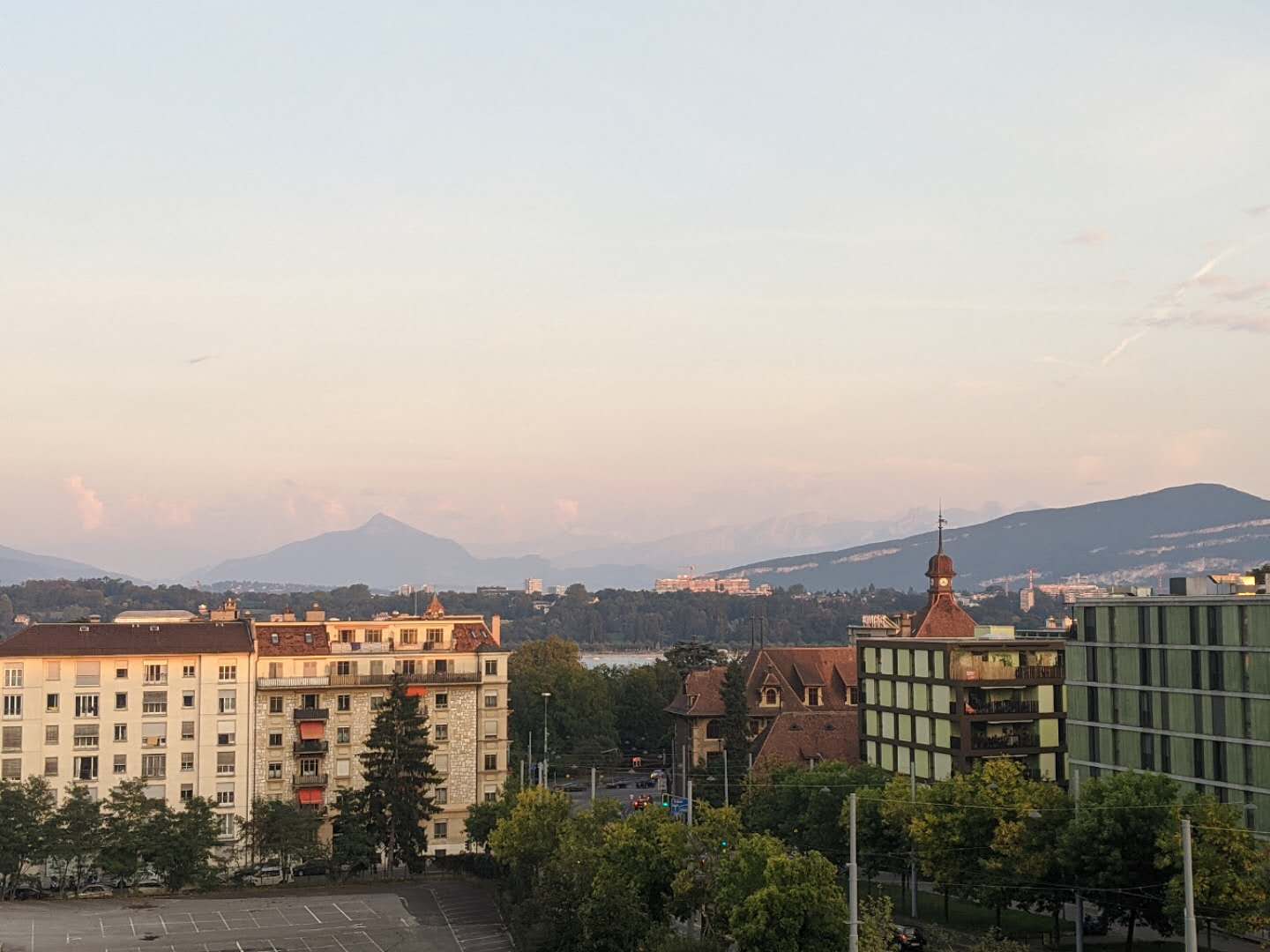 Arriving in Geneva a week ago signified the beginning of my studies at the Graduate Institute of Geneva, where I am studying for a Masters degree. Almost immediately it was the start of term, and I became preoccupied with choosing classes and adapting to my new, busy schedule. Students at my university come from over 60 countries, and so the community here is truly international. I've had the chance to already make friends from Sri Lanka, Palestine, Monaco, Brazil and South Africa.
Despite only arriving in Geneva so recently, I am amazed at how much my quality of life has already improved. When I wake up in the morning I breath fresh air, I see snow-topped mountains and the famous Jet d'Eau from my balcony. My first week in Geneva was blessed with warm and sunny weather every day, and so I spent many afternoons swimming in Lac Leman and relaxing in parks with my new friends.
Geneva is a fairly small city, but it is still home to an incredible number of international institutions/organisations. Many of these organisations are based very close to both my home and my university. A 5 minute walk from my apartment is the iconic United Nations Headquarters, and just in front of the lake, surrounded by beautiful public parks, are the headquarters of the World Trade Organisation. It feels surreal to be in a city surrounded by so many vital institutions and at the origin of policies having a considerable effect on world politics.
Of course, like everyone in the world, my recent experience has been influenced by the COVID-19 pandemic. I am very lucky to be able to successfully move to a new country during the pandemic – many of my colleagues at university are not as lucky, and unfortunately our community is smaller due to the dozens of students who are unable to physically make it to Geneva this semester. Most of my classes are operating both online and offline, allowing students who cannot physically attend the opportunity to still participate in discussions with the class and our professor.
In the context of the current global situation, it is impossible to predict what the near future will hold. However my time in Geneva so far has been very pleasant, and I'm excited for many more weeks and months here!