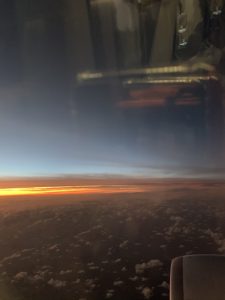 The journey to Guadeloupe was LONG.  It was weird because in terms of hours travelling to Reunion took longer but I felt so TIRED during that whole voyage. Perhaps it had something to do with the fact that I had to catch a flight from Luton Airport at 7am and then take a coach from Paris (Charles de Gaulle Airport) to Orly airport as CDG doesn't fly to Pointé-à-Pitre. It feels so weird saying that! I am ACTUALLY in the Caribbean.  It genuinely feels like a dream.
Landing was very emotional, I have to be honest. When we finally debarked, I vividly remember an intense wave of emotion washing over me. I was finally here. Alone, in a whole new country, on a whole new continent, knowing nobody at all. Starting from scratch, again.
My eyes caught the poster of the company I would be working for. There was a woman in a carnival costume, big, wide, warm smile with beautiful feathers poking out of her. I blinked back tears. The reality was overwhelming to say the least. Nevertheless, I swallowed my fear, took a deep breath, picked up my bags and walked out of the airport with my head held high. I had practiced being brave while I was at Reunion, and there was no reason why I couldn't be brave now.
Looking out of the taxi window into the night sky I could already notice how different Pointe-à-Pitre was to Saint-Denis. First of all, a major difference was the terrain. The landscape was much more flat, as Saint-Denis was more mountainous. Also Saint-Denis, particularly the center of town, resembled France a lot more. Here there are more palm trees, street paintings and vending stalls on the main road. I'm not complaining though. I love the vibe. When I got to my AirBnB I was SHATTERED! I took a shower, turned off the lights before I went to sleep and gasped when I saw glow in the dark stars plastered around the walls and ceiling. A magical first sleep on another magical Island. Whilst PTP is a much smaller town than Saint-Denis, it really is the cultural and economic hub of Guadeloupe. It may seem like a paradox but life here is fast and slow at the same time, there is a very nice balance. IT IS CARNIVAL SEASON which means every Sunday evening I've been out on the streets of Pointe-à-Pitre watching the procession and marches. Again, what I really love when making a comparison is that the culture here is completely different but there is this similarity: the populations of the two islands have a shared pride in their identity. Mardi Gras will be the big massive celebration, I cannot wait! I really want to wear a costume, fingers crossed!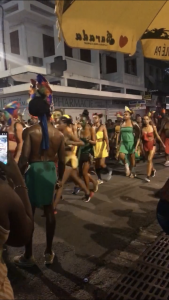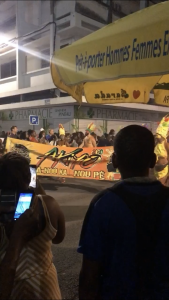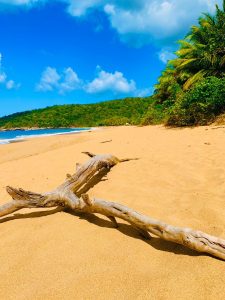 I'm going to be looking out for Guadeloupe créole, so far I haven't heard it spoken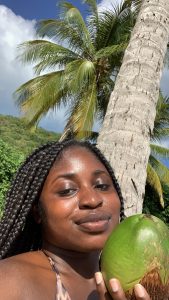 as much as I heard Créole in Réunion being spoken. However from what I have found out is that Guadeloupe créole doesn't have a strong French base. I have heard someone say it carries the english syntax but is a combination of english, french and spanish. I am excited to see what I can pick up while I am here and the few words I can learn. I've moved in with the most hilarious housemates, one is from France and one is from Guadeloupe and they've made my integration here really enjoyable. I've started work recently and it is incredibly interesting, the organisation I am working for is in the midst of a social and musical project called Démos, where children ages 7 to 12 are given instruments and taught how to play, in order for them to go to Paris and represent Guadeloupe in the Paris Philharmonie. I've been involved with some of the creative workshops and it's lovely to see the impact that the project has on these children.
Last but not least, while I prefer the traditional Créole food at Réunion, Guadeloupe wins in the beach department! I am looking forward to integrating myself more in the local community and work. I do not know how my experience here will be, but so far it's amazing and I believe it will continue to be so.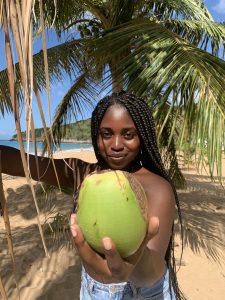 Le voyage en Guadeloupe etait LONG. C'était bizarre parce qu'en termes d'heures, le voyage jusqu'à la Réunion a été plus long, mais je me suis sentie si fatiguée pendant tout ce voyage. Peut-être que cela avait quelque chose à voir avec le fait que j'ai du prendre un vol de l'aéroport de Luton à 7h00 et ensuite prendre un autocar de l'aéroport de Paris Charles de Gaulle à l'aéroport d'Orly car CDG ne vole pas à Pointe-à-Pitre. C'est tellement bizarre de dire ça ! Je suis en fait dans les Caraïbes. J'ai vraiment l'impression d'être dans un rêve. L'atterrissage a été très émotionnel, je dois être honnête. Quand nous avons finalement débarqué, je me souviens très bien d'une vague d'émotion intense qui m'a submergé. J'étais enfin là. Seul, dans un tout nouveau pays, sur un tout nouveau continent, ne connaissant personne. Mes yeux ont accroché l'affiche de la société pour laquelle je travaillerais. Il y avait une femme dans un costume de carnaval, un grand sourire large et chaleureux avec de belles plumes qui sortaient d'elle. Je me suis mis à cligner des yeux en larmes. La réalité était pour le moins écrasante. Néanmoins, j'ai avalé ma peur, j'ai pris une grande respiration, j'ai ramassé mes bagages et je suis sorti de l'aéroport la tête haute. J'avais l'habitude d'être courageux quand j'étais à la Réunion, et il n'y avait aucune raison pour que je ne le sois pas maintenant. 
En regardant par la fenêtre du taxi dans le ciel nocturne, je pouvais déjà remarquer à quel point Pointe-à-Pitre était différente de Saint-Denis. D'abord, une différence majeure était le terrain. Le paysage était beaucoup plus plat, car Saint-Denis était plus montagneux. De plus, Saint-Denis, en particulier le centre ville, ressemblait beaucoup plus à la France. Ici, il y a plus de palmiers, de peintures de rue et de distributeurs automatiques sur la route principale. Mais je ne me plains pas. J'aime l'ambiance. Quand je suis arrivé à mon AirBnB, j'étais SHATTERED ! J'ai pris une douche, j'ai éteint la lumière avant de m'endormir et j'ai eu le souffle coupé quand j'ai vu briller les étoiles sombres qui entouraient les murs et le plafond. Un premier sommeil magique sur une autre île magique. Bien que PTP soit une ville beaucoup plus petite que Saint-Denis, elle est vraiment le centre culturel et économique de la Guadeloupe. Cela peut sembler paradoxal car la vie ici est à la fois rapide et lente, il y a un très bel équilibre. C'est la saison du carnaval !!! Ce qui veut dire que tous les dimanches soir, nous sommes allés dans les rues de Pointe-à-Pitre pour regarder le cortège et les marches. Encore une fois, ce que j'aime vraiment quand on fait une comparaison, c'est que la culture ici est complètement différente mais il y a ce point commun : les populations des deux îles ont une fierté commune de leur identité.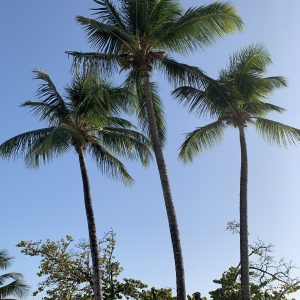 Je vais faire attention au créole de Guadeloupe, jusqu'à présent je ne l'ai pas entendu parler autant que j'ai entendu parler le créole à la Réunion. Cependant, d'après ce que j'ai découvert, le créole guadeloupéen n'est pas aussi basé sur le français. J'ai entendu quelqu'un dire qu'il portait la syntaxe anglaise mais qu'il était une combinaison d'anglais, de français et d'espagnol. Je suis impatient de voir ce que je peux apprendre pendant que je suis ici et les quelques mots que je peux apprendre. J'ai emménagé avec les colocataires les plus hilarants, l'un vient de France et l'autre de Guadeloupe, et ils ont rendu mon intégration ici vraiment agréable. J'ai commencé à travailler récemment et c'est incroyablement intéressant, l'organisation pour laquelle je travaille est au milieu d'un projet social et musical appelé Démos, où les enfants de 7 à 12 ans reçoivent des instruments et apprennent à jouer, afin qu'ils puissent aller à Paris et représenter la Guadeloupe à la Philharmonie de Paris. J'ai participé à certains des ateliers de création et c'est très agréable de voir l'impact que le projet a sur ces enfants.
Enfin, alors que je préfère la cuisine créole traditionnelle de la Réunion, la Guadeloupe gagne dans le département de la plage ! J'ai hâte de m'intégrer davantage dans la communauté locale et de travailler. Je ne sais pas comment sera mon expérience ici, mais, pour le moment c'est incroyable et je crois qu'il continuera d'être.