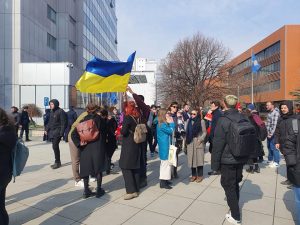 Në ditën ndërkombëtare të gruas, më 8 mars, protesta u mbajtën në qendër të Prishtinës. Kosovarët protestuan për të kujtuar dhe kërkuar drejtësi për viktimat e dhunës seksuale dhe në familje, pabarazisë dhe problemeve të tjera. Grupi "MARShojmë, s'festojmë" nisi marshim në Pallatin e Drejtësisë dhe përfundoi në ndërtesën kryesore të qeverisë. Përderisa marshimi arriti në qendër të qytetit, qindra qytetarë ishin bashkuar, shumica prej tyre ishin veshur me të kuqe për të kujtuar viktimat e dhunës dhe femicideve. Ketu u bashkuam me disa miq në marshim, shumica e njerëzve mbanin një veshje të kuqe ose buzëkuq të kuq për të përfaqësuar gjakun e kësaj dhune. 48 këpucë të kuqe u vendosën jashtë ndërtesës së Qeverisë – secila këpucë përfaqësonte një grua të vrarë në Kosovë që nga viti 2010.
Një aktivist mbajti një fjalim duke deklaruar se ata qendrojnë në solidaritet me "popullin ukrainas dhe me çdo popull që po mbahet padrejtësisht në dhunë dhe shtypje". Ishte shumë e fuqishme të shihje qytetin të bashkohej për një çështje kaq të rëndësishme e pasioni dhe vendosmëria për ndryshim ishin evidente në rrugë. Bazuar në raportimet e mediave, 3 gra janë vrarë nga partnerët e tyre në vitin 2021. Shumica viktimave të dhunës në familje në Kosovë janë gra me rreth 1,600 raste në vitin e fundit. Shpresojmë që madhësia e kësaj proteste të ndihmojë në tërheqjen e vëmendjes ndaj kësaj çështjeje dhe të rezultojë në disa ndryshime shumë të nevojshme.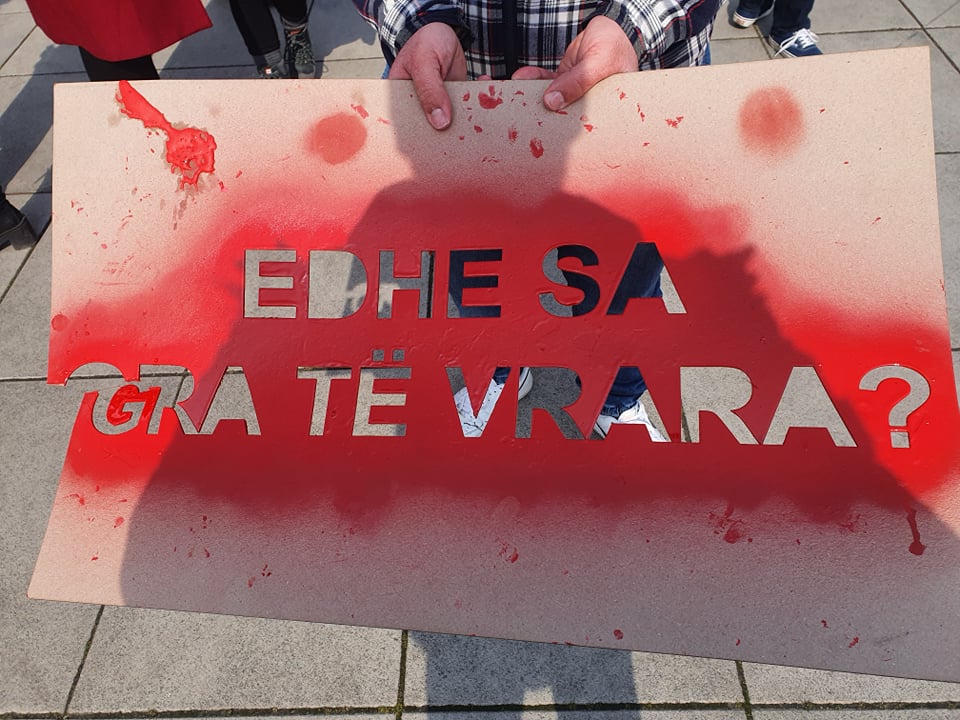 International Women's Day – "We March, We Do Not Celebrate"
On International Women's day, on March 8th, protests were held in the centre of Prishtina. Kosovars took to the streets to to commemorate and to seek justice for the victims of sexual and domestic violence, inequality and other problems. The group "We March, We Do Not Celebrate" started the march at the Palace of Justice and ended at the main government building. As the march reached the city centre hundreds of people had joined, most of them wore red to remember victims of violence and femicide. This is where I joined the march with some friends, most people wore an item of red clothing or red lipstick to represent the blood of this violence. 48 red shoes were placed outside the government building, each shoe representing a woman killed in Kosovo since 2010.
An activist gave a speech stating that they stand in solidarity with "Ukrainian people and with any people who are unjustly being held in violence and oppression". It was very powerful to see the city come together over such an important issue and the passion and determination for change was evident in the streets. Based on media reports 3 women were killed by their partners in 2021. Most victims of domestic violence in Kosovo are women with around 1600 cases in the last year. Hopefully the size of this protest helps to bring attention to this issue and results in some much needed change.