El efecto del Corona Virus en España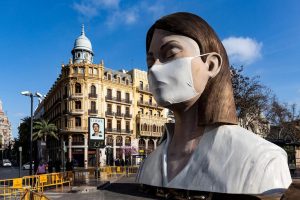 El 15 de marzo 2020 el gobierno español ordenó un confinamiento del país entero. España se convertiría en el segundo país más afectado del mundo, precedido solo por Italia y ahora Los Estados Unidos, y dentro de unas semanas la cita de infectados aumentaría, e incluso superaría la de Italia. Actualmente España tiene más de 177 mil casos de infectados con un total de 18.5 mil muertos. Afortunadamente, parece que se haya superado el punto álgido de la crisis en cuanto a la cita de muertos registrados (2 abril con 961) y las citas diarias de muertos han disminuidos más y más desde esta fecha. Por desgracia, la cita de personas infectadas sigue aumentar a diario, pero parece que se reduzca también. Frustrantemente, incluso con las restricciones estrictas y el período largo de cuarentena en cual los españoles han estado, las citas de muertos e infectados siguieron crecer por algún tiempo, más en España que en cada otro país, en cual las mismas medidas fueron impuestos. La teoría detrás de esto es que faltan muchos recursos necesitados para combatir el virus como camas y equipo como respiradoras y máscaras de protección. Esto ha resultado en personal médico agobiado y hospitales inundado con pacientes.  Las restricciones incluyen multas muy estrictas de hasta 600 mil euros,si se descubre que saltas las reglas , y a los ciudadanos sólo se les permite salir de la casa para conseguir los suministros necesarios o para realizar trabajos esenciales.  Al entrar en los supermercados los clientes son obligados a ponerse guantes de plástico de un solo uso. Las restricciones a mayor escala incluyen la clausura de todos los lugares comunitarios compartidos como lugares de culto, gimnasios y discotecas.
A pesar de que España se ha visto muy afectada, el espíritu de la gente no ha sido aplastado. Por el contrario, muchos han utilizado las redes sociales de modo positivo de difundir optimismo y animar a otros a quedarse en casa con la etiqueta #mequedaencasa. Han aparecido muchos vídeos maravillosos de ciudadanos de pie en sus balcones aplaudiendo en agradecimiento al personal médico cada noche y otros divertidos de gente bailando en sus balcones y riéndose con sus vecinos.
Por último, los cantantes también han lanzado canciones como "Resistiré 2020" para recaudar fondos para la Cruz Roja y otras organizaciones benéficas que ayudan a los más afectados por el virus y las restricciones consiguientes.
On the 15th of March 2020 the Spanish government announced that the whole country would be put under lockdown. Spain would soon become the second worst affected country after Italy, and the number of infected would even surpass that of Italy's within a matter of weeks. Spain currently has 177k active cases with a total of 18.5k deaths. Fortunately, Spain has now passed its peak in number of deaths (April 02 with 961) and the daily figures of deaths have decreased more and more since this date. Unfortunately, the figure of infected persons continues to increase daily but seems to be slowing down too. Frustratingly, even with the strict restrictions that have been put in place and the long period now that people have passed in lockdown, the figures of death and infected persons continued to grow for some time, more in Spain than in any other country. The main theory being due to a lack of beds and specialist equipment e.g. ppe and ventilators in hospitals, resulting in staff and hospitals being left overwhelmed with numbers of patients without the equipment to handle all of them. The restrictions include very strict fines of up to 600k Euros if found to go against regulations, and citizens only being allowed to leave the house to get necessary supplies or to carry out essential work.  Upon entering supermarkets customers are made to put on single use plastic gloves. Restrictions on a larger scale include the closure of all shared community places such as places of worship, gyms, and clubs.
Despite Spain being heavily affected, the spirit of the people has not been crushed. On the contrary many have used social media as a way of spreading positivity and optimism and encouraging others to stay at home with the hashtag #mequedaencasa. Many wonderful videos have surfaced of citizens standing on their balconies clapping in gratitude for the medical workers each evening and other funny ones of people dancing on their balconies and laughing with their neighbours.
Finally, Singers have also released songs such as "Resistiré 2020" to raise funds for Red Cross and other charities helping the most affected by the virus and the restrictions.