Hallo und willkommen zurück zum Blog! Weihnachten nähert sich mit großen Schritten und eine Weihnachtsstimmung herrscht über das Land – trotz der Einführung eines noch stärkeren Lockdowns. In meiner Stadt und der lokalen Region hat es auch mehrmals geschneit, was total magisch war! Wir finden mehr darüber später im Bericht…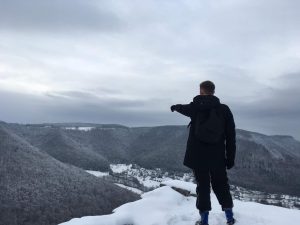 Am Anfang des Monats bin ich meine neue WG eingezogen, was bisher super gewesen ist! Meine MitbewohnerInnen sind sehr nett und haben mich herzlich empfangen. Wir haben Spielabende und Filmnächte veranstaltet, wobei ich die Anderen besser kennenlernen konnte und mein Deutsch öfter als vorher geübt habe. Am Samstag wurde ich sogar von zwei mit Horror angestarrt und dann korrigiert, weil ich ein Pils 'aus dem falschen Glas' getrunken habe. Hier trinkt man Pils NIE aus einem Weizenglas – Anfängerfehler! Wir haben uns am Ende aber darüber gelacht…
Ich hab's auch geschafft, ein paar Tagesausflüge in der Region zu machen. Ich bin mit Freunden mit der Bahn nach Rottweil gefahren, wo wir eine Art traditionellem Weihnachtsmarkt erfahren haben. Der Markt wurde mit vielen Ställen durch die unglaublich schöne Altstadt geteilt, mit kleinen Geschenken, Süßigkeiten und
Glühwein im Angebot. Deshalb war es kein normaler Weihnachtsmarkt, aber wir konnten trotzdem das Weihnachtsgefühl merken. Auf der Webseite der Stadt wird's behauptet, die Stadt sei die Älteste Baden-Württembergs, und das kann man schon merken. Als ich die von mir gemachten Bilder meiner Familie geschickt habe, war die Reaktion so, die Stadt sieht wie ein 'Toy Tow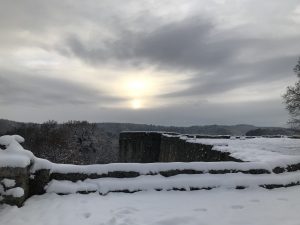 n' aus, was meiner Meinung nach Rottweil perfekt beschreibt.
Diese Woche war ich auch zweimal auf der schwäbischen Alb, ein Gebirge, das nur 40 Minuten von Stuttgart mit dem Auto zu erreichen ist. Das erste Mal war ich mit einem Kollegen unterwegs und gestern war ich mit ein paar Kumpels. Der Schnee war 20 Zentimeter dick, die Landschaft bergig und auch vom Wald bedeckt. Die Ausblicke waren einfach atemberaubend! Wir haben auch einen kleinen Hofladen besucht, wo traditionelle Leckereien wie Käse und Marmelade verfügbar waren. In Bad Urach, habe ich über die Geschichte der Burgruinen gelernt, die ursprünglich Teil einer Burg waren, die erst im Jahr 1045 erbaut wurde. Später wurde die Stätte als ein Gefängnis benutzt – es war total wahnsinnig zu vorstellen, dass einmal Leute hier gewohnt haben und auch gefangen waren.
Ich würde in kürzer Zeit bestimmt wieder auf die schwäbische Alb fahren, da es dort viele Stücke Geschichte, schöne Wanderungen und herrliche Burgen gibt. Wenn es wieder schneit, wär's super! Vielleicht würdet ihr mehr darüber im nächsten Bericht lesen… Bis dann!
—————————————————————————
Hello and welcome back to the blog! Christmas is getting ever closer and there's a festive spirit prevailing over the country – in spite of the introduction of a stricter lockdown. It's snowed several times in my town and the local region, which was so magical! We'll find out more about that later in the report…
At the start of the month I moved into my new flat-share, which has been great up to this point! My flat mates are lovely and have given me a warm welcome. We've put on games' and film evenings, where I got to know the others better and was able to practice my German more often than before. On Saturday, two of my flatmates even stared at me in horror and corrected me due to the fact that I was drinking a Pilsner beer 'out of the wrong glass'. Here, you NEVER drink Pils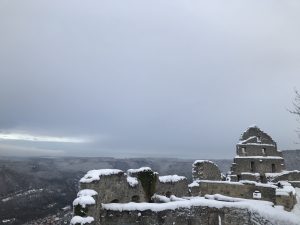 ner out of a wheat beer glass – beginner's mistake. We were able to have a laugh about it in the end.
I also managed to go on some day trips in the region. I took the train to Rottweil with some friends, where we experienced a kind of Christmas market. The market was spread throughout the absolutely gorgeous old town, with loads of stalls, small gifts, sweets and mulled wine on offer. It wasn't a normal Christmas market, but we were able to notice the Christmas spirit nonetheless. The town's website claims that it is the oldest in Baden-Württemberg, and you can definitely notice that! When I sent the pictures, I took to my family, they described it as a toy town, which suits Rottweil perfectly.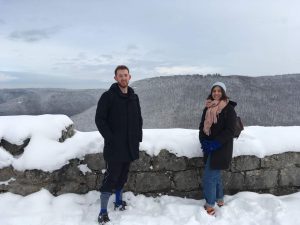 This week I also went to the Swabian Jura twice, a mountain range that is just 40 minutes away from Stuttgart in the car. The first time I went with a colleague and then I visited again yesterday with a couple of friends. The snow was 20cm thick, the landscape was mountainous and covered by forest. The views were simply breath-taking. We visited a small farm shop, where you could buy traditional delicacies such as cheese and marmalade. In Bad Urach, I learnt about the history of the ruins there, which were originally part of a castle that was built in 1045. The site was later used as a prison and it was crazy to imagine that people had once lived and been imprisoned there.
I'll definitely return to the Swabian Jura soon, because there's so many pieces of history, gorgeous walks and magnificent castles to visit. It would be so good if it were to snow again! Maybe you'll read more about it in the next blog… see you then!