Hallo allerseits! Dieser Monat war (wieder!) voller Wanderungen, schöne Erlebnisse und Erfahrungen. Trotz des Lockdowns habe ich mich entschieden, in Deutschland über Weihnachten zu bleiben, was einerseits eine schwierige und herausfordernde Zeit weg von der Familie und Freunden zu Hause war, aber andererseits auch eine Erfahrungsreiche und Tolle. Ich hatte eine sehr schöne Weihnachtszeit und konnte das Neujahr gut feiern, obwohl ich wegen der Lockdownmaßnahmen allein zu Hause war. Trotz des Böllerverbots war ich total von dem Feuerwerk fasziniert! Dieser Zeitraum hat mich auf jeden Fall bereichert und meinen Sprachfähigkeiten auch verbessert. Ich habe auch bei Familienfreunden in Karlsruhe besucht, wo wir zusammengespielt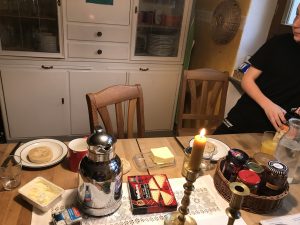 , geredet, gegessen und getrunken haben. Es ist mir ganz gut gelungen, Spiele auf Deutsch zu spielen und sogar ein paar Lachen zu entlocken. Es war eine sehr schöne Zeit, in der ich mich auf meinen Fortschritt besinnen konnte, denn vor drei Jahren, am Anfang meines Interesses an Sprache und Kultur im deutschsprachigen Raum, habe die Familie besucht.
Ich war auch sehr froh, weil ich von einem Kumpel, den ich beim Fußball kennengelernt habe, in einem deutschlandweit bekannten Magazin über Fußballfankultur erwähnt wurde. Wir haben uns befreundet als ich bei einem Spiel des TSG Backnang war und ihn von Videos im Internet erkannte und dann fragte, ob ich mitmachen konnte! Jetzt hat der 450.000 Views auf YouTube und ist weltweit berühmt geworden, weil er als einziger Ultra seinen Verein unte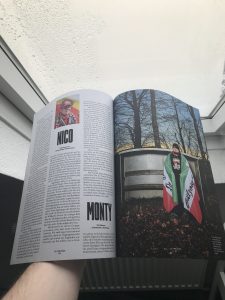 rstützt. Ultra genau zu beschrieben ist eine sehr schwierige Aufgabe, aber ich gehe davon aus, dass kurz gesagt, Ultras widmen sich ihr Leben dem Verein, dem Fußball und dem Fansein. Seit der Aufnahme des Videos ist seine Gruppe bis zu 3 gewachsen, mit einem Engländer in den sogarinternationalen Reihen! 😉 Das Magazin heißt '11Freunde' und ist eine sehr berühmte Veröffentlichung, weil die Qualität der Analyse sehr hoch ist und das Magazin über eine Reihe von fußballrelevanten, manchmal internationalen und sogar politischen Themen berichtet. Das war ein Höhepunkt für mich und ich kann kaum warten, bis wir alle wieder ins Stadion dürfen! Nur die TSG…
 December to mid-January 2020/21! 
Hello all! (Once again) this month was full of walks and enjoyable experiences. I decided to stay in Germany over Christmas in spite of the lockdown, which on the one hand was a difficult time away from family and friends at home, but on the other hand it was also experience-rich and generally great! I had a good time over Christmas and was able see in the new year well, although I was at home alone due to the lockdown measures. In spite of the firework ban, I was mesmerised by the displays on new year's eve! This time period definitely enriched me as a person and also improved m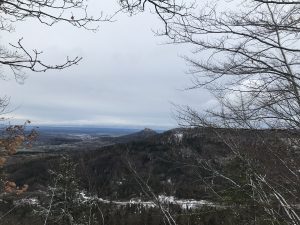 y language skills. I also visited family friends in Karlsruhe, where we played games together, chatted, ate and drank. I was pretty successful playing games in German and even managed to get a few laughs. It was a lovely time, in which I could reflect on my progress, because I visited the family 3 years ago, at the start of my interest in language and culture in the German speaking world.
I was also very happy to be mentioned in a football fan culture magazine that is well known throughout Germany by a friend I got to know at the football. We became friends when I recognised him at a TSG Backnang game, as I recognised him from videos on YouTube and asked if I could join him. He know has 450,000 views on YouTube and is famous throughout the world, because he supports his club as the only ultra. To define Ultra is a difficult task, however my understanding is that ultras devote their life to the club, football and being a fan. Since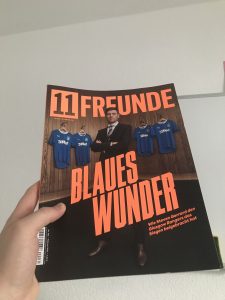 the recording of the video his group has even grown to 3, with an Englishman amongst their ranks! 😉 The magazine is called '11Freunde' and is an extremely famous publication, because the quality of the analysis is very good, with articles on a range of football-relevant, sometimes international and even political topics. In the latest edition there is an article on Marcus Rashford, a Manchester United and England player, who is fighting against the frankly disgusting politics of the British government which is leaving children in poverty all across the country. I think it's great that a magazine like this brings topics from England into the German-speaking space and I want to do exactly that as a language student. Anyways, being mentioned was a highlight for me, and I can't wait until we're all allowed back into the stadiums. One TSG…