クリスマスと香港
日本では、クリスマスはイギリスでの方は祝われ、恋人との祝いと見なしている。クリスマスに、日本人は恋人とKFCのロマンチックな食事を一緒に食べるが、その代わりに、私は教室で試験を受けてしまった。
去年私が一緒に住んでいたフラットメートは香港人で、この友だち「ジョアナという友だち」との約束どおりに、12月26日に、私はリーズ大学から来た友だちを二人に会い、ジョアナに会うために、私達が一緒に香港に行った。ジョアナのお母さんは私達に自分のマンションで泊ませてくれて、私達はジョアナのお母さんに対して本当に感謝した。私達は広東語が全然分からなく、ジョアナのお母さんは英語が全然分からなく、残念だった。
ジョアナは前説明くれたとおり、香港はショッピングセンターや綺麗なイルミネーションや素晴らしいビルなどをはじめ、観光地がいっぱいあるが、香港で、最高の観光ことは食べ物である。私達の毎日は、朝、昼と晩ご飯の食べ物を真ん中において計画を立った。私の好きな香港で食べたものの例は、アイスクリームトーストとクリームまんと点心である。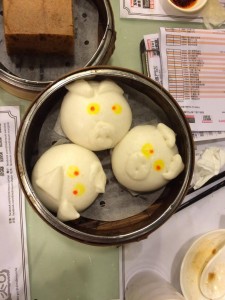 12月30日に、寶蓮修道院という場所と釣りの村というところを観光するために、大嶼島に行った。香港の高いビルから、青海を通り過ぎ, 高い崖までケーブルカーに乗り、長い階段の上に座っている34メートルの大きさの天壇大仏が見えた。天壇大仏を観光する前に、釣りの村を船でライン下りをしたり、地域の人によってできたて本物の料理を食べてみたりした。お土産を買ったり、寶蓮修道院でお香を焚いたりした後で、夜の中にケーブルカーで帰った.
私たちは、香港の旅行の後で自分の普通の日常に戻り、悲しくなったが、香港で色々な素晴らしい思い出を作り、いつも覚える。
ENGLISH TRANSLATION:
Christmas and Hong Kong
Christmas is not as widely celebrated in Japan as it is in England. It is usually a celebration for lovers. Whist it is very common for Japanese lovers to enjoy sharing a 'romantic' meal at KFC on Christmas day, I was stuck in a classroom for a Japanese written exam.
After promising our Hongkongese friend (whom I lived with during my first year at Leeds university) that we would visit her in Hong Kong during the Christmas holidays, on 26th December, I met up with 2 friends from Leeds University and together we travelled to Hong Kong. We were really grateful that our friend's mum allowed us to stay in her flat, but it was a shame that we couldn't speak Cantonese and she couldn't speak much English.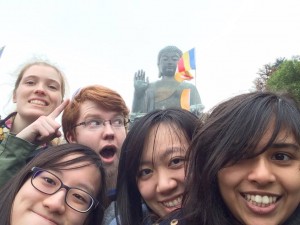 As Joanna, our Hongkongese friend, previously explained to us, whilst there are many tourist attractions in Hong Kong; including the stunning buildings and pretty lights and shopping centres, the main attraction is the food. We planned every day around what we were going to have for breakfast, lunch and dinner. Some of my favourite foods included Ice-Cream Toast, Cream buns and Dim sum.
On 30th December, we went to Lantau Island to visit the Po Lin Monastery and the fisherman village. After a long cable cart journey stretching from the tall sky scrapers, across blue waters to massive cliffs, we could see the giant 34 metre tall Tian Tan Buddha, sat at the top of an incredibly long staircase. Before visiting the Tian Tan Buddha, we took a boat tour around the fisherman village and bought authentic food, which was made by the locals who live there.  After a long day of souvenir shopping, burning incenses at the monastery and picture taking, we took the cable cart back through the darkness.
We were all sad to go our separate ways after Hong Kong, but my best friends and I have wonderful memories to keep forever.