La fin de mon temps á Paris se rapproche et je pense des choses que j'ai fait et je n'ai pas encore fait dans la ville.  Alors j'ai essayé de passer mes temps ce mois en faisant des choses !  J'ai maintenant rendu compte qu'il aurait été une meilleure idée de faire toutes des choses á l'extérieur pendant l'été parce qu'en ce moment je passe beaucoup de temps dehors sous la pluie – mais je l'apprécie toujours.  Quand je suis arrivé, je voulais voir des sites fameux de Paris (dont j'ai vu tout de suite), mais au fil de temps j'ai découvert plus de sites avec moins de touristes, ce qui m'a fait me sentir plus comme une vraie Parisienne.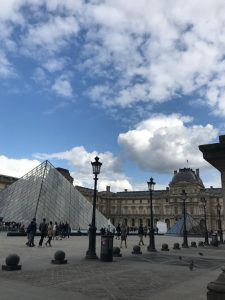 Un site que je voulais voir le plus était le Musée de Louvre.  Bien que ce soit très belle et j'aie l'opportunité de voir le Mona Lisa, j'ai trouvé que ma visite au Musée d'Orsay était mieux.  J'ai parlé de ma visite dans un rapport précédent et comment le musée est à l'intérieur d'une ancienne gare qui l'a rendu plus intéressant.  Donc, je le recommanderais plus que le Musée de Louvre la prochaine fois que on sera à Paris.
Un autre site touristique que j'ai envie de voir était la Tour Eiffel. Je crois toujours que la Tour Eiffel est l'un des plus beaux sites de Paris, surtout la nuit quand elle se met à scintiller. Mais je pense qu'il y a de meilleures options que de monter au sommet. Quand on voit la ligne d'horizon de Paris, le spectacle qu'on veut voire est la Tour Eiffel.  Alors je recommande d'aller à la Tour Montparnasse ou tout simplement à l'Arc de Triomphe. La Tour Montparnasse s'offre une vue incroyable à côté de la Tour Eiffel, mais une visite coûte un prix similaire à la Tour Eiffel. Donc, si on veut une alternative gratuite, l'Arc de Triomphe offre une belle vue sur les Champs-Elysées jusqu'au Louvre, et de l'autre côté de la Tour Eiffel – mais on doit être assez courageux pour faire face à la montée des escaliers!
ll y a plusieurs alternatives que j'ai découvertes qui va donner une vue moins touristique de Paris et je serai sûr de les visiter encore chaque fois que je reviendrai à Paris en vacances !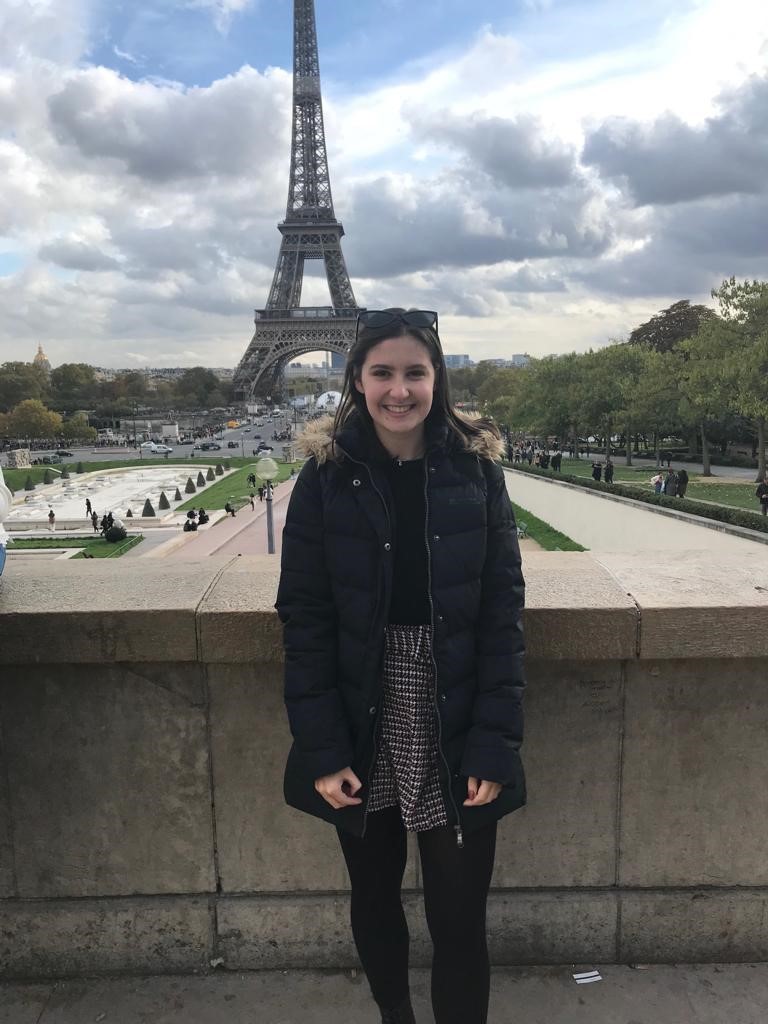 As my time in Paris is coming to an end, I've spent the month thinking about what I have and have not yet done in the city, and I am trying to tick off all of the things on my list!  I have seen the error in my ways by not seeing some outdoor spectacles during the summer, as I am now having to take trips in the rain, but I am still enjoying it nonetheless.  When I first arrived, I was keen to see the postcard sites of Paris (which I took to straight away), but as time has gone on, I have found more hidden gems which has made me feel more like a local.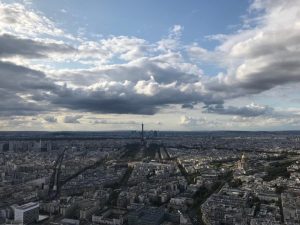 One thing on the top of my list was to visit the Louvre Museum.  Whilst it was beautiful and I got to see the Mona Lisa, I thought that my trip to the Musée d'Orsay was better.  I talked about my experience in a previous report and how the fact that the museum is inside an old train station made it more exciting.  Therefore, I would recommend this over the Louvre next time that you are in Paris.
Another tourist spot that I wanted to see was the Eiffel Tower.  I continue to believe that the Eiffel Tower is one of the most beautiful sights in Paris, especially when it sparkles at night, however there are better alternatives to going up to the top.  When looking at the Paris skyline, the best thing is being able to see the Eiffel Tower; therefore, that's why I recommend either going to the Montparnasse Tower or up the Arc de Triomphe.  The Montparnasse tower gives you an incredible view from close to the Eiffel Tower, but costs a similar price.  So, if you want an alternative that will not cost you anything, the Arc de Triomphe shows a beautiful view down the Champs Elysees to the Louvre, and across to the Eiffel Tower as well – you've just got to be brave enough to face the climb up the stairs!
There are plenty of other alternatives that I have found that give a less touristic view to Paris and I will be sure to visit them again whenever I come back to Paris on holiday!