In September 2019 I landed in Beijing to begin 11 months of living in China. I had been awarded two Scholarships, a John Speak scholarship and a Confucius scholarship, and as part of the Confucius scholarship was enrolled in the Chinese Language Program at Beihang University in Beijing.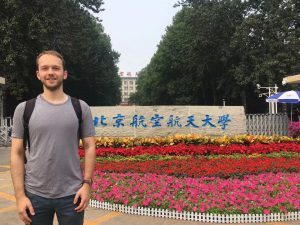 While I had visited Beijing before for a few days of tourism, this was my first extended stay in the city. Beijing is an enormous city with a high population density, the streets are always full of traffic and people. I quickly took to the chaotic feel of this historic city and the endless list of places to visit and explore.
The Chinese Language Program at Beihang University, while not as well-known as some other programs in the city, was a fantastic experience. This is partly because of the University itself, which is one of the largest and most prestigious universities in Beijing. Beihang has a beautiful and lively campus – studying in that environment was a pleasure. The teaching on the language program was also very good. My teachers were very friendly and really cared about our progress. There were four types of class: speaking, reading newspapers, reading short texts, and 'watch, listen, speak' – a class that involved watching tv programs without subtitles and then slowly trying to work out their meaning.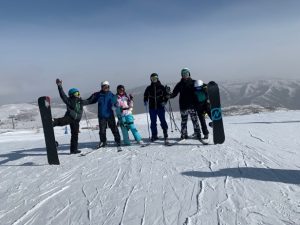 During the first term, my daily routine would begin by cycling for half an hour from my flat in central Beijing to the university campus. I would then attend classes from 8am until 12am, before having lunch in one of the huge canteens on campus. The afternoons would then be taken up with homework, reading/listening to Chinese and exploring the city. My Chinese improved hugely over this period, both by studying and by interacting with native speakers on a daily basis.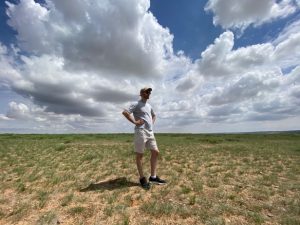 The onset of Covid-19 changed my experience dramatically and limited the second half of my year in China in many ways. While I stayed in Beijing, all my classes for the second semester were moved online, and I never returned to Beihang (the campus was closed). I had planned to travel in China for the whole of February and July, but most of these plans had to be shelved for various reasons, though I did get the chance to make short trips to cities such as Chengdu, Chongqing, Hangzhou and Suzhou.
My last month in China was spent in Hohhot in Inner Mongolia, where my girlfriend had recently moved to. Living in Hohhot was fascinating – as the capital of Inner Mongolia, there is a lot to see and do, but the city is not well known to foreigners and most of the time I felt like I was the only foreigner there. I especially enjoyed experiencing the Mongolian culture there, for example Mongolian cuisine (which is almost impossible to find in Beijing) and visiting Genghis Kahn's Mausoleum in a nearby city.
It was a shame that Covid-19 affected my experience of living abroad, but I made the best of it by burying my head in Chinese books for the rest of my stay in China. I read around five novels during this time, which took many hours of determination. I've no doubt that this was effective in improving my Chinese, and I'm pleased with my level of Chinese at the end of the year. As for the travelling, I'm sure that I'll have future opportunities to return to China and travel the country more widely.