Este mes, he sido muy relacionado al trabajo, tengo muchos venicimientos a cumplir y como solo me quedan once semanas de la prácticas estoy decidida a terminar todos mis trabajos antes de irme. Sin embargo, no es todo trabajo como nos dieron un fin de semana de cuatro días agradables para Semana Semanta, decidí viajar un poquito.
Tengo unos amigos que están con las prácticas en Málaga y en Marbella así que lo aproveché y organicé un viaje para visitar a los dos. Mi compañera de trabajo iba ir a Granada entoncés después de hablar con ella sobre mis planes me ofreció ir con ellas así que podría estar una horas allí y después cogí el autobús por la tarde a Málaga que solo tardó una hora y media en llegar. Solo estaba en Grandada unas horas pero el sol brillaba y las cosas que ví allí fueron fantasticas.
La empresa donde estoy una becaria también tiene una oficina en Málaga entonces algunos de mis compañeros escribieron un listado de los sitios que deberíá visitar. Llegué allí por la tarde pero las procésiones ya han empezado. No quedé en el piso de mi amiga, encontré un sitio en AirBnb, estaba situada cerca del piso de mi amiga. Era super barato y el anfitrío era muy simpático. Habían más viajeros en el apartamento así que fue genial.
Durante la primera noche, vimos a unas de las procésiones y después nos fuimos a un bar que se llama 'El pimpi'. Es un bar muy conocido cerca del Castillo y el vino es buenísimo.
Hicimos una vuelta buenísma al Castillo la mañana siguiente y las vistas eran impresionantes, se puede ver al puerto y al estadio de fútbol. Por la tarde, encontramos con otros estudiantes y fuimos a una bar que se llama Mañana – vale tres euros por dos horas de cerveza libre pero era muy dificíl a llegar. Con las procésiones era imposible a llegar a cualquier sitio. También conocí a unas personas que estaban de vacaciones de Madrid y también de la misma ciudad de Inglattera! Es un mundo muy pequeño.
El otro amigo vive en Marbella entonces fuimos allí también, aunque si cuento la verdad solo nos fuimos para cenar la comida de Hard Rock Café y comprar una camiseta. El tiempo era terrible por la tarde pero el pueblo es muy bonito para visitar. Más tarde, tomamos una bebida enfrente de la catedral y nos fuimos a dormir muy pronto para estar lista para mi viaje inesperado de nueve horas para volver a Madrid.
ENGLISH TRANSLATION:
This month has been mainly work related, I have so many deadlines at work to meet and as I only have 11 week left of my placement I am determined to finish them all on time. However, it's not all work as we got a lovely four day weekend at Easter, I decided to do a little bit of travelling.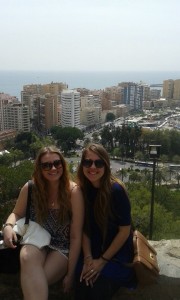 I have a couple of friends that are doing their placements in Malaga and Marbella so I took advantage and made plans to visit them both. My work colleague was going to Granada so after chatting to her about my plans she offered to take me with her so I could spend a few hours there and then I caught the bus in the afternoon to Malaga which just took an hour and a half. I was only in Granada for a couple of hours but the sun was shining and the bits that I did see were fantastic.
The company where I'm doing my work placement also have an office in Malaga so some of my work colleagues wrote me a list of places that I should visit. I got there late afternoon but the processions had already started. I didn't stay with my friend, I found a place to stay on AirBnb which was around the corner from my friend's apartment. It was so cheap and the host was really nice. There were other travellers in the apartment so that was great.
On the first night we saw a couple of the processions and then headed to a bar called 'El Pimpi'. It's a very popular bar near the castle and the wine is beautiful.
We had a nice walk up to the castle the next morning and the views were breath-taking, you can see the port and the football stadium. In the evening we met up with some other students and we went to a bar called Mañana – its 3 euros for two hours of unlimited beer but extremely hard to reach. The processions made it almost impossible to reach anywhere. I also met some people that were on holiday from Madrid and also from my home town in England! It's a very small world.
My other friend lives in Marbella so we visited there too, although if I'm honest we just went there for the Hard Rock Café food and for a t-shirt. The weather was quite terrible in the afternoon but it was still a nice town to visit. In the evening, we had a drink across from the cathedral and then an early night ready for my unexpected nine hour journey back home.