Que rápido ha pasado este mes en Palma, hace tres meses llegado aquí y me lo siento como dos minutos! Actualmente estoy muy contenta con todo, mi trabajo esta va muy bien, he conocido mucha nueva gente y creo que mi nivel de español ha mejorado mucho. También, el tiempo está muy bien y se va continuar a mejorar cada semana así que estamos acercando el verano!
Mi trabajo está muy variada que me agrada mucho porque cada semana hay cosas diferente para hacer, hay siempre nueva gente para conocer y mis tareas diarias no están tan aburridos. Me lleva muy bien con mi jefe, ella está muy flexible y amable, además, en general todos los otros empleadores están amistoso y he hecho un montón de nuevos amigos españoles, franceses y alemanes también. La oficina está muy grande, creo que hay un total de 500 empleadores, así que hay una variedad de personas de diferentes origines , eso me gusta mucho.
La semana pasada viene mi novio por el fin de semana porque en Inglaterra era día festivo entonces estuve el ocasión perfecto para aprovechar un fin de semana un pocito más largo. Decidimos de alquilar un coche para explorar la isla un poco, nos visitamos muchas lugares diferentes a través de su estancia, por ejemplo, fuimos al este de la isla el sábado y nos visitamos 3 calas diferentes todos cuales eran tan bonitas, una se llama Caló des Moro que tiene una pequeñita playa con muchas rocas pero lo bueno es el mar es tan claro y tiene un hermoso entorno.
El domingo conducimos al norte de la isla para ver el Cabo de Formentor que ofrece vistas panorámicas increíbles de la isla. Hacia sol y mucho calor que era perfecto para tomando fotos. Nos visitamos el puerto de Sóller antes de volvimos, aquí caminamos mucho y comimos un helado en frente de todos los barcos en el puerto. Teníamos una fin de semana increíble y era tan bueno para ver nuevos lugares en la isla.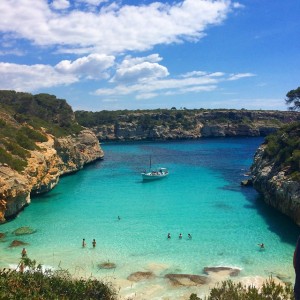 ENGLISH TRANSLATION:
This month has gone so fast in Palma, I arrived here 3 months ago and it seems like 2 minutes! At the moment I'm really happy with everything, my job is going really well and I've met lots a new people and I feel that my Spanish has improved lots. Also, the weather is so nice now and it's going to continue to get better as were approaching summer!
My job is really varied which is really great because each week there are different things to do, there's always new people to meet and my daily tasks are not too boring. I get on really well with my boss, she´s really flexible and friendly, furthermore, in general the rest of the employees are nice and I have made lots of new Spanish, French and German friends. The office is really big, I think there's about 500 people, so there's a variety of people from different backgrounds, this is I like a lot.
Last week my boyfriend came for the weekend because in England it was bank holiday so it was the perfect occasion to make the most of a bit of a longer weekend. We decided to rent a car to explore the island a little bit, we visited lots of different places through his stay, for example, we went to the east of the island and visited 3 different coves  all of which were so pretty, one is called Caló des Moro which has a small beach with lots of rocks but the good thing is the sea is so clear and it has beautiful surroundings.
On Sunday we drove to the north of the island to see the Cabo de Formentor which offers incredible panoramic views of the island. It was sunny and really hot which was perfect for taking photos. We visited the Puerto de Sóller before we went back, here we walked for a while and ate an ice cream in front of all the boats in the port. We had such an amazing weekend and it was so good to see new places on the island.