Deutsch
Weihnachten
Dezember ist mein Lieblingsmonat und dieses Jahr war ich besonders aufgeregt, weil ich Wien zur schönsten Zeit des Jahres sehen konnte!
Es schneite sehr früh im Monat in der Stadt und das Foto, das ich beigefügt habe, zeigt einen wunderschönen Park hinter meinem Haus, der natürlich noch erstaunlicher aussah, als er mit Schnee bedeckt war. Wieder einmal konnte ich wegen der Lockdown nicht viele neue Orte entdecken. Ich konnte auch nicht die Wiener Weihnachtsmärkte sehen, worauf ich mich definitiv gefreut habe. Normalerweise gibt es Hunderte von handgefertigten Ornamenten für Bäume, Schneekugeln, Glühwein und viele süße Leckereien. Obwohl ich die Märkte nicht sehen konnte, konnte ich alle Weihnachtslichter und -dekorationen erkunden, die in der ganzen Stadt gesetzt wurden.
Kohlmarkt liegt zwischen der Hofburg und Graben (eine der bekanntesten Einkaufsstraßen Österreichs) und ich habe zuerst hier besucht. Dort gibt es viele hochwertige Geschäfte, die das ganze Gebiet sehr königlich und glamourös scheinen.
Tausende von Lichtern hängen über den Geschäften und es sieht aus wie glitzernder Regen – es war wirklich wunderschön. Dieses Gebiet wurde, wie es wörtlich übersetzt wird, zuerst als Kohlenmarkt gegründet und es entwickelte sich weiter zu einem Ort, wo immer mehr Luxusgüter gekauft, verkauft und ausgetauscht wurden.
Weihnachten in Wien wird natürlich ganz anders gefeiert als in Großbritannien. Am 6. Dezember geht Sankt Nikolaus auf der Suche nach gute erzogenen Kindern und er hinterlässt einige Leckereien wie Schokolade oder Nüsse. Ich habe auch erfahren, dass Sankt Nikolaus von einer Kreatur namens Krampus begleitet wird, die alle ungezogenen Kinder bestraft. Einige meiner Freunde aus Wien erzählten mir, dass die meisten Kinder Angst vor Krampus haben. Tatsächlich ist er zu einer so beängstigenden Figur geworden, dass sich die Leute an Halloween als er verkleiden.
Ein weiterer Unterschied ist, dass Kinder in Österreich nicht an ,,Santa Clause'' oder ,,Father Christmas'' glauben, sondern an das Christkind, das am 24. Dezember allen Kindern Geschenke bringt. Die Kindern können ihre Geschenke öffnen, wenn sie eine Glocke läuten hören.
Obwohl die Vorbereitung auf Weihnachten nicht was ich erwartet oder gehofft hatte, habe ich viel über die Weihnachtstraditionen gelernt und darüber, was Familien jedes Jahr feiern.
Ein spätes frohes neues Jahr an alle!
————————————————————————————————————————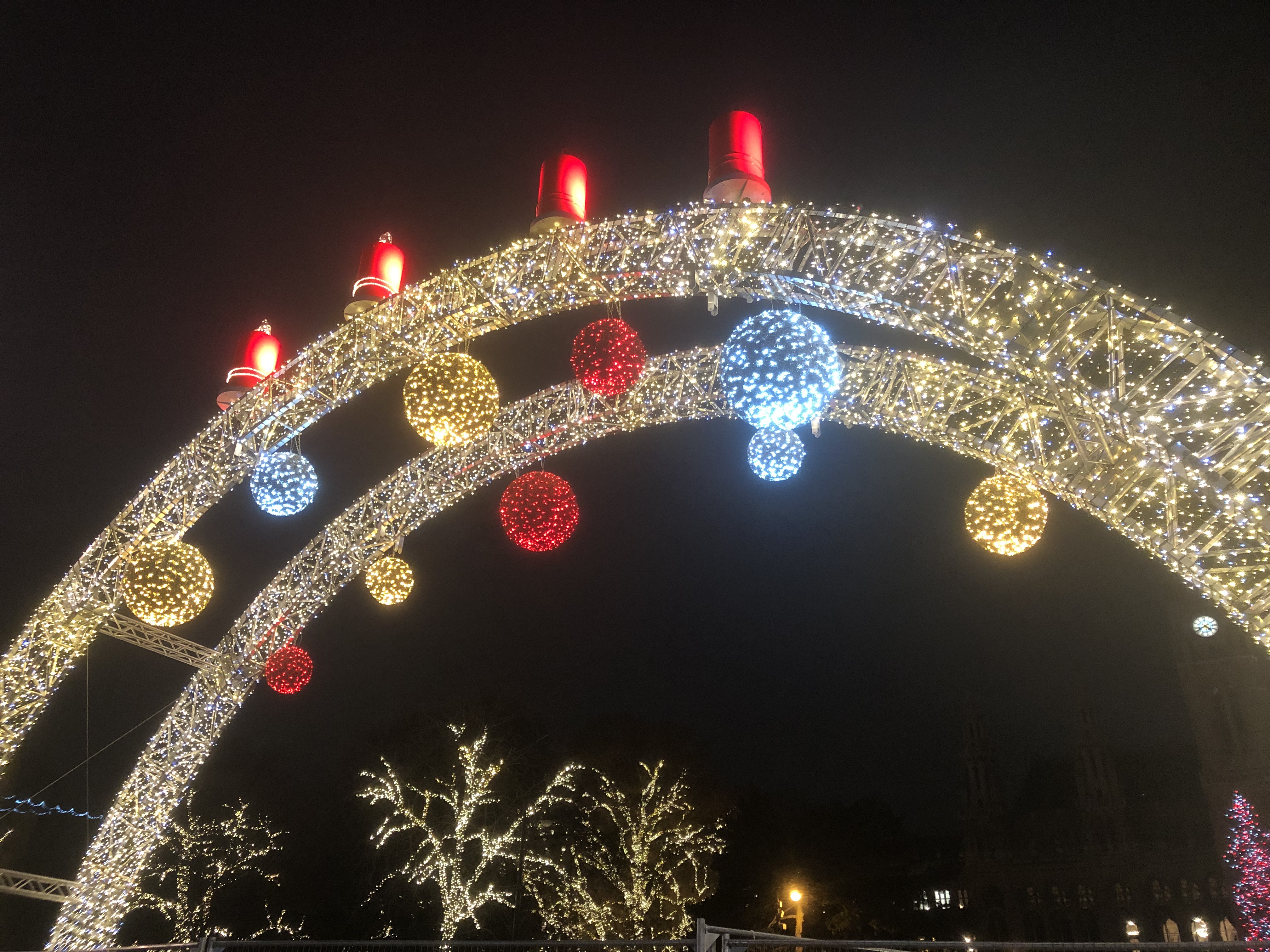 Christmas
December is my favourite month of the year and this year I was particularly excited, because I was able to see Vienna at the most wonderful time of the year!
It snowed in the city very early on in the month; the photo I have attached is of a beautiful park behind my house, which of course looked even more amazing when it got covered in snow. Once again, because of the national lockdown, I wasn't able to discover many new places, and I couldn't go to the Viennese Christmas Markets, which was definitely something I was looking forward to. There would usually be hundreds of hand-made ornaments for the trees, snow globes, Glühwein and lots of sweet treats. Despite not being able to see the markets, I was able to go out and explore all of the Christmas lights and decorations that were put up all over the city.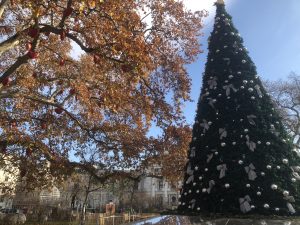 Kohlmarkt is the street that connects the Hofburg and Graben, which is one of the most famous shopping streets in Austria, and I visited here first. There are several high-end shops there, which make the whole area feel very regal and glamorous. Above these shops, thousands of lights were hung, making it look like glittery rain – it really was beautiful. This area was first established, as it is literally translated, as a coal market and continued to develop into a place where more and more luxury items were brought, sold and exchanged.
Christmas in Vienna is, of course, celebrated very differently to the UK. On the 6th December, Saint Nicolas goes around every town in search of the well behaved children, and then leaves them treats such as chocolate or nuts. I also learned that Saint Nicolas is accompanied by a creature called Krampus, who punishes all of the naughty children. A few of my friends from Vienna told me that most children are terrified of Krampus – in fact, he has become such a scary figure that people dress up as him on Halloween.
Another difference is that children in Austria don't believe in Santa Claus or Father Christmas but the Christkind, who comes to deliver presents to all children on the 24th December – they can go and open their presents when they hear a bell ringing.
So, although the build up to Christmas wasn't quite what I had expected or hoped, I did learn a lot about the traditions of Christmas and what families celebrate every year.
A late Happy New Year to everyone!