Deutsch: eine Reise nach Salzburg
Willkommen zu meinem Juni-Bericht! Dieser Monat war sehr aufregend, da meine Freunde und ich einen Ausflug nach Salzburg gemacht haben. Bevor ich nach Wien gezogen bin, war ich noch nie in Österreich, was bedeutete, dass als ich mir Österreich vorstellte, dachte ich an Hügel und kleine Häuser (wahrscheinlich ähnlich wie viele Leute). Wien ist natürlich ganz anders, einfach weil es so geschäftig und kommerziell ist. Also also ich in Salzburg ankam, war ich wirklich zufrieden, Österreich zu erleben, und das Österreich, an das wir alle denken.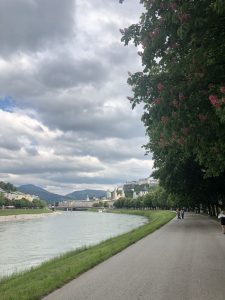 Meine Freunde und ich blieben für zwei Nächte und wir mieteten eine Wohnung von einer Familie, die uns unglaublich herzlich willkommen war. Die Wohnung war etwa eine halbe Stunde vom Stadtzentrum entfernt, was bedeutete, dass wir von Feldern umgeben und näher an den Bergen waren. Tatsächlich hatten wir von unserer Terrasse aus einen spektakulären Blick auf die verschneiten Berge, was seltsam war, da das Wetter so schön und heiß war!
Als wir ankamen, gingen wir ins Zentrum, um über die Vorhängeschlossbrücke zu laufen und Mozarts Haus anzusehen. Dann gingen wir zum Schloss Mirabell, was wunderschön war – wir haben versucht, Szenen aus The Sound of Music nachzustellen, aber es waren so viele Leute da, dass es zu peinlich war! Stattdessen gingen wir in verschiedenen Cafés in der Stadt, um viel Kaffee zu trinken und der wunderbaren Straßenmusik zu hören.
Am nächsten Tag besuchten wir Festung Hohensalzburg, die hoch oben in den Hügeln liegt – viele Leute benutzen normalerweise eine Seilbahn, aber meine Freunde und ich beschlossen, zu Fuß zu gehen, was absolut anstrengend war. Die Aussicht war jedoch unglaublich! Später am Tag habe ich meine Freundin getroffen, die ich aus Großbritannien kenne! Wir haben zusammen den Hauptdom besucht und sind dann in einen beliebten Biergarten gegangen – dort werden so viele verschiedene Biersorten serviert, dass ich sie nicht alle zählen könnte!
Wir beendeten unsere Reise mit einem Abendessen, da wir zum ersten Mal seit Monaten auswärts essen konnten. Die Reise war eine kurze aber eine tolle Reise und es war sicherlich das Highlight meines Monats. Andere Plätze sind wieder geöffnet, also hoffen wir, andere Orte besuchen zu können, sobald unsere Prüfungen beendet sind!
————————————————————————————————————————–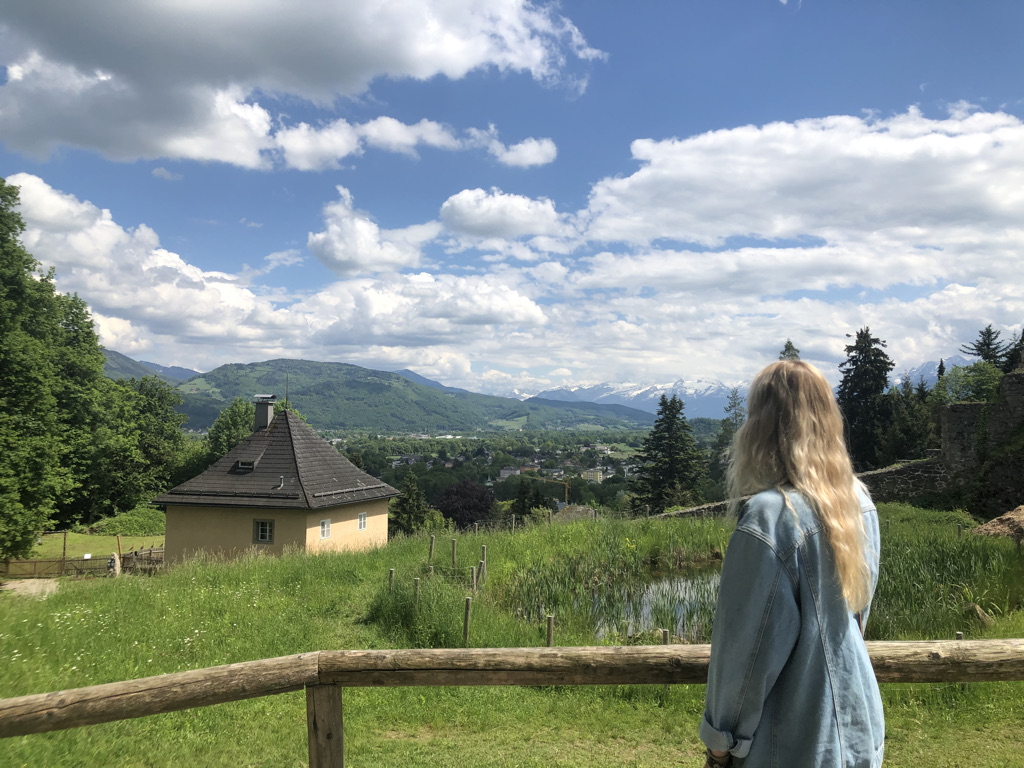 English: a trip to Salzburg
Welcome to my June report! This month was very exciting, as my friends and I took a trip to Salzburg. Before I moved to Vienna, I had never been to Austria, so when I imagined what Austria would be like, I thought of hills and cute little houses (as I'm sure many people do). Of course, Vienna is very different to this, simply because it's so busy and commercial. So, when I arrived in Salzburg, I was really happy to be experiencing the Austria that we all typically think of.
My friends and I stayed for two nights and rented an apartment from a family who were incredibly welcoming to us. The apartment was around half an hour from the centre of the city, which meant we were surrounded by fields and closer to the mountains. In fact, on our patio, we had a spectacular view of the snowy mountains, which seemed very strange, since the weather was so lovely and hot!
When we arrived, we immediately went to the centre to walk across the padlock bridge and see Mozart's house. Then, we went to Mirabell Palace, which was really beautiful – we tried to re-create scenes from The Sound of Music, but there were so many people around that we felt too embarrassed! Instead, we went to drink lots of coffee at different cafes around the city and listened to the wonderful street music.
The following day, we visited Fortress Hohensalzburg, which is high up in the hills. It is so far that people usually get a cable car. However, my friends and I decided to walk, which was absolutely exhausting, but totally worth it for the views. Later in the day, I was able to meet up with a friend who I go to university with in the UK! We visited the main cathedral together and then went to a popular beer garden – in fact, it serves so many different types of beer that I couldn't even count them all!
We finished our trip by going out for dinner, since it was the first time we had been able to eat out in months. All in all it was a short but amazing trip, and certainly the highlight of my month. Now that places have re-opened, we hope to visit other places, just as soon as our exams are over!