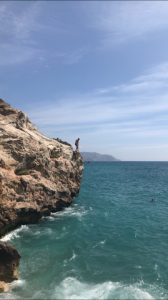 Español:
Con el cambio de estaciones, me doy cuenta de lo afortunado que soy de vivir en un lugar donde tengo todo al alcance de mis manos. Granada está situada a pie de las montañas de la Sierra Nevada a la intersección de cuatro ríos: el Darro, el Genil, el Monachil y el Beiro. Está a una altura promedia de 738 metros encima del nivel de mar, aunque está solamente a una hora en coche desde la costa Mediterránea: la Costa Tropical.
Dentro de una hora en coche (más o menos) desde el centro de Granada se puede tener acceso a una gran variedad de playas por ejemplo Nerja, una municipalidad muy popular en la Costa del Sol.
Hoy en día no está haciendo 30 grados cada día.  En el lapso de pocos días es como si alguien ha pulsado un interruptor para indicar la llegada del frío. La transición de verano a invierno es una locura. Mi compañero de trabajo, Juan González Serrano, me dice que en Granada hay un refrán: que las cuatro estaciones son verano, invierno, tren y autobús.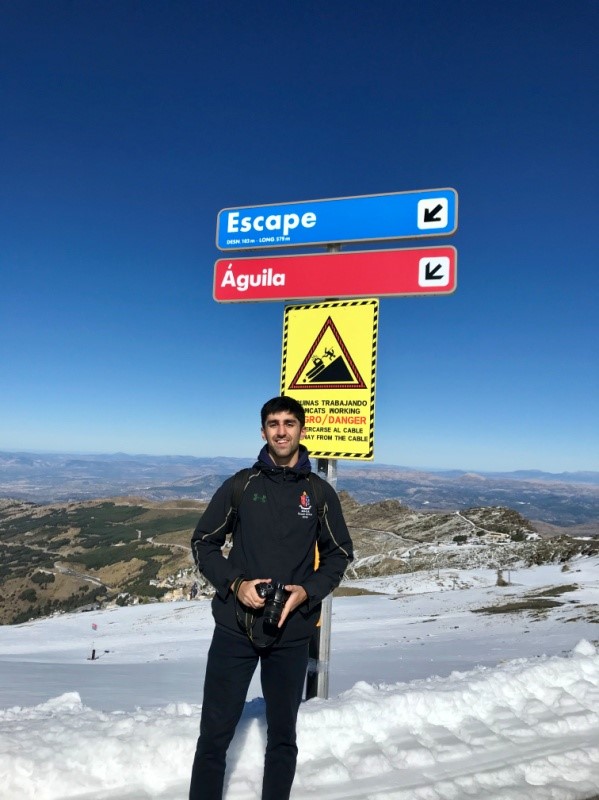 Durante estos tiempos, hay vistas espectaculares de las montañas desde la oficina, de hecho, la vista va a mejorar con el crecimiento de mi compañía a la sexta planta arriba. La llegada de la nieve y las festividades me han ayudado agradecer el espíritu de las vacaciones. Disfruté celebrando Halloween y especialmente El Día de Todos los Santos (el 1 de noviembre) porque no se celebra en el Reino Unido. Este día fue mi primera experiencia de vacaciones nacionales en España, un día donde nadie trabaja.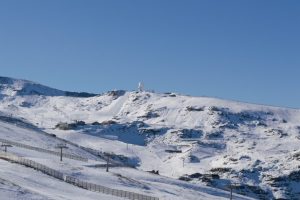 Esta vista breve de la nieve desde la oficina me motivé a visitar las montañas y ver la Sierra Nevada con mis propios ojos. Por alrededor de diez euros se puede disfrutar un buen día en el aire puro de las montañas. Después de mi visita puedo decir con confianza que no me decepcionó. Es otro mundo.
Al pensar en España piensas del sol, mar y arena, no la nieve. Con la temporada de esquí llegando muy pronto, mis amigos y yo pensamos que sería una buena idea para aprovechar el paisaje antes del influjo de gente comienza a visitar el resorte y el área en general. No lamentamos nuestra decisión en absoluto.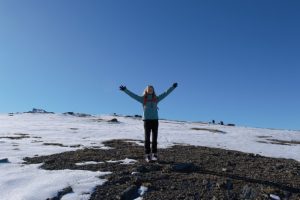 Los colegios de esquí en las montañas son muy populares así que hay una posibilidad de que voy a comenzar a aprender a esquiar allí en el futuro. Si estás considerando visitar, recomendaría traer protección solar porque cuando estás alto en las montañas no te das cuenta de la potencia del sol.
Mi visita al resorte de esquí proveyó vistas maravillosas de la región de Granada desde más de tres mil metros sobre el nivel del mar. Me hizo considerar Granada como un lugar infravalorado en España y en Europa en general como tiene una abundancia de bellezas naturales. Es una verdadera joya escondida.
Este mes también tuve la oportunidad de ver un partido de fútbol en el Nuevo Estadio de Los Cármenes, lo cual es hogar de mi equipo local: Granada CF. La competición ha sido feroz esta temporada por el primer puesto y este partido en particular Granada podría haber subido a la primera posición en la Liga. Desafortunadamente Real Sociedad (un equipo situado en el País Vasco) ganó esta vez, pero la experiencia fue inolvidable. A pesar de la capacidad pequeña del estadio (19,336) el ambiente fue eléctrico. Se nota que el fútbol está en el corazón de todos aquí. El Fútbol reúne la ciudad.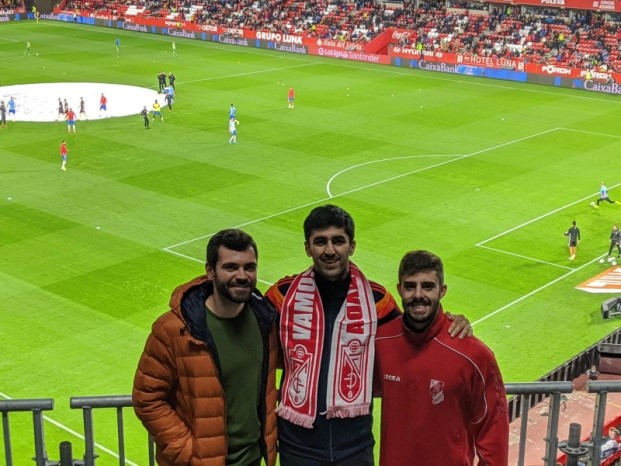 English:
With the change in seasons, I realise how lucky I am to live in a place where I have everything at my fingertips. Granada is located at the foot of the Sierra Nevada Mountains at the intersection of four rivers: the Darro, the Genil, the Monachil and the Beiro. It's at an average height of 738 meters above sea level; however it's only an hour's drive from the Mediterranean coast: the Tropical Coast.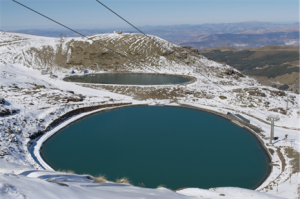 Within an hour's drive (more or less) from the centre of Granada you can access a wide variety of beaches such as Nerja, a very popular municipality on the Costa del Sol.
Nowadays it's not 30 degrees every day. Within the space of a few days it is as if someone has flicked a switch, indicating the arrival of the cold. The transition from summer to winter is crazy. My co-worker, Juan González Serrano, tells me that in Granada there is a saying: that the four seasons (which can be translated as stations in English) are summer, winter, train and bus
During this time of the year, there are spectacular views of the mountains from the office; in fact, the view is going to improve with my company's expansion upstairs to the sixth floor. The arrival of the snow and festivities has helped me to embrace the holiday spirit. I enjoyed celebrating Halloween and especially All Saints' Day (November 1st) because it is not celebrated in the United Kingdom. This day was my first experience of a national holiday in Spain, a day where nobody works.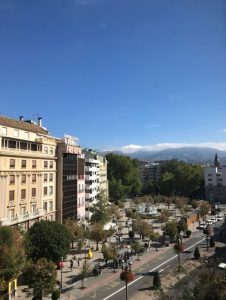 This brief view of the snow from the office motivated me to visit the mountains and see the Sierra Nevada with my own eyes. For around ten Euros you can enjoy a good day in the fresh air of the mountains. After my visit I can say with confidence that it didn't disappoint. It's another world up there.
When you think of Spain, you think of the sun, sea and sand, not snow. With the ski season coming very soon, my friends and I thought it would be a good idea to take advantage of the scenery before the influx of people start to visit the resort and area in general. We do not regret our decision at all.
The ski schools in the mountains are very popular so there is a possibility that I will start learning to ski there in the future. If you are considering visiting, I would recommend bringing sun cream because when you are high up in the mountains you don't realise how powerful the sun is.
My visit to the ski resort provided wonderful views of the region of Granada from more than three thousand meters above sea level. It made me consider what an underrated place Granada is in Spain and in Europe in general as it has an abundance of natural wonders. It's a real hidden gem.
This month I also had the opportunity to watch a football match at the Nuevo Estadio de Los Cármenes, which is home to my local team: Granada CF. The competition for first place has been fierce this season and this particular game Granada could have climbed to top of the league. Unfortunately Real Sociedad (a team located in the Basque Country) won this time, but the experience was unforgettable. Despite the small capacity of the stadium (19,336) the environment was electric. It shows that football is in everyone's heart here. Football brings together the city.