Apenas un par de semanas antes del 2020 y ya han comenzado las protestas en Madrid y en toda España. En Madrid, casi 4.000 personas marcharon el domingo en 'defensa de la Constitución'. Las protestas fueron convocadas oficialmente por el grupo 'España existe' con el mensaje general de rechazar a Pedro Sánchez y su Gobierno. Los manifestantes, que en su mayoría estaban vinculados al partido político español 'VOX', marcharon por la unidad nacional y la igualdad para todos los españoles.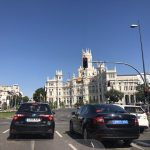 En domingo, el primer ministro de España, Pedro Sanchez presentó el primer gobierno de coalición en la era democrática moderna del país. Aunque Sanchez ganó los elecciones, no alcanzó la mayoría general, y por lo que tuvo que negociar con otros partidos para conseguir apoyo y formar una coalición. Al no poder hacerlo con partidos como el PP (El Partido Popular) y Cuidadnos, tuvo que recurrir a otros partidos más pequeños.
Tras meses de estancamiento político, el líder del Partido Socialista Español (PSOE), unió fuerzas con el partido de izquierdas Unidas Podemos y ha ocupado la mitad de los puestos ministeriales con mujeres mientras presiona por un ejecutivo progresista.
Según Vox, estas negociaciones fueron una traición a España. En las manifestaciones del domingo, el presidente del partido de extrema derecha, Santiago Absacal, leyó un manifiesto frente al ayuntamiento de Madrid al son del himno nacional, y muchos manifestantes llevaban pancartas y gritaban 'Sánchez vete, España no te quiere'.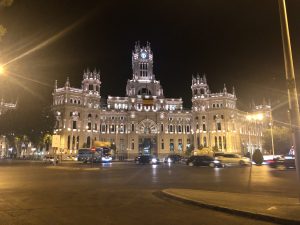 Después de escuchando sobre las manifestaciones, querría investigar más sobre VOX y vuestros creencias y lo que encuentré me impactó. VOX se fundó en 2014, y desde entonces ha sido ridiculizado como un partido de extrema derecha, populista, anti-inmigrante y anti-islamista. Aunque, el líder argumenta que está 'en contacto con lo que la mayoría de los españoles piensan' personalmente, no estoy de acuerdo. Sin embargo, lo que me asustó fue el gran aumento de escaños obtenido en las recientes elecciones. Empezando con 24, se tomaron 52 escaños al final del congreso el domingo, superando las previsiones, lo que hace que sea la primera vez desde la muerte de Franco en 1975 que la extrema derecha ha ganado escaños. Antes de que Vox debutara en el parlamento tras las últimas elecciones de abril, muchos creían que España era electoralmente inmune a la extrema derecha debido a los recuerdos de la vida bajo una dictadura fascista. Pero después de un aumento en la llegada de inmigrantes a España desde África, muchos votaron por Vox mientras hacían campaña por un control más estricto de la inmigración.
No puedes evitar pensar en lo que esto significa para España, mientras que los seguidores de VOX ven el partido como "hacer a España grande de nuevo", es difícil negar que esto es un retroceso a la época del dictador Francisco Franco, y hace que te preguntes, ¿la gente de España está olvidando su pasado?
Failing to do so with parties such as PP (The Popular party) and Cuidadnos, he had to turn to other smaller parties.
Breaking months of political deadlock, the leader of the Spanish Socialist Party (PSOE), joined forces with the left-wing Unidas Podemos ("United We Can") and has staffed half of the ministerial positions with women as he pushes for a progressive executive.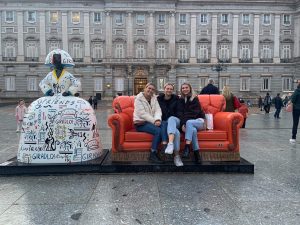 According to vox, these negotiations were a betrayal of Spain. At the protest marches on Sunday, the president of the far right party, Santiago Absacal, read out a manifesto outside Madrid city hall to the tune of the national anthem, and many protestors were holding up signs and chanting 'Sanchez go away, spain does not want you'.
After hearing about these protests, I wanted to research more into Vox and their beliefs, and what I found, shocked me. Vox was founded in 2014, and since has been derided as a far right, popularist, anti-immigrant and anti-Islam party. Although, the leader argues that it is 'In touch with what the majority of Spaniards think' I seem to disagree. However, what I found scary was the major increase in seats gained in the recent election. Starting with 24, it took 52 seats by the end in congress on Sunday, outstripping forecasts, making it the first time since the death of Franco in 1975 that the far right have won seats. Before Vox made its debut in parliament following the last election in April, many believed Spain was electorally immune to the far right because of memories of life under a fascist dictatorship. But after an increase in migrants arriving in Spain from Africa, many voted for vox as they campaign for tougher controls on immigration.
You can't help but think what this means for spain, whilst VOX supporters see the party as 'making Spain great again', it's hard to deny that this is a throwback to the era of dictator Francisco Franco, and it makes you wonder, are the people of Spain forgetting it's past?