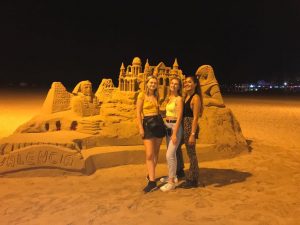 Ya, he pasado 3 meses en Madrid (es verdad que el tiempo vuela cuando te diviertes) y este mes aproveché la oportunidad de explorar diferentes partes de España cada fin de semana. En primer lugar, visité mi amiga quien está estudiando en Valencia para Erasmus. Aunque, he visitado Valencia muchas veces cuando era más joven , porque solía hacer un intercambio con una chica de valencia, me encanta Valencia y quería ir mientras que todavía hace calor, para disfrutar la playa por la última vez este año. También visitó la familia de mi intercambio,para comer y ponernos al día con ellos, ya que han pasado dos años desde la última vez que nos vimos.
La siguiente cuidad de mis viajes fue Sevilla, habiendo querido ir desde que mis padres se fueron el año pasado, superó todas mis expectativas. Hay un montón de ver, calles bonitas, tanto de arquitectura antigua como moderna, y también rezuma cultura española tradicional. En cada esquina de la calle hay artistas callejeros bailando flamenco o tocando música española, y la gente se sentaba al sol tomando cerveza y disfrutando de tapas. Nuestro hostal estaba al lado de ´Las setas de Sevilla' también conocido como proyecto Metropol Parasol del arquitecto Jürgen Mayer que ofrece una vista panorámica de toda la cuidad. Estoy seguro de que voy a volver a Sevilla, porque había sitios que no tuvimos tiempo de ver, como La Alcázar de Sevilla que, desafortunadamente, ¡tuve una cola de tres horas!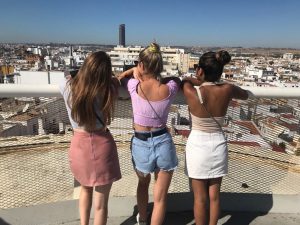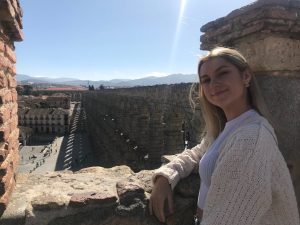 Además de esto, hice una excursión de un día a Segovia, una pequeña cuidad solo 30 minutos norte de Madrid por tren. Aquí, hay uno de los acueductos romanos más antiguos y mejor conservados, así como una hermosa catedral y Alcázar. Me encantó Segovia, y caminar por las calles me hizo sentir como si hubiera retrocedido en el tiempo, una gran visión de la historia de España.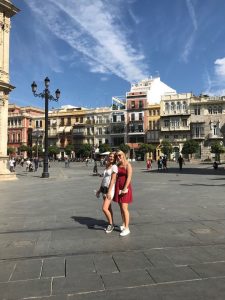 Para mis viajes siguientes, quiero ir al norte de España, como Bilbao y Santander, para explorar y aprender más sobre España y su cultura diversa, porque estoy segura que tiene más sorpresas para mí.
ENGLISH:
Having spent 3 months in Madrid already (time really does fly when you're having fun) this month I took the opportunity each weekend to explore different parts of Spain. Firstly I went to visit a friend of mine who is studying in Valencia for Erasmus. Although I have visited Valencia many times growing up, as I used to do an exchange in summer with a Spanish girl who lives there, I love it there and wanted to go while it was still hot enough
 for the beach. I also got to visit my exchange family, and we ate and caught up, as I hadn't seen them in nearly 2 years.
Next up on my travels was Seville, having wanted to visit since my parents went last year, and it exceeded all my expectations and is now one of my favourite cities in Spain. It has so much to see, beautiful streets, both ancient and modern architecture, and is also oozing with traditional Spanish culture. On every corner there are street performers' flamenco dancing or playing Spanish music, and people sat in the sun drinking beer and enjoying tapas. Our hostel was directly in front of Las Setas de Sevilla, also known as the Metropol Parasol project by architect Jürgen Mayer, which offers a panoramic view of the whole city. I will definitely be returning, as we didn't get time to see everything we wanted, like the Alcazar as the queues were 3 hours long! I also did a day trip to the small town of Segovia, which is just 30 minutes north of Madrid on the train. This is home to one of the oldest and best preserved roman aqueducts as well as a beautiful cathedral and Castle. I loved it here, walking the streets felt as if you had gone back in time, and you got a real feel of what Spain was like in the past.
Next on my travels I want to visit cities in the north of Spain, like Bilbao and Santander, to explore and learn more about Spain's diverse culture, as I'm sure it has many more surprises for me.