Hola!
Me llamo Monae y llegué en Alicante hace menos de 2 semanas. Estoy estudiando aquí para el semestre, con un enfoque en módulos
de lingüística y un objetivo general de mejorar mi nivel de español. Todos de mis clases están en español y esto es un cambio interesante porque es un desafío estudiar en una lengua diferente a lo que me estoy acostumbrado. Es un poco difícil en este momento, especialmente después de una llegada retrasada, sin embargo, tengo la motivación para mejorar mi habilidad de hablar español e integrarme en la vida en Alicante. Todavía estoy en el proceso de transición y acostumbrando a la vida diaria, lo que es bastante diferente a la vida en Londres. Los aspectos que he reconocido principalmente que están diferentes están: el transporte público, la vida en campus, la compra, la siesta diaria y más. He disfrutado el cambio, especialmente el clima y los paisajes como la playa y la vista de la ciudad y las palmeras y las fuentes que veo cuando yo camino por las calles.
Un punto culminante de mi tiempo aquí hasta ahora fue una visita al castillo de Santa Barbara en que vi un atardecer bonito de la cima del castillo. Este fue una de las actividades recomendados en una lista de atracciones en Alicante para celebrar el día nacional de España en el doce de octubre. Visité el castillo y la playa del Postiguet, lo que es muy cerca al castillo.
Tengo muchas ganas de pasar más tiempo explorando la ciudad y las ciudades vecinas durante mi estancia. Quiero probar más comida tradicional, hacer más amigas y experimentar más de la cultura mientras que estoy viviendo aquí.
English:
Hi!
My name is Monae, and I arrived in Alicante less than 2 weeks ago. I will be studying here for the semester, focusing on linguistics modules and improving my Spanish in general. All of my classes are in Spanish and this has been interesting change because it's a challenge studying in a different language to what I am used to. It is a bit difficult at the moment, especially after arriving late, however, I am motivated to improve my fluency in Spanish and integrate myself into the life in Alicante. I am still in the process of transitioning and getting used to daily life, which is quite different to life in London. The main aspects that I have recognised are different are: public transport, life on campus, grocery shopping, the daily siesta and more. I have enjoyed the change, particularly the weather and the change of scenery such as the beach, the views in the city, the palm trees and the fountains that I see walking through the streets.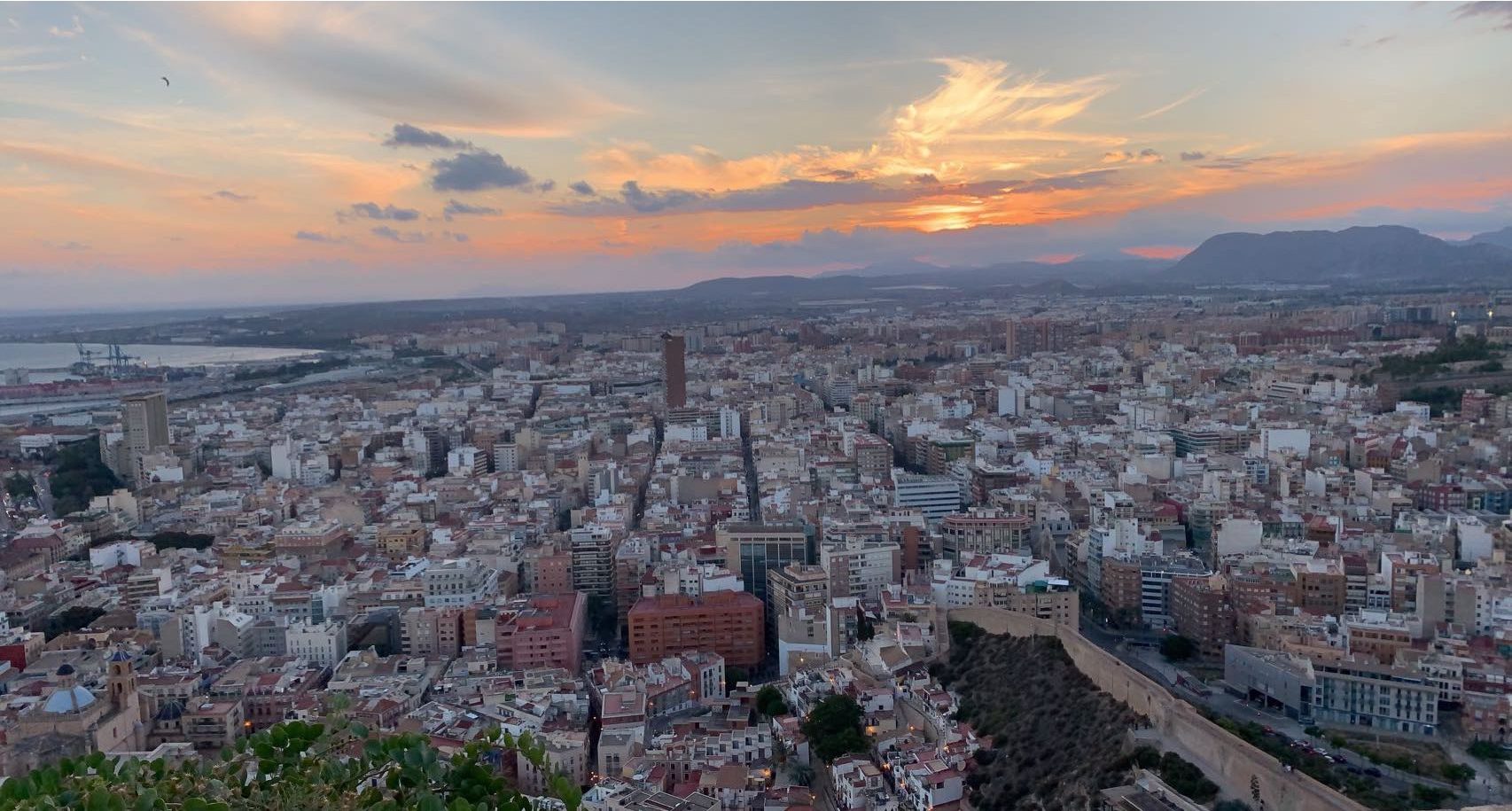 Una vista de la ciudad durante el atardecer.
One highlight of my time here so far was a visit to the Santa Barbara castle where I was able to watch a beautiful sunset from the top of the castle. This was one of the many things recommended on a list of attractions to visit in Alicante to celebrate the National Day of Spain on the 12th of October. I visited the castle around this time, also visiting Postiguet beach which is very near.
I am looking forward to spending more time exploring the city and the neighbouring cities during my time here, while trying traditional foods, making more Spanish friends, and experiencing more of the culture.