I am nearing the end of my placement here, which seems impossible to believe – that I'm already over halfway through seems insane! However, upon realising that we were over that midway point my friends and I decided it was time to do the "big trip": to Marrakesh. This is a tourist hotspot, and despite Rabat being Morocco's capital, Marrakech is the place that really felt, to me, like it had all that hustle and bustle of a capital city. Because I am living in the north, the journey took around 8 hours, involving a taxi to Tangier, and then two separate trains, and we arrived in the evening. However, despite the fact that we were wandering through the city streets at close to midnight, we didn't feel unsafe – quite the opposite in fact; there were still stalls open, locals with their trinkets laid out on rugs at the side of the street, and the smells of delicious Moroccan food wafting from restaurants and cafes.
The first day we decided we would do some exploring. The Medina – the older part of the city – was overwhelmed with tourists and merchants, food stalls, locals offering henna, people selling candles, jewellery, spices and clothing. We probably spent a good few hours just wandering, taking in the sights, smells and tastes (I will never get over how tasty freshly squeezed orange juice is from the souqs!). We visited the Bahia Palace, and spent a few hours admiring the wonderful arabic architecture and the beautiful palace gardens.
After that we did some typical tourist things, which of course involved camel riding. Despite having seen pictures, I had never seen a real life camel, and was not fully prepared for how big they are! With some hesitation I got on, and nearly fell off as it stood up to its full height. However, after a few minutes I had begun to get used to it – even taking my hands off a couple times in order to get some photos. We quickly made friends with the people on the camels next to ours, and spent an hour enjoying the views on camelback. Following this, we did quad biking through the countryside – complete with a stop over in a Berber village for traditional mint tea. We timed this so it was just as the sun was setting, and it was incredible. I would have loved to have taken photos, but I was too busy trying to steer my quad.
The following day we got up early for an excursion into the mountains – to the Ozoud Waterfalls specifically – a 330ft high waterfall located about 2 hours outside of Marrakesh. The views were incredible, although the day was incredibly hot, and we did a lot of walking in order to get there, but when we did, it was definitely worth it. On top of the incredible views, there are monkeys that live at the top, and they're really friendly and accustomed to visitors, so they will happily approach you (especially if you have food).
After that we were pretty tired, so the following day was spent relaxing, seeing the Jardin Majorelle, which is a private garden, which you have to pay to enter, but it is well worth the entry fee. Apart from just the beautiful scenery, there is a Berber museum, where you can learn all about the history of these fascinating peoples of the Atlas Mountains.
Despite being a little harder to get to, I loved Marrakesh and it is definitely somewhere I would go back to given the opportunity. The life and chaos of it is something I've not seen anywhere else in Morocco, and the colours, sights, smells and noises of the market square are truly and experience I would recommend to any traveller who is lucky enough to go.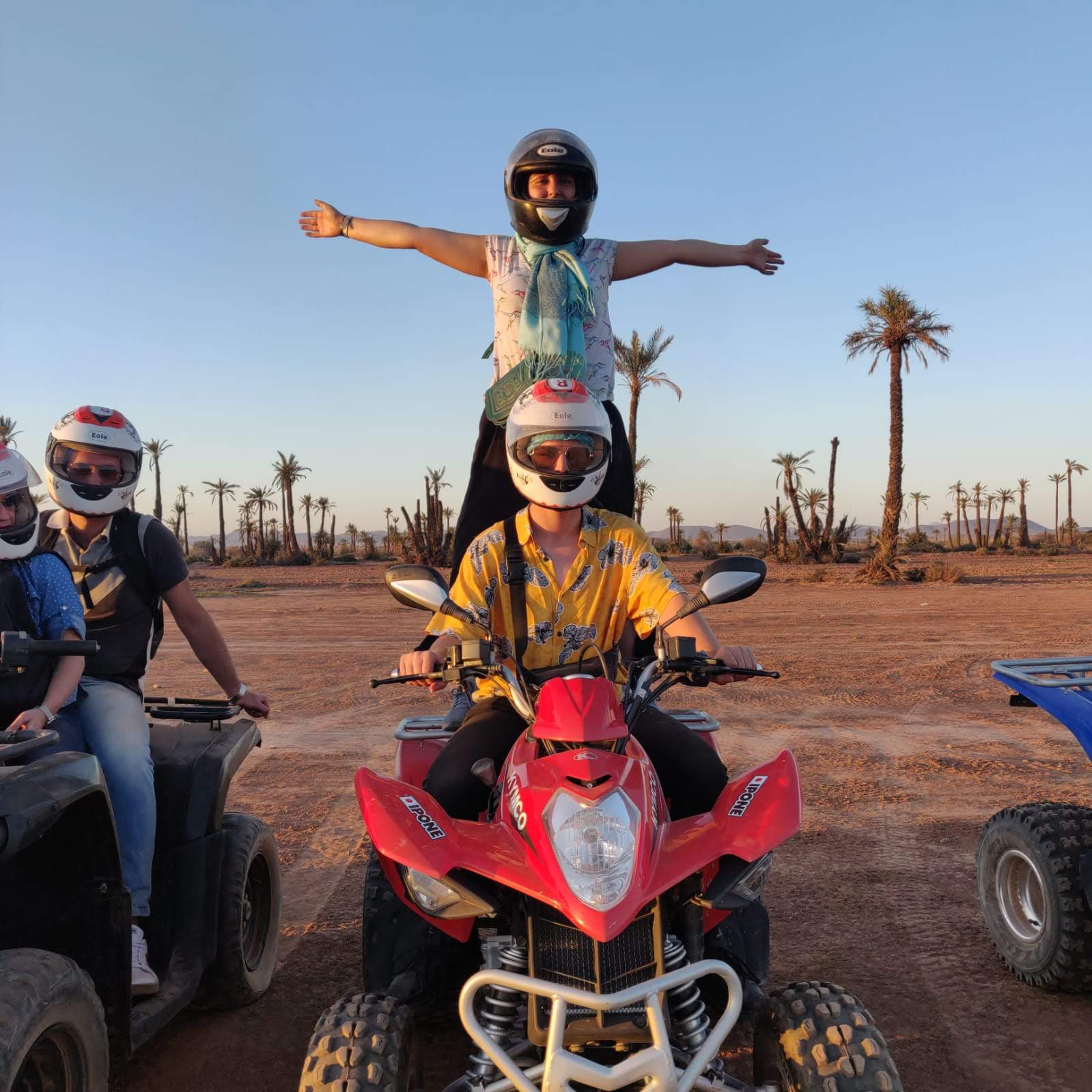 Voy acercándome al fin de mi puesto aquí, que parece imposible a creer – ¡que ya he hecho más que una mitad de mi estancia aquí me parece loco! Sin embargo, al darme cuenta de que haya pasado la mitad camino, decidimos que toca la hora de hacer el "gran viaje" a Marrakech. Es el foco de turistas desde alrededor del mundo, y a pesar de que Rabat sea el capital del país, Marrakech es la ciudad que, para mí, tenía todo el ajetreo de una ciudad capital, como Londres o Madrid. Porque vivo en el Norte, el viaje duró unas ocho horas; con un taxi a Tánger, y dos trenes distintos para llegar al fin por la noche. Sin embargo, no obstante que estábamos callejóneando por la ciudad a la medianoche, no nos preocupamos la seguridad. En contraste, había todavía gente vendiendo comida, baratijas colocado en alfombras al lado de las calles, y el olor divino de comida marroquí llevado por el viento desde restaurantes y cafeterías.
El primer día decidimos hacer un poquito de exploración. La Medina – el casco antiguo de la ciudad – estaba hasta los topes con turistas y vendedores, kiosks ofreciendo comida, henna, velas, joyería, especias y ropa. Pasamos algunas horas deambulando hacía las calles, contemplando los paisajes, los olores y sabores magníficos del mercado central, (nunca voy a olvidar lo bueno que es zumo de naranja recién exprimida de los souks). Visitamos el Palacio Bahia, y pasamos unas horas disfrutando de la belleza de los jardines y la arquitectura.
Después de esto, hicimos algunas cosas turísticas, que obviamente incluyó monta de camellos. A pesar de haber visto fotos, nunca había visto un camello en la vida real, y ¡me sorprendió su altura! Están mucho más grandes de lo que había esperado. Con un poco de titubeo, lo monté, y casi caí hacia el suelo mientras el camello se puso de pie. Sin embargo, después de pocos minutos, había empezado a acostumbrarme, e incluso saqué mis manos de las riendas para tomar fotos. Rápidamente hicimos amigos con la gente en los camellos al lado de nosotros, y pasamos una hora tomando fotos, disfrutando del paisaje desde el lomo del camello. Después, salimos en cuatriciclos hacia el campo de Marrakech, y paramos en un antiguo pueblo Beréber, y tomamos té moruno allí al atardecer. Ojalá hubiese podido tomar más fotos, pero estaba intentando mantener mis manos en el manillar.
El día siguiente nos levantamos muy temprano para una excursión a las montañas: a la cascada de Ozoud, una cascada de 330 pies de altura a dos horas de Marrakech. Los vistos eran increíbles, aunque hacía mucho calor y tuvimos que caminar mucho para llegar, no había duda de que valió la pena. Además de los paisajes divinos, hay monos que viven allí, y son muy amigables y se acercan a los turistas sin miedo, especialmente si les ofreces comida (especialmente cacahuetes).
El día después estábamos cansados, así que nos relajamos, fuimos al Jardín Majorelle, un jardín privado que se puede entrar si pagues. Aparte de la vista bonita, hay un museo Beréber, donde se puede aprender sobre la historia de esta gente fascinante de las montañas Atlas.
A pesar del viaje largo para llegar a Marrakech, lo adoró y me gustaría mucho y volveré otra vez cuando puedo. La vida y el caos de la ciudad es algo que no he visto en cualquiera otra ciudad de Marruecos, y los colores, las vistas, y los ruidos del mercado central son una experiencia que recomiendo a todo el mundo que tenga la oportunidad.