The history behind the city's walls – my 5th month in Sevilla
As 2020 got underway it was time to pick my new modules for the next semester. As a politics student in London I searched out for any modules with political aspects and what I found was an interesting mix of early and contemporary history. First of all, I selected the course 'historia del mundo actual' which evaluates what the key moments have been in the last century which shape our world today. Then I selected the course 'Historia moderna', which interestingly has a different meaning to
modern history in English. Indeed it refers to history spanning from the 14th century up until the late renascent period. I find that these two courses contrast well and combined give a very holistic historical understanding of the world. The next course I picked, 'historia de America Latina pre colombina' goes even further into the past and shines light on topics we rarely cover in our very Eurocentric education system. My excitable lecturer is as Andalusian as they come, as he proclaims himself. He will use any opportunity to teach the Erasmus students a new piece of Sevillan slang and his voice frequently becomes raised when he passionately explains things.
However learning about the beautiful city, I am living in does not just happen through books and university studies. It also happens through talking to taxi drivers! Every taxi driver will have an interesting theory about what makes Sevilla the place it is. You start with the rudimentary question, "Betis or Sevilla?" and from there the conversation can go anywhere.
Al comenzar el nuevo año era el momento para elegir mis nuevos cursos para el próximo semestre. Como soy un estudiante de políticas en Londres, buscaba para cursos con aspectos políticos y lo que encontré fue una mezcla interesante de historia moderna e historia contemporánea. Para empezar, elige el curso de 'historia de mundo actual', lo cual evalúa los momentos claves del ultimo siglo que forman nuestro mundo hoy en día. Después elige el curso de 'historia moderna', lo cual no significa lo mismo de 'modern history' en inglés. De hecho, refiere a la historia desde el siglo XIV hasta el periodo del renacimiento. En mi opinión, estos dos cursos contrastan muy bien y combinados me dan un entendimiento histórico muy holístico del mundo actual. El siguiente curso que elige, 'historia de America Latina pre – colombina', regresa también mas profundo en el pasado y arroja una luz sobre temas que raramente mencionamos en nuestro sistema de educación eurocéntrica. Mi profesor es lleno de vida y como ha proclamado si mismo, es el típico andaluz. Usa cualquier oportunidad para ensenarnos la jerga andaluza y su voz frecuentemente se convierta mas alta cuando está explicando algo apasionadamente.
El último curso que elige fue 'las civilizaciones antiguas islámicas'. Esto tiene una relevancia particular en Andalucía como resultado de la historia de la región. La dinastía mora en Andalucía (o Al andaluz) abarcó 800 años, desde el siglo VIII temprano hasta el fin del siglo XV. El legado de la dinastía incluye dos de los sitios arquitecturales mas famosos del mundo: la Alhambra y la Mezquita. Influencias menos bien conocidas del periodo incluyen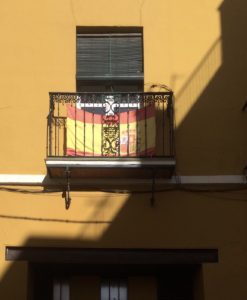 los sistemas de irrigación y los pueblos blancos que los moros construían en Andalucía. En Sevilla, la influencia Islámica se ve claramente en muchos de los patios preciosos y también en algunos de los sitios más famosos como la torre de oro y el alcázar. También algunas tradiciones culinarias tienen raíces en conflictos entre las civilizaciones diferentes. Por ejemplo, el hecho de que el cerdo es tan popular en Andalucía es un resulto de un intento consciente por personas que querían demostrar que no eran ni judíos ni musulmanes durante el dominio cristiano en el siglo XVI.
Sin embargo, aprendiendo sobre la ciudad maravillosa en que tengo la suerte de vivir no solo pasa con los libros y los estudios universitarios. También pasa hablando con taxistas. Cada taxista tiene su propria teoría interesante sobre lo que es que hace Sevilla única. Empiezas con la pregunta rudimentaria "¿Sevilla o Betis?" y después la discusión puede ir donde quiera.