Kaffeehauskultur
Während ich mich dem Ende meiner Zeit hier in Wien nähere, denke ich an meine Lieblingsmomente meines Aufenthalts in dieser Stadt zurück. Vielleicht war mir vor meiner Ankunft nicht bewusst, wie wichtig die Kaffeehauskultur in der Stadt ist. So sehr, dass es in die Liste des immateriellen Kulturerbes der UNESCO aufgenommen wurde.
Anders als in London sind die Gäste der Kaffeehäuser in Wien eingeladen, stundenlang zu sitzen, und es ist üblich, dass einzelne Personen lesen und Kaffee genießen. Die Häuser selbst sind oft prachtvoll und elegant, wie man es von Wien erwarten würde, aber sie heißen alle Menschen aus allen Gesellschaftsschichten willkommen. Schließlich darf eine Tasse Kaffee nur ein paar Euro kosten.
Es gab viele Kaffeehäuser, die mir in der Stadt gefallen haben, vor allem das Cafe Central und das Cafe Prückel. Sie sind beide so verschieden voneinander. Das Cafe Central ist ein großartiges Gebäude mit majestätischem Design und Säulen, die versteckte Bereiche zum Sitzen und Genießen von Kaffee und Kuchen schaffen, während Sie anderen diskret zuschauen. Trotzki und Hitler waren bemerkenswerte Gäste dieses Cafés, aber heutzutage steht es für viele Touristen ganz oben auf der Liste. Hier genoss ich einen reichhaltigen und dunklen Kaffee neben einer köstlichen Schokoladentorte. Das Café Prückel hingegen hat eine ausgeprägte Einrichtung aus den 1950er Jahren und wird von Touristen weniger frequentiert. Bei meinem Besuch spielte ein Jazzpianist. Hier genoss ich Apfelstrudel und ein Radler, diese sind in Österreich durchaus üblich und mischen Bier mit Limonade. Sehr leicht und sehr einfach zu trinken.
Die Kaffeeauswahl ist ziemlich einzigartig und unterscheidet sich stark von dem, was wir von einem Café in England erwarten würden. Eine Wiener Spezialität, die jeder Kaffeeliebhaber probieren sollte, ist zum Beispiel der Einspänner Kaffee. Es ist ein starker schwarzer Kaffee, der in einem Glas mit Schlagsahne serviert wird. Er wird mit Puderzucker geliefert, der separat serviert wird. Auch die Kuchen und Torten sind Weltklasse. Sachertorte ist ein Wiener Muss!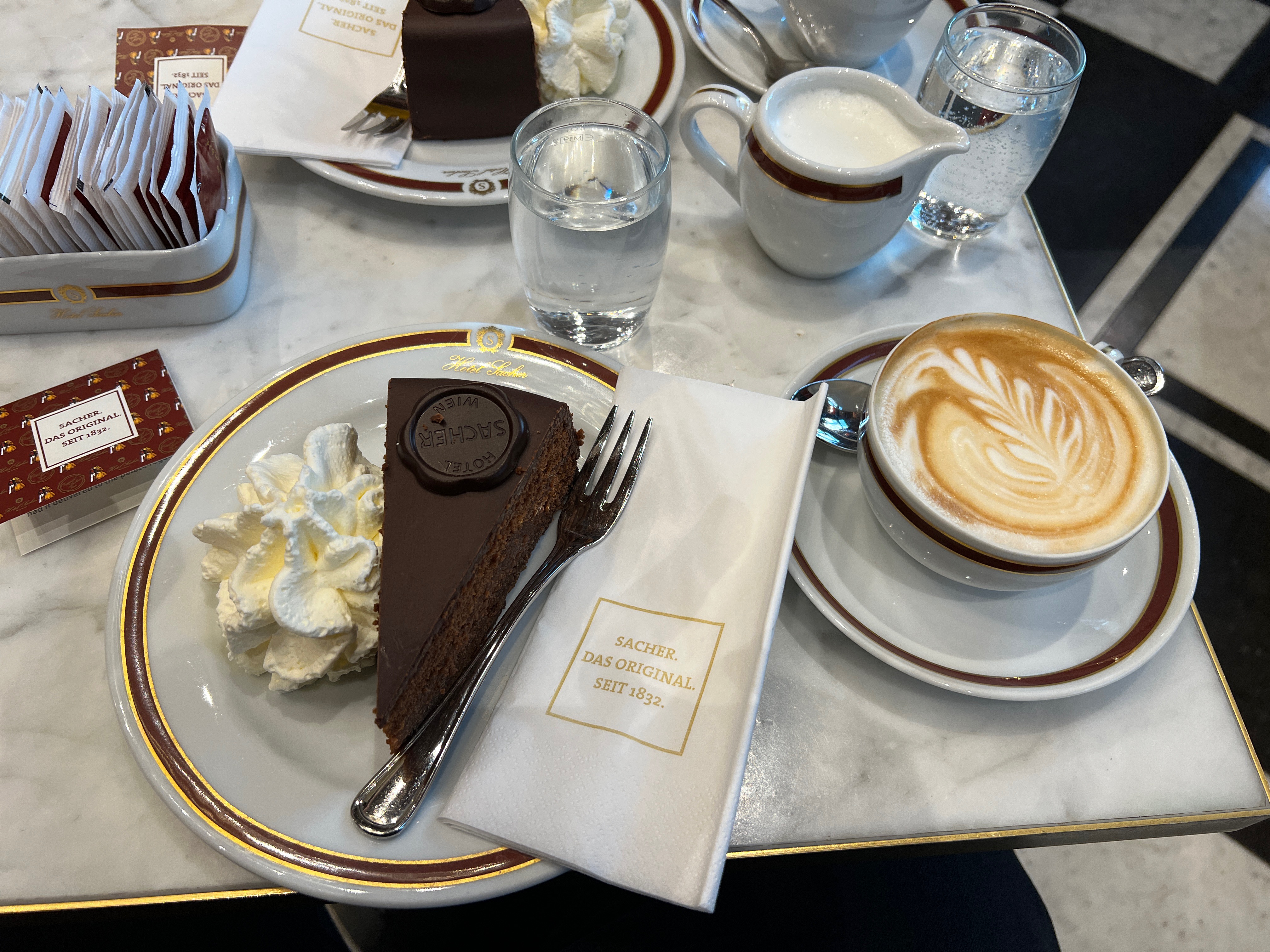 Sacher Torte
Coffee House Culture
As I approach the end of my time here in Vienna, I am thinking back to my favourite parts of my stay in this city. Perhaps something I was unaware of before arriving was the importance of coffee house culture in the city. So much so, it belongs to UNESCO's list of Intangible Cultural Heritage .
Unlike in London, patrons of coffee houses in Vienna are invited to sit for hours and it is common to see individuals reading and enjoying coffee. The houses themselves are often grand and elegant, as one would expect for Vienna, yet they are welcoming to all people from all walks of life. Afterall, a cup of coffee can only cost a few Euros.
There were many coffee houses I enjoyed in the city, most notable Cafe Central and Cafe Prückel. They are both so different from one another. Cafe Central is a grand building, with regal design and columns creating hidden spaces to sit and enjoy coffee and cake, whilst watching others discretely. Trotsky and Hitler were notable patrons of this cafe, yet nowadays it is high on the list for many tourists. Here I enjoyed a rich and dark coffee alongside a delicious chocolate torte. Cafe Prückel on the other hand has a distinct 1950s decor, and is less frequented by tourists. When I visited, there was a jazz pianist playing. Here I enjoyed apple strudel and a Radler beer, these are quiet common in Austria and mix beer with lemonade. Very light and very easy to drink.
The coffee choices are quite unique, and very different to what we would expect from a cafe in England. For example, a viennese speciality that every coffee-lover should try is the Einspänner Coffee. It is a strong black coffee served in a glass topped with whipped cream, it comes with powder sugar served separately. The cakes and tortes are also worldclass. Sacher Torte is a Viennese must!