ENGLISH
My first report is being written just under two weeks into my Erasmus+ undergraduate semester at the Friedrich-Schiller University in Jena, Germany; studying the course International Business with German. I am attending three business modules (Macro Economics, Management and Human Resource Management) all taught in German, in addition to language classes.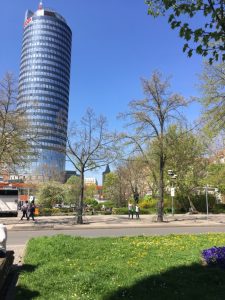 Actually getting here was the first task, as having only five days previous experience in Germany navigating the trains from Berlin Airport to Jena was definitely an experience. This was mainly due to the ticket machines being slightly confusing and I'm still unsure how they work if I'm honest. Something to learn in the weeks to come!
Stepping off the train I was unsure what to make of the street that greeted me, littered with old blocks of flats in varying shades of yellow and orange and I remain unconvinced the colours will grow on me. Once finding my flat I was greeted by a lovely woman, who let me in and gave me the keys. A top floor room in Jena offers quite a view, as I face one side of the hills that surround the city which has offered great views to two thunderstorms in the past two weeks alone.
I have met a wide variety of people since coming to Jena, mainly through my German classes and the Erasmus Student Network, where so far I have counted 15 – 20 represented nations including Russia, South Korea, Georgia, USA, Spain, Italy and Armenia to name but a few. However with four out of five flatmates being German I still have plenty of opportunities to practice my language skills when out of lectures. So far there have been many social events, such as Barbeques in the park, while also getting started with lectures which are challenging but interesting.
So far so good!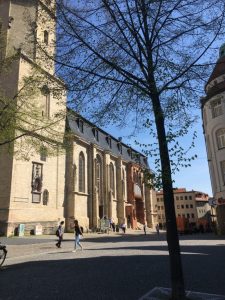 GERMAN
Meine erste Bericht kommt nur weniger als zwei woche innerhalb meine ERASMUS+ Bachelor Abschluss Semester an der Friedrich-Schiller Universität Jena, Deutschland, um Internationaler  BWL mit Deutsch zu studieren. Ich muβ drei Geschäftsmodulen besuchen ( Makroökonomik, Management und HRM ). Alles sind auf deutsch gelehrt, zusätzlich Sprache klasse.
Die erste Herausforderung war wirklich hier zu kommen, mit nur fünf Tagen Erfahrung in Deutschland, zu fahren von Berlin Flughafen bis Jena was unbedingt eine Erfahrung. Wahrscheinlich, weil die Kartemachinen ein bischen verwirrend war und in aller Ehrlichkeit, bin ich noch unsicher wie sie arbeiten. Etwas zu lernen für die nächsten paar Wochen!
Als ich auf der Zug getretten bin, war ich unsicher mit der Straβe, dass mich begrüβt hat. Es hatte viele älte Wohnungen in Schattierungen von Orange und Gelb. Ich bleibe nicht überzeugt, dass die Farben auf mich wachse wird. Als ich meine Wohnung gefunden habe, war ich mit eine Schöne Frau begrüβt, die die Schlüssel hat mich gegeben.  Eine oberste Etage Zimmer  in Jena bietet eine schöne Aussicht an, denn ich eine seit die Berge sehen kann, dass die Stadt umgehen. Es hat eine tolle Sicht für zwei Gewitter angeboten, in nur die letztes zwei Woche.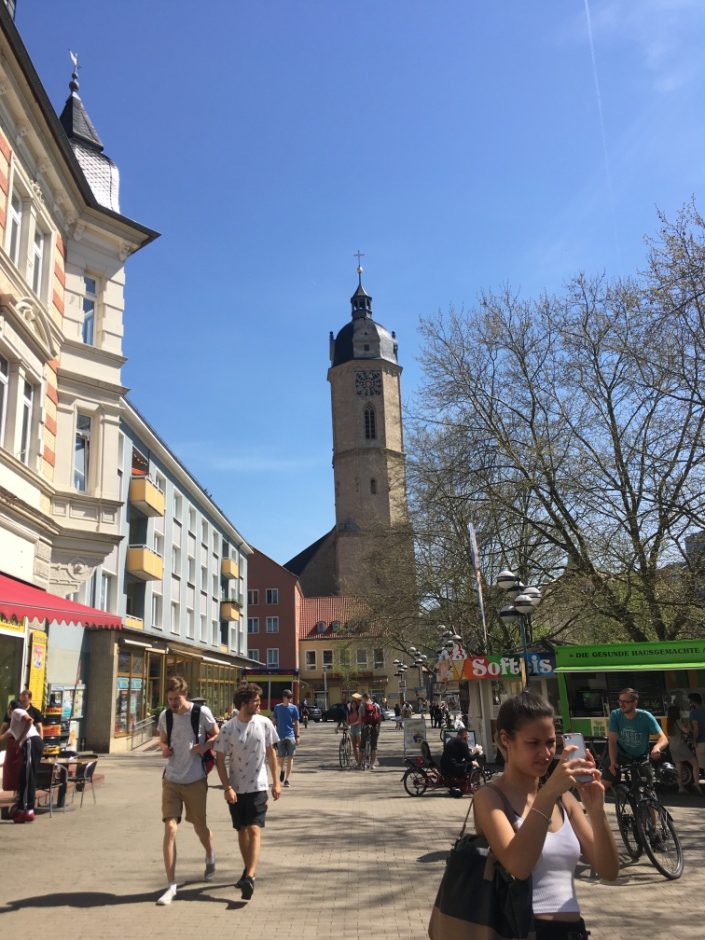 Ich habe eine weite Vielfalt von Menschen  kennengelernt, seit wohne ich in Jena. Ich habe meistens durch meine deutsche klasse und das Erasmus Student Network getroffen, das so weit habe ich ca. 15 – 20 Länder gezählt, einschlieβlich Russland, Sud Korea, Georgien, USA, Spanien, Italien und Armenien  zu nur ein bischen namen. Jedoch, habe ich schon viele Möglichkeiten zu meine Sprachfähigkeiten zu üben, wenn ich keine Vorlesungen haben, weil vier von fünf meiner Mitbewohner Deutscher sind.  So weit gab es viele gesellschaftliches Ereignisse z.B. Grillen im Park, während auch Vorlesungen anfangen, die herausforderuglich aber interessant sind.
So weit, so gut!