みなさんこんにちは!はなです。
東京はまだ緊急事態宣言なので、私は屋外の場所でソーシャルディスタンスに気を付けて出かけています。国内の旅行に出かけるのもあまりよくないと思っているので、近くの町でゆっくりしながら次の学期が始まる前の時間を過ごしています(日本語も勉強しながら!)。
友達におすすめしてもらって、大学院の友達と一緒に柴又に出かけました。みんな"下町"が好きなので歩き回るのが楽しかったです。私たちはレトロなお菓子屋さんに行ったり商店街に行ったり、お寺に行ってドラゴンに似た松の木を見ました。いつもは旅行客が多い町ですが緊急事態宣言もあってとても静かでした。
今月私は早い桜を見ました。梅の花がちょっとずつ咲き始めていましたが、桜の花を見に行くのは今年初めてでした。コースメイトと一緒に海辺(!)の東京の郊外の公園に行きました。そこに早い桜があるかもしれないとオンラインで見たからです。その通りに、桜が咲き始めているのが見れました。また、東京は暖かくなってきているので(20度になることもある!)久しぶりに海を見に行くのにいい日でした。今度海辺にリサーチのために出かけることがあるかもしれないので、また海の近くに行けることが楽しみです。また、来学期のコミットメントを考えたり、準備のためにリサーチプランを書いたり本を読んだりしています。
緊急事態宣言は3月の終わりに終わるといわれていますが私はまだ終わらないかもしれないと思っています。自分の大学が出したリサーチが日本のメディアに回っていて、それによると注意を続けることが感染者数を少なくすることに必要だとされています。
Hello everyone! It's Hana again.
Tokyo is still in a state of emergency so I have tried to only visit open-air places and socially distance on any of outings during this break. I also don't feel quite comfortable doing any domestic travel during this current climate so I have been having a nice, laid-back time familiarising myself with the city (and using my Japanese!) to recharge ahead of my activities next term.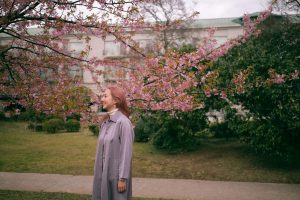 On a friend's recommendation, I explored the Shibamata area with some fellow graduate students from another Tokyo university. We love 'shitamachi' areas of Tokyo so it was a lovely area to walk around. We popped into a little retro sweet shop, had a walk down the shotengai or shopping street and we went to a temple with a famous pine tree that resembles a dragon. It is normally a touristy area but it was very quiet under the current circumstances.
This month I was also able to see some early cherry blossom. There had already been plum blossom dotting the streets of Tokyo but this was the first spot of cherry blossom I had seen this year. With some coursemates, we headed to a park on the outskirts of Tokyo and by the coast (!) because we had seen online that there was a good chance of some early cherry blossom there. Sure enough, when we arrived, we were able to see some trees that were beginning to bloom. It was also a really pleasant day as Tokyo has been warming up recently (up to 20 degrees Celsius on some occasions!) and it was nice to see the ocean for the first time in a while. I am potentially planning on going to some more coastal areas for some ethnographic study later this month and I am looking forward to being by the sea again. I have also been looking ahead at my commitments next term and making some preparations through reading and drafting up research plans.
State of emergency in Tokyo is expected to be lifted in late March but I suspect there is also the possibility of extension. Some research conducted by the university I attend has been circulating in Japanese media and it suggests that continued caution is necessary to keep case numbers down.